Oversized Canvas Drawstring Backpack, Designer Rucksack, Unique Vegan Yoga Bag, Ethereal Golden Palm Leaf Painting, Gift for Her
Oversized Canvas Drawstring Backpack, Designer Rucksack, Unique Vegan Yoga Bag, Ethereal Golden Palm Leaf Painting, Gift for Her
cotton, canvas, vegan, water based paint, ethereal, durable paint, spaceous, side opening, wearable art, inner pocket, all natural bag, extra volume, rope crochet
ILUSI is enlarged, extra spacious drawstring backpack, designed and hand painted with busy stylish individual in mind, someone who is always on the go and who just in case needs to packs for a day or two of their unpredictable life reversals. This light but strong backpack is yet one of the unique items from Junglenice collection of wearable art, it combines art and functionality, it is painted to be loved: simple design will become your best companion on your daily travels and uniqueness of the painting will become your favourite fashion accessory.

Special Features:
- quality durable 100% cotton canvas hand painted with high quality textile paint
- softer cotton lining for more pleasant feeling and extra durability
- round bottom for nicer shape and more volume
- side opening for reaching in without taking the bag off of your shoulder
- invisible zipper for only you to know it's there
- two decorative zipper pulls for easier opening and closing the backpack
- inner pocket for your little besties like phone, keys, lipstick or pen
- cotton rope straps are sturdy hand crocheted braids yet comfortable on a shoulder

ILUSI's real value lies in a painting of sun playing with light shadows of the jungle like a free spirit with its infinite imagination. Junglenice items are all hand painted, unique, unrepeatable and each one of a kind visual journals from the tropics. ILUSI would translate into words somehow like this:
You are My Rhythm
I am Your Dance.
We are Love
Caressing the Sand At Sunset.

Colours:
Painting - Turquoise, Purple, White, Pink, Gold, Yellow, Green
Fabric - Black

Materials:
outer layer - 100% cotton canvas, water based textile paint
straps - cotton rope
zipper pulls - cotton Tassel, PU leather, metal Leaf Pendant
lining - 100% cotton

Size:
L: 40 cm | 15.74 in
W: 52 cm | 20.47 in
Measured Flat, Measurements are Approximate.
1cm = 0.393701 in |1in = 2.54 cm

Care:
Spot clean with damp cloth, Hand wash (*recommenced) or Machine cold wash (with similar colours) on a gentle! cycle (Max. 30 °C | Max. 80 F), Use mild detergent, Do not use fabric softener,
Lay flat (*recommenced) or Hang dry, Do not tumble dry, Do not iron directly on a painted design.

★ THIS ITEM IS MADE-TO-ORDER (MTO) ★

. . . . .

Should You Wish to Order a Custom Hand Painted Junglenice Design?
Message Me with Any Question:
www.instagram.com/junglenice/
www.facebook.com/veryjunglenice/

. . . . .

Happy Shopping!
Thank You, Junglenice
There was a problem calculating your shipping. Please try again.
Returns and exchanges accepted
Exceptions may apply.
Gift wrapping available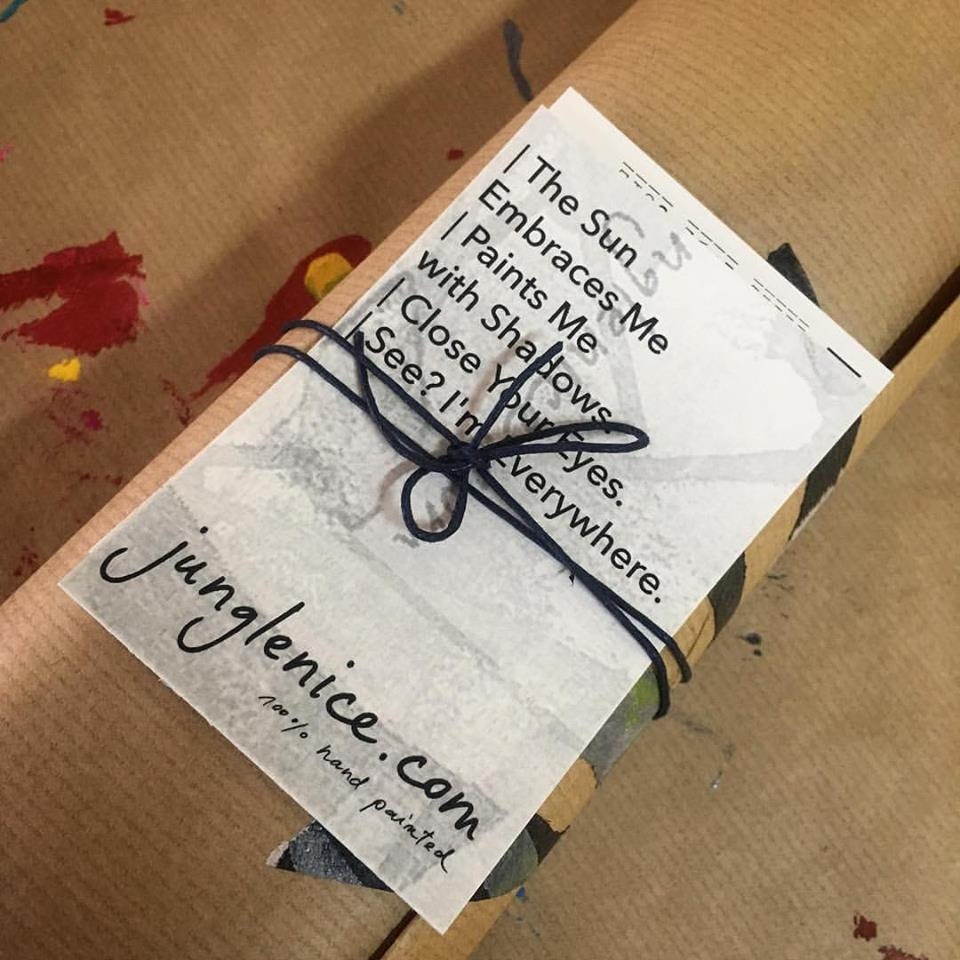 Gift wrapping by junglenice

This is the most beautiful hand painted backpack I ever had. I love Tina's unique tropical design and she created exactly what I want and need. Good quality, super practical and extra fast shipping. I couldn't wish more ♥ Thank you for your amazing customer service!
Beautiful thank you very much !
I ordered this t-shirt ship to Indonesia,
why the item ship from Slovenia,
It take long time. I see ur store ship from Ubud, Bali
But, the t-shirt quality is Awesome !