Dragon Mug, wicked Dragon Fantasy Sci-Fi Mug a GREAT and PERFECT gift for Gamer's, Holiday presents, Birthdays, Costumes and Cosplay parties
This Dragon mug is a true sculpture quality drinking vessel. Made to be used! Design and Craftsmanship nice enough for display as part of your home decor when not in use as an awesome mug... both functional cup and great decoration for your home. This dragon mug is perfect for costumed events, unique gift idea or for simply enjoying your favorite drink in style. This unusual, unique mug is a great one for any dragon, fantasy, sci-fi or RPG fan... Dragon Age, Skyrim, Dungeons and Dragons, Hobbit, Game of Thrones or all of the above.
I have made some wedding sets for some Goth weddings, too. I love the idea that my cups are used in these alternative ceremonies!! Toasting to the happy couple's future from a dragon's head!
The original design was hand carved by Jane Chischilly and then cast and reproduced in studio by the mother/son (Jane/Jason) team that is Chischilly Pottery. My cups are guaranteed to keep you cool with or without beverage. ;) All 100% food safe glazes. Can go in the dishwasher or in the freezer for a nice chilled glass.
Height (Sitting on handle) : 6 1/2 inches
Length: 8 inches
Width: 3 1/2
Capacity: 22 oz
See the rest of our drinking horn styles:
https://www.etsy.com/shop/CHISCHILLYPOTTERY?section_id=7602728
Check out the rest of our designs:
https://www.etsy.com/shop/CHISCHILLYPOTTERY
QUOTES FROM THE WEB:
Bad Ass Dragon Head Beer Steins
by Brittany High @ INCREDIBLETHINGS.COM
"I think we can all agree that the sauce just doesn't taste right coming out of a red plastic cup. And since I happen to take boozing very seriously I will accept nothing less than the most grandiose drinking vessel. You can imagine my squeals of delight when I saw these dragon head beer steins by Etsy seller CHISCHILLY POTTERY. They're custom made by (Correction: Mother & Son) pottery team Jason and Jane. These really came along at the right time for me. My most recent goblet dated back to the 1800s. It had the image of a majestic knight etched into the glass. Annnd it totally broke during last weekend's bender. RIP Sir Boozington of Boxedwine!"
www.incrediblethings.com/home/bad-ass-dragon-head-beer-steins/
Here's what OBVIOUSWINNER.COM had to say about our Dragon Mugs:
"Beer + Dragon Head Mug = drunk and breathing fire at anyone who comes within range. Come to think of it... all you really need is the beer in order to do that, but at least with a dragon beer stein, you will feel WAY more badass about it."
http://www.obviouswinner.com/obvwin/2012/2/1/custom-dragon-beer-steins-are-designed-to-absorb-your-drunke.html
GREAT FOR:
Unique Gift Idea for Birthdays/Holidays, Etc.. (Don't be that person who buys socks or sweaters as presents)
Enjoying your favorite beverage
Parties
Costumed Events
Halloween
Renaissance Fairs
Role Play Games (RPG)
Decoration
Celebrations!
Looking cooler than your friends
SHIPPING:
We ship USPS priority Mail for super fast delivery. Your orders ship fully insured and usually in one to two business days. Upon shipment you will receive an email with the tracking number for your order. We package our pottery very carefully and handle insurance matters for any damaged items for domestic orders. Please contact us with any questions and we will get back to you within 24 hours.
HISTORY:
This is an original work of art by Chischilly Pottery designed after a unique drinking vessel known as the Rhyton. A rhyton (plural rhytons or, following the Greek plural, rhyta) is a container from which fluids were intended to be drunk, or else poured in some ceremony such as libation (.libation (Σπονδή spondee in Greek) is a ritual pouring of a drink as an offering to a god or deity). Rhytons were very common in ancient Persia, where they were called takuk (تکوک). The English word rhyton originates in the ancient Greek word ῥυτόν (rhŭtón).
After a Greek victory on Persia, much silver, gold, and other luxuries, including numerous rhytons, were brought to Athens. Persian rhytons, which appear in Athens suddenly in great quantities after the war, were immediately imitated by Greek artists.
This design is also based off of the drinking horn. Which is believed to be one of the first drinking vessels. The drinking horn typically could not be set down until your drink was partially or fully finished. This style of mug has been used by many cultures throughout history. You have to hold the cup to fill it and drink about a third of the cup to set it down.
Learn more about the shop and process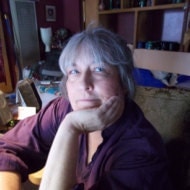 Jane Chischilly
Dragon Mug, wicked Dragon Fantasy Sci-Fi Mug a GREAT and PERFECT gift for Gamer's, Holiday presents, Birthdays, Costumes and Cosplay parties
---
Overview
Handmade item
Materials:

cone 6 ceramic stoneware slipcast, satin matt black matt exterior, licorice black interior, foodsafe glaze, stoneware, pottery, ceramics, black glaze, hand made, handmade pottery, stoneware pottery, stoneware ceramics, black

Made to order
Only ships within

United States

.
Feedback: 912 reviews
Favorited by: 1122 people