Get some rosy touch to your skin care of this delicate but powerful Rose Hibiscus organic cleansing grains. Revitalized and soothed with Love of Nature. Suitable for all skin types, but the mature or stressed one benefits the most.
Try something new for everyday cleansing of your face! Retire your soap with this more gentle, safer, milder and more friendly for your skin - herbal cleansing grains. Loaded with good for skin elements, it rejuvenates and nourishes cells and tissues at the deepest levels. Suitable even for the most delicate and sensitive skin, safe for pregnant and nursing mothers.
This 100% natural cleanser is created to provide purity of royal care for your face. Formulated specifically for those who has nutrient-hungry skin. This cleansing grains exudes pleasant rosy aroma which makes cleansing pleasant aromatherapy experience as well.
So, what the actual grains do and how it works?
*Rose and Hibiscus flowers has the power to repair broken capillaries, tight pores and reduce redness.
*Pink and White Clays cleanse deeply all pores, absorbing and removing dirt and impurities
*Organic Oats and arrowroot powder calm, relieve skin from irritations, remove dead skin cells giving skin mild exfoliation and new, softer, smoother feel.
*Rose-geranium and Rose oil add to cleanser antiseptic, astringent and toning properties.
All these packed in beautiful corked red 40% glass jar, gift wrapped in a biodegradable cellulose bag and accessorized with wooden stick for easier mixing. Look last picture to see the wrappings and estimation of the jar size. Net weight is around 1 oz.
Double size is listed here
https://www.etsy.com/listing/84083597
Refill is listed here
https://www.etsy.com/listing/182465791
The sample of Organic Rose Hibiscus Facial Cleansing Grains is also available for purchase:
http://www.etsy.com/listing/67372516
Reviews from customers:
"Absolutely love this product! It's very gentle on my skin, and leaves me feeling clean and soft, definitely not overly dry. And you don't have to use much of this at one time, so it should last a while! Fast shipping! Amanda."
""Wow..I love this so much! I live in Vermont, and between the heat indoors and the freezing outdoors my skin takes a beating. The cleansing grains just left my skin soft and clean without any of the tightness I get with soaps! To top it off the product smells incredible! Thank you so much. I will happily be buying again. Stacy."
"Smells like rose and hibiscus...and I expected nothing less coming from Herbolution! Another wonderful product. It's gentle and still exfoliates my skin well enough that I can tell a difference. I appreciate products when I enjoy using them and this does not disappoint. Caitlin."
"This is my favorite of the cleansing grains I sampled, mainly because I like the scent/color the best. I love the texture of all of the cleansing grains I tried because they are just enough to exfoliate after make-up removal, not harsh, and not drying. Dekilah."
"LOVE this item! It has worked wonders for my complexion! Thank you so much! I'll be back for more! :) Ann."
"Woah! This smells freaking amazing and mixed easily with water.. It has the perfect amount of exfoliation and left my skin smooth and soft. Again.....look at the beautiful ingredients. Thank you so very much! Susan."
_-_-_-_-_-_-_-_-_-_-_-_-_-_-
_-_-_-_-_-_-_-
Ingredients: Rose powder*, Hibiscus*, Oat powder*, Pink clay, White clay, Garbanzo powder*, Rose geranium essential oil*, Rose essential oil.
* Certified Organic
_-_-_-_-_-_-_-
_-_-_-_-_-_-_-_-_-_-_-_-_-_-
_____________________________
All types of Organic Cleansing Grains we offer:
Calendula Chamomile (all skin types including problem and sensitive)
http://www.etsy.com/listing/56578453
Lavender (normal, oily and acne prone)
http://www.etsy.com/listing/60158569
Cinnamon Clove (all skin types including acne problem except sensitive)
http://www.etsy.com/listing/62805019
Peppermint Sage (oily, normal skin)
http://www.etsy.com/listing/58759064
Rose Hibiscus (all skin types, the most beneficial for mature)
http://www.etsy.com/listing/67368820
Patchouli (all types)
http://www.etsy.com/listing/67014337
Rosemary (oily, acne prone to normal)
http://www.etsy.com/listing/95496325
Lemongrass Lemon Verbena (all skin types, including problem)
http://www.etsy.com/listing/95496990
Spicy Pumpkin (all skin types)
https://www.etsy.com/listing/112843360
Spearmint Lemon (normal/problem skin)
https://www.etsy.com/listing/154189552
Ayurvedic Ubtan (normal to problem skin)
https://www.etsy.com/listing/206755088
Also, we have fruit'n'berry facial breakfast cleansers series that you might enjoy as well
http://www.etsy.com/shop/herbolution/search?search_query=breakfast&search_type=user_shop_ttt_id_5591424&shopname=herbolution
_____________________ _______ ___________________________
-----
How to use:
***********
Generously wet your hands and face with water or herbal tea. Sprinkle a small amount of cleanser onto your palms or use a wooden stick to reach some grains, activate it with water and gently rub over your face avoiding eye area. Rinse with water. Follow with your favorite moisturizer if necessary.
-----
Pay attention
*************
* Please read list of ingredients before you buy in order to see whether you are allergic to some contents of this product
* We do not use plastic, that's why most of our containers are made of glass. BE CAREFUL when handling glass bottles, they are fragile, and be extremely careful IN BATH and SHOWER where conditions are slippery and wet.
* Keep contents dry, to prevent clumping
* For external use only
____________________________________________________________
(c)Copyright 2009-2015. All rights for pictures, graphics and description on
www.etsy.com/shop/herbolution
and www.herbolution.com are reserved.
Learn more about the shop and process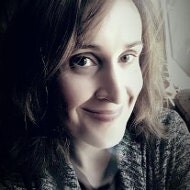 Veronika
Organic Rose Hibiscus Facial Cleansing Grains scrub polish eco-friendly in a recycled red glass jar
Listed on Jul 16, 2016
6515 views