Many Crafters use Pumpkinteeth For Making Masks, Costumes, Statues. jewelry :) That's why we sell year round !! It takes Only 2-3 days to receive after ordering I ship several times a day :) - You get Fangs. lg 8, med 12, small 16. And You also get Buckteeth 8 lg,12 med, 16 small (72 pcs) Total :) This Halloween, give your Kid's something to smile about with PUMPKIN TEETH - there's nothing else like it! all the pictures i have are fake pumpkins except the watermelon..

Pumpkin Teeth are long plastic teeth that you can embed into your pumpkin (or gourd, melon, whatever you want!) They come in 3 sizes and can be re-used, making every Halloween just a little bit spookier! Decorating your pumpkin has never been so creepy! AND THEY GLOW..As you see in the picture.
- Makes your Jack 'O' Lantern look cool, scary, and sharp without having to be a professional carver.

- A new and exciting way to allow kids to be more involved in the carving and creating process of their pumpkins.

- Reusable! You can reuse Pumpkin Teeth year after year after year.

- Create traditional teeth, shark rows, vampire fangs, or any arrangement you like.

- Small, medium and large sets of Pumpkin Teeth allow you to create awesome, scary designs regardless of the size of your pumpkins. Like any Glow in the dark items you need a Black light to keep them Glowing like those chemical glow sticks. They will glow from light a little while by themselves but if you put a compact fluorescent Blacklight $4.99 in your porch lights or get a 2 ft with fixture for $9.99. Then they glow like CRAZY...

.The one, the only.....the original pumpkin teeth. I am the creator and patent holder.....you are buying directly from the maker!
Learn more about the shop and process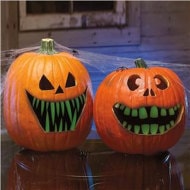 Bob b Conner
Pumpkin Teeth Glow in the dark 6 pack Special.. (72) Teeth in total.
Listed on Oct 19, 2016
12556 views