Heirloom Creeping Thyme Seeds Herb Garden Organic Seed Non Gmo Container Gardening Rock & Groundcover Purple Pink Flowers Bulk
Creeping thyme ground cover is a beautiful, fragrant little plant that is a common sight on the rocky coasts and plains of the Mediterranean region. From a tiny clump of little seedlings comes a spreading mat of scented foliage covered with flowers. Plant Creeping Thyme seeds for excellent coverage and easy use in rock gardens.

T. serpyllum is a mat forming herb that grows to maximum heights of 6" and blooms May to August. Grow in full sun, in well drained soil, with moderate to low water. Use in rock or herb gardens, as an edging along paths or as a ground cover. Creeping Thyme is a slow growing at first, but will soon establish itself as a beautiful ground cover that requires little to no work.

Kipling waxed poetic on its scent on the summer breeze, saying it was "like the dawn of paradise." Though it can be used as a flavoring or herb, creeping thyme ground cover is not the true culinary thyme but rather an undomesticated cousin. In the language of flowers, thyme signifies activity and courage. 500+ Seeds.

~ germination & planting ~

If you want to get a jump start on the Creeping Thyme ground cover plants, sow the seed indoors 6 - 8 weeks before the last frost. Easy to grow from seed though germination is slow taking from 14 to 28 days. Seeding best started indoors in a flat where temperature can be kept around 70°. Sow thyme seed in sterilized growing medium either in shallow rows or scatter on top with little or no covering. After they take root, have been transplanted to 2- 1/4" peat pots and reach a height of 2-3 inches, they may be moved outside to cooler weather. For small gardens, space plants about 9 inches apart, for field production space plants 12-18 inches apart in rows 3 feet apart.

Plant Creeping Thyme seeds directly outdoors after frost danger has passed. Prepare a seed bed, loosening the soil and weeding it. Scatter the Creeping Thyme ground cover seeds and press the seeds firmly into the soil. Keep the seeds consistently moist.

Thyme prefers a sandy, dry soil. Avoid planting in heavy, wet soils. Nutrient requirements for Thyme are not heavy, so soil should only receive a moderate amount of fertilizer. (Important to control weeds as they compete for nutrients with the slow-developing young thyme plants.)

~ harvesting ~

Harvest thyme just before the flowers begin to open, by cutting the plant one and a half to 2 inches from the ground. A second growth will develop but this should not be cut at all. This would reduce the plant's winter hardiness. Although a hardy perennial, thyme plants need care over the winter months to survive the cold.

After harvesting, lay the cut plants on sheets of newspaper or fine screen and allow them to dry in the warm shade. When dry, the leaves will separate from the woody stems easily if rubbed lightly.
Every spring cut thyme plants back to half its previous height to retain the tender stems and bushy habit.

~ additional instructions ~
- all seeds are heirloom, open-pollinated, organic & non-gmo (unless noted otherwise).
- detailed instructions are included with every seed package.
- inquire for discounts available on bulk quantities.
There was a problem calculating your shipping. Please try again.
No returns or exchanges
But please contact me if you have any problems with your order.
Gift wrapping available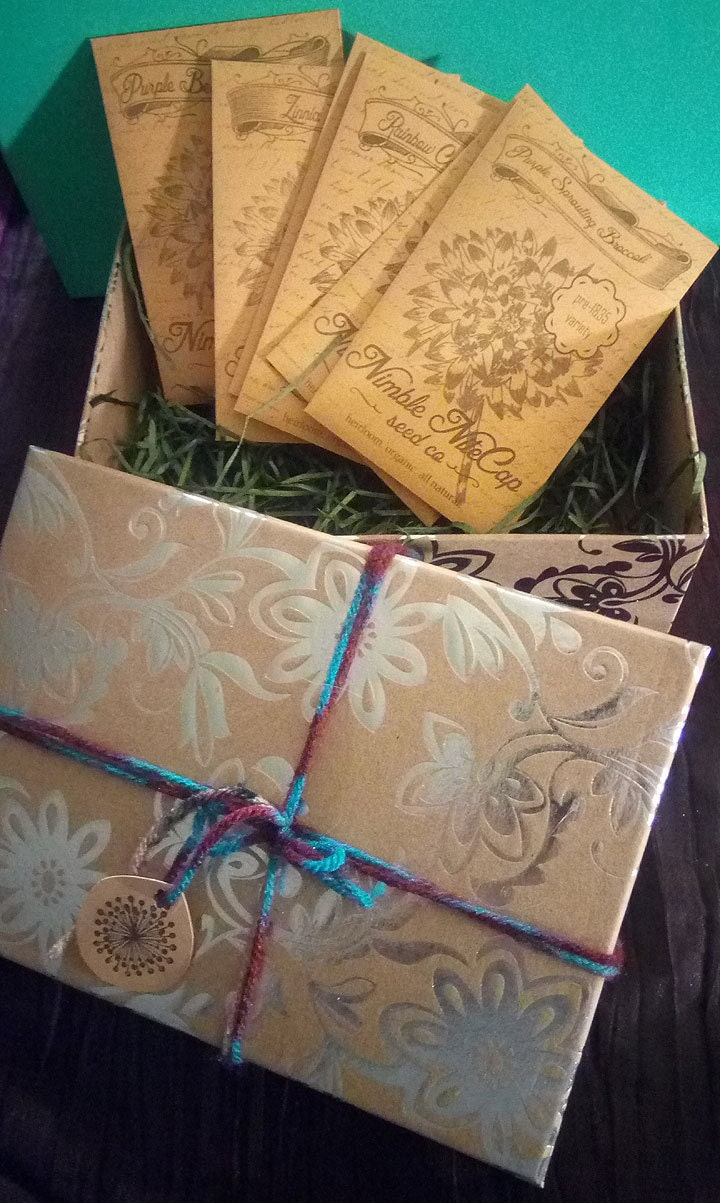 Gift wrapping by NimbleNitecap

Loading
Love this shop (great customer service/follow-up, lovely packaging, got discount without asking & a bonus pack of lettuce seeds) and love Creeping Thyme -- highly recommend if you're looking for a fast-growing, hardy, pretty!, weed-overwhelming ground cover (I'm in Zone 7). Thank you Ally!
Thank you NimbleNitecap for the speedy shipment. Arrived safely and on time packaged very well.
These are growing great, I plan to put some in my rock garden.
Explore more items customers loved
Top wedding searches to shop