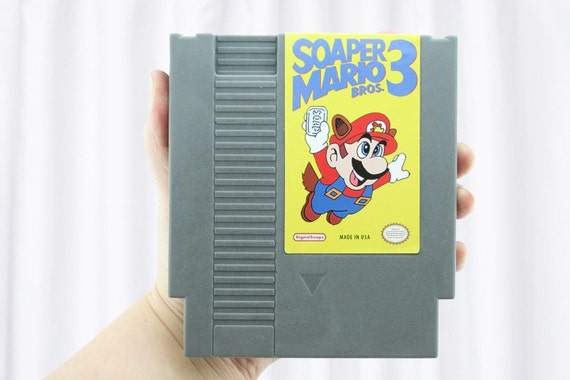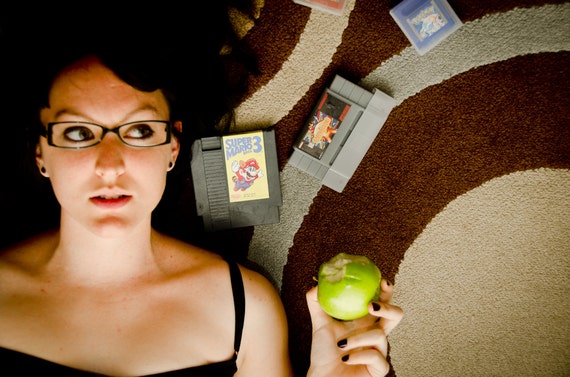 It's dangerous to go alone! Take this.
This NES cartridge replica soap and cartridge sleeve set has the look of the original without the 8-bit microprocessor. Look closer, and you will see that the cartridge says "Soaper Mario Bros. 3." Trick your friends and your enemies.
Soap is scented with "Vanilla Select" fragrance oil.
Made by the original inventor of gamer, gadget, tech and geek soap, DigitalSoaps. Featured in GamePro, GamesMaster, GEE Magazine, Forbes.com, Wired UK, Liberating Style, Micro Hebdo and Trendy One Magazine.
My soap is not only decorative, but functional as well. It makes guests squint at your bathroom counter and complements a gamer lifestyle. The mild ingredients make your hands soft.
For a greater selection of similar products, follow this link:
http://www.etsy.com/shop/Digitalsoaps?section_id=7210192
❇ ❈ ❅ ❄ ❆ ❇ ❈ ❅ ❄ ❆ HOLIDAY SHIPPING SCHEDULE: ❇ ❈ ❅ ❄ ❆❇ ❈ ❅ ❄ ❆
Thank you for choosing DigitalSoaps this holiday season! From September through December, your order may take up to 10 days to ship. Please take this into account, along with additional transit times, when placing your order.
DEADLINES for holiday orders:
Domestic (within the U.S.): The last day for guaranteed Christmas delivery is Dec. 11. Because this is a general estimate, the deadline is subject to change. Please refer to the home page (www.digitalsoaps.etsy.com) for updates.
International (outside the U.S.): Due unpredictable delivery times associated with international delivery, I recommend ordering no later than NOV. 15 for holiday delivery. Orders placed later may still arrive in time, but it is not guaranteed.
❇ ❈ ❅ ❄ ❆ ❇ ❈ ❅ ❄ ❆ ❇ ❈ ❅ ❄ ❆❇ ❈ ❅ ❄ ❆ ❇ ❈ ❅ ❄ ❆ ❇ ❈ ❅ ❄ ❆ ❇ ❈
The ingredients:
· Coconut Oil
· Palm Oil
· Safflower Oil
· Glycerin (kosher, of vegetable origin)
· Purified Water
· Sodium Hydroxide (saponifying agent)
· Sorbitol (moisturizer)
· Sorbitan Oleate (emulsifier)
· Soy Bean Protein (conditioner)
· Titanium Dioxide (mineral whitener used in opaque soaps)
· Fragrance and color
Learn more about the shop and process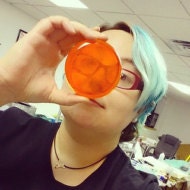 Chrystal Doucette
Nintendo NES Soap Cartridge Parody, Super Mario, Vanilla Select Scent by DigitalSoaps, Retro Video Game Geek Gift
---