Awesome fiber, luxurious French angora rabbit is waiting for you to spin into beautiful designer yarn or blend with other fiber. Very soft, silky texture. I obtain a bag of this awesome fiber directly from France, from a small village in Savoy the birth place of FRENCH ANGORA RABBITS. (Lucky to have my ex students all over the world , I was a teacher for 12 years back in the Ukraine and now my ex students live all over the world).
And do you know this very interesting fact, " that the use of French Angora rabbits for wool production in France dates to as early as 1845 in the region of Saint Innocent in Savoy, France. A gentleman named Monsieur Lard developed a large angora herd that provided work for many in St. Innocent. But additionally, he and his wife made it possible for others to start their own angora enterprises.
Mr. Lard and his wife frequently gave to the village women and to the poor several pregnant rabbits. They paid by returning half the offspring at 12 - 16 weeks of age. The villagers cared for their own rabbits and reaped the benefits. They sheared the wool, spun the yarn, made garments according to their skills, and sold their products, whether wool, yarn or garment. It was a win win win situation, enabling the enterprising to support the family and the poor to rise out of abject poverty. No wonder France quickly became the global leader of raw angora wool production."
The hisrory fact (Used with permission from www.raising-rabbits.com/french-angora-rabbits.html)
Here you have natural 100% pure white French angora rabbit fiber. Softer than cashmere, 7 times warmer than sheep wool. Angora is 11 micron in diameter. Very light, airy , fiber has a hollow shaft so, you need just a small amount of fiber and go a very long way. If you blend just 10% angora and 90% wool, this will give your yarn a lovely touch, halo and a warmth too. 1oz of fiber can give you well over 100 yards if you spin finely. If you blend with other fiber you can dramatically increase the yardage.
To qualify for the grade one prime ,fiber must be combed not sheared .And you will have here best of the best. The rabbit feed with a high protein diet for superior fiber quality and brushed often, this is how the fiber collected. Simply brushing the rabbit. The rabbit are cared for with love. They are very healthy and happy "little people". Take advantage of this fantastic bargain.
And it dyes very nice too.
The fiber is very clean , ready for you to take over for a super creation. This listing is for 1 os fiber. If you want more, just convo me & I will p[ut a special listing for you.
On some pictures you can see the skein of yarn together with the fiber, I spun for you to see how gorgeous it is. Thank you. Lysy.
And rememember my home studio is always smoke free.
On the second picture from the bottom, I put the picture of the beautiful lace scarf, which was created by one of my customer from France, she is here on etsy too, her shop is Lamaisondesfibres. She spun lace type yarn from my FRENCH ANGORA BUNNY fiber on her Ashford joy spinning wheel & knitted this gorgeous lace scarf.
On the last picture you can see a bunny romer I knitted for this antique German doll. I used the bunny fiber, spun & then created this beautiful romper. The blue stipes , I dyed the yarn afer I spun. That was a creation, a custom order for one of my customer from ETSY.
Now featured in the treasury. Facebooked & twittered too. Cheers.
www.etsy.com/treasury/4d625404b8148eef58f28b90/white-as-the-new-driven-snow
Another treasury:
You are in treasury!
www.etsy.com/treasury/MTAwODc4NzB8OTQ4MTU1MTY1/winter-soon
Another lovely treasury:
http://www.etsy.com/treasury/MjAwMjM5NDh8MjMyOTY3OTI0Mw/lovely-bunny
And another sure white treasury:
http://www.etsy.com/treasury/OTA3MzY5MXwyMzIyMzUyMzc5/the-innocence-of-white
And now another lovely treasure HEAVEN:
http://www.etsy.com/treasury/MTI2ODMwMDJ8MjcyMjg0Nzk3NA/heaven
Another cool treasury:
http://www.etsy.com/treasury/NTAwMTA0NXwyNzIwNzQyODUz/monochrome
Another beautiful treasury:
http://www.etsy.com/treasury/MjYzMjAyNzF8MjcyMzU1Nzc1Ng/snow-and-ivory
Meet
the

owner

of

Lusy Learn more about the shop and process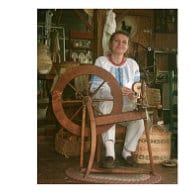 Lusy Classicspinner
Pure white 100% French angora rabbit fiber .Gorgeous fiber, top quality. French bunny.
---
Overview
Handmade Supply
Material:

organic french angora rabbit fiber

Ships worldwide from

United States

Feedback: 611 reviews
Favorited by: 130 people
Listed on Nov 28, 2016
3508 views