I am currently listed in Early American Life's 2010 Directory of Traditional American Crafts for my hand-made Marsh Skis.

Over a century ago, visitors to the marshes of Wisconsin might have been surprised to see a duck hunter with 10-foot skis strapped to his or her boots skimming across the tops of the cattails. Lost to time for nearly a century, Vincent Chicone has rekindling this historic craft by hand hewing ash marsh skis.

I sculpt the wood for width and thickness with scrub and finish plains, and then delicately apply the beadwork to the piece for a finishing touch. The skis are then steamed, and bent to a form in the classic style to achieve not only quality but also historical accuracy. The skis range from four to six inches across and anywhere from 10 to 12 feet in length, contoured on all sides. They are made to strap directly to your boots and operate like a hybrid of a cross-country ski and snowshoe. Strap them onto your waders or hang them above the fireplace at your lodge; functional and beautiful, these historic gems are finding a new place in the homes of the twenty-first century.

Every pair of skis is custom made-to-order—please allow 6-8 weeks. The price includes local pick up only. I can help you arrange shipping for an additional fee—I offer standard crating.
Learn more about the shop and process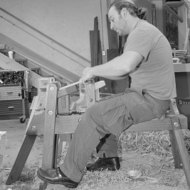 Vincent Chicone