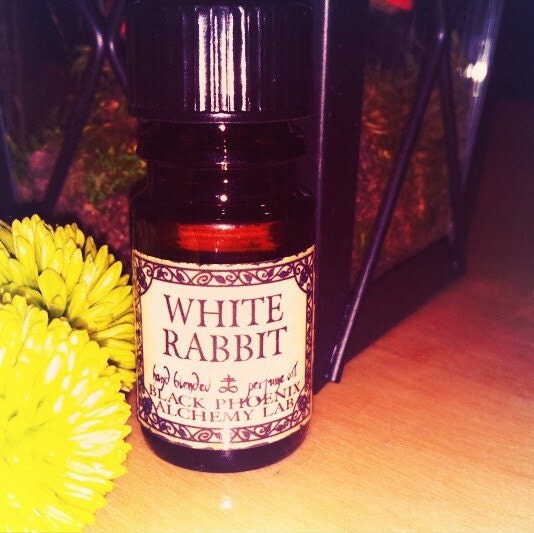 WHITE RABBIT
Strong black tea and milk with white pepper, ginger, honey and vanilla, spilled over the crisp scent of clean linen.

- - -

This is an authentic Black Phoenix Alchemy Lab blend. This bottle is pristine, never opened, and comes straight from the Lab.


Unless otherwise specified, all orders are shipped USPS Priority Mail. Please allow 2 weeks from receipt of payment for delivery.

Please use caution and common sense when using essential oils or any of our highly concentrated oils and fragrances as they may cause skin irritation if not diluted, and may be toxic if taken internally.

Black Phoenix Alchemy Lab specializes in formulating intriguing, compelling body and household blends with a dark, romantic, and sexual tone. Our scents run the aesthetic gamut of romance era, Renaissance, Medieval and Victorian formulas, pagan and mythological blends, and horror / Gothic-themed scents. By utilizing our knowledge of homeopathy and aromatherapy, the conceptual theories of hermetic alchemy, and the aesthetic artistry of perfumery, we have mastered the art of encapsulating allegorical ideas into singular olfactory experiences.

Inspired by a vast range of influences, from the passion and decadence of the Fin de Siècle movement to the ghastliest of Lovecraftian monstrosities, we specialize in eliciting emotional responses through perfume and creating unique, masterfully molded scent environments that capture legends and folklore, poetry, and the stuff of dreams and nightmares.

Though we are at times campy, and sometimes very tongue-in-cheek, we never lose sight of our one true goal: moving the soul and spirit through the unbridled artistry of scent, and remaining unbound by conventional fashion.

Simply put: this is no ordinary perfume house.

We pride ourselves on the artistry of our products, and our skill in their creation. We have over fifteen years of experience in the field, and our joy is our work. All of our products are hand-blended here in our laboratory. Integrity and dedication is vitally important to us, and we do our best to provide the best possible product and slavishly good service to all our clients.

We believe in compassionate consumerism, and in giving as much back to the community as we can through charitable contributions, volunteer work, and by supporting fair trade and self-sustaining growers whenever possible. We participate in the Green Power for a Green LA program at work and in our homes, and have participated in fundraisers for many fine organizations, including the Comic Book Legal Defense Fund, the Orangutan Foundation UK, AIDS Project Los Angeles, Covenant House, the Red Cross, and the Humane Society.

With the exception of our honey-based products, everything that comes from BPAL is vegan, and we abhor animal testing. All products are tested on staff, family, and friends.

Our goal, both at Black Phoenix Alchemy Lab and Black Phoenix Trading Post, is to share the things that we love through the products we create while participating in imaginative, conscience-driven capitalism.
White Rabbit: Black Phoenix Alchemy Lab Alice in Wonderland Perfume Oil 5ml
---