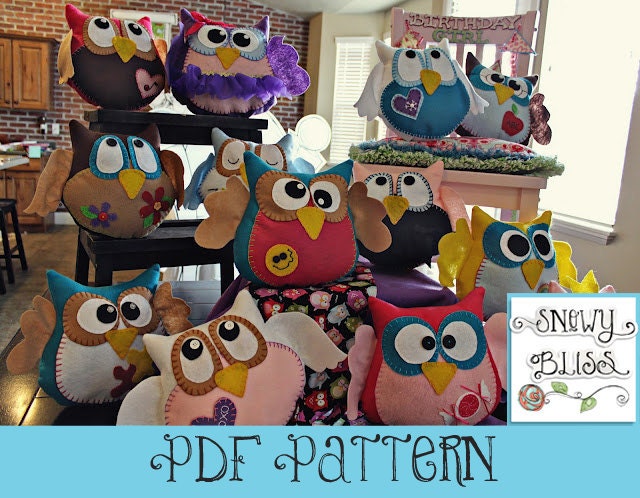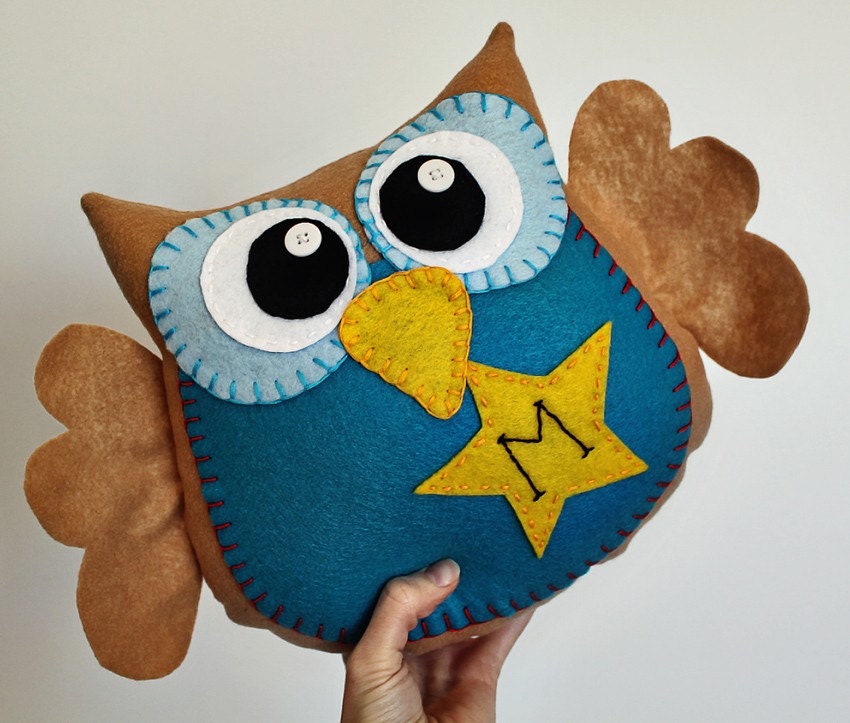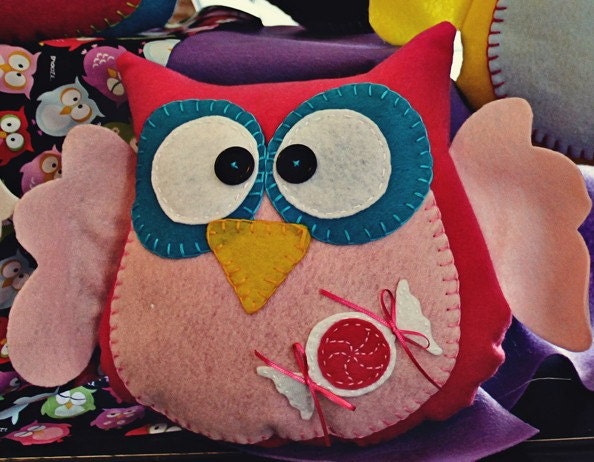 I'm so excited about this darling pattern!!
It all started when I made owl softies for my daughters 6th birthday party. Each child got her very own owl. And each owl had her own "personality." There was such a fabulous response to the party that I've prepared this pattern. Now you can make your own adorable owls for a birthday party, a gift or just for fun!
You can see the party here on my blog…
http://snowybliss.blogspot.com/2011/02/night-owl-party.html

Included in this pattern…
❤ Two different full-scale owl patterns. Each finished owl will measure just under 11x11.

❤ Embellishment patterns… i.e. hearts, an apple, a star etc… for decorating your owl.

❤ Step by step instructions including photo's.

❤ Details of 12 different owl "personalities" and how to make it each one.

This is a downloadable pattern. It will be sent to you in PDF format. You will need Adobe Reader to access it. You can download Adobe Reader (it is free) at adobe.com.

The pattern is a direct download through etsy.

There are also matching owl adoption certificates now available in my shop!

THIS PATTERN IS FOR PERSONAL USE ONLY. :)

Also please don't pass it around (don't sell, forward or give it away). Thank you!

*THIS LISTING IS FOR A DIGITAL DOWNLOAD ONLY. IT IS A DIY PROJECT. IT IS IN .PDF FORMAT. IT IS A DIRECT DOWNLOAD THROUGH ETSY. NOTHING PHYSICAL WILL BE SENT/MAILED TO YOU. (I promise I'm not yelling… just making sure customers are aware). :)

❤ Answers to commonly asked questions❤

-Yes a sewing machine is used for this pattern. It's only used one time towards the end to put the back and front of the owl together. :)

-The princess owl shown on my blog is a template I created but then tossed. When I started the party prepping I created three templates. Then I made my first three owls from those, one of each. I decided the princess owl style was more work than it was worth, so I tossed the template and instead just made the rest from the other two templates. But I still had the princess owl, so I included it in the party. Had I known there would be such an interest in the party, and that I would eventually be selling the pattern I would have hung onto it. For that reason the pattern for the princess style owl is NOT included. :) It is only the other two styles.

-To keep the pdf from being a million pages long I don't include instructions for specific stitches. However… there are so many awesome tutorials on the internet that quite frankly do a better job explaining them than I could anyway. You'll just have to do a little internet searching and you're in business!
The stitches used in the pattern are…
Blanket Stitch
Back Stitch
Basic Running Stitch
Slip Stich

-These owls are not to be made and sold on etsy or any other website. This pattern is for personal use only… not commercial. Thank you for understanding… and being courteous of my creations.