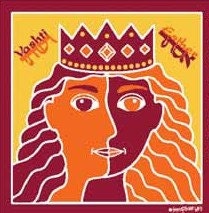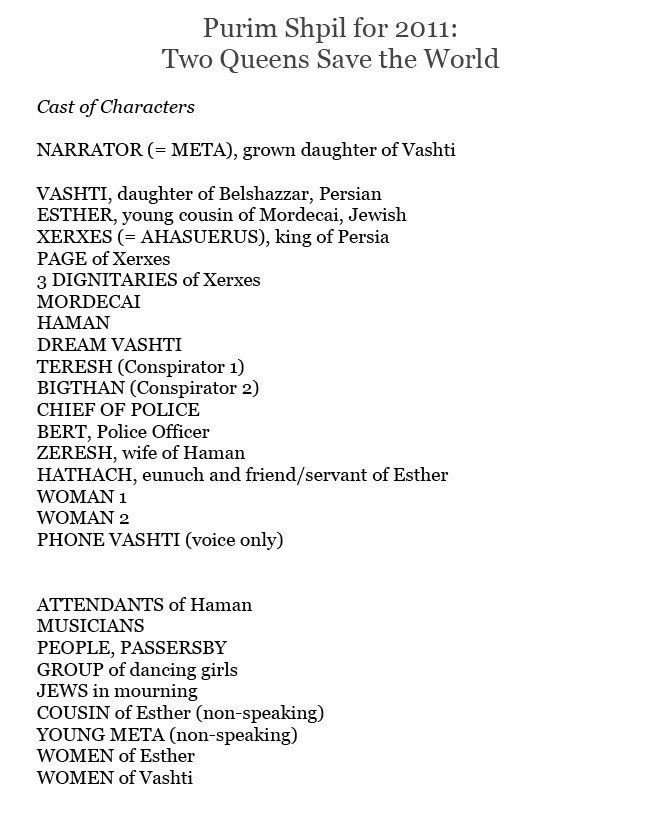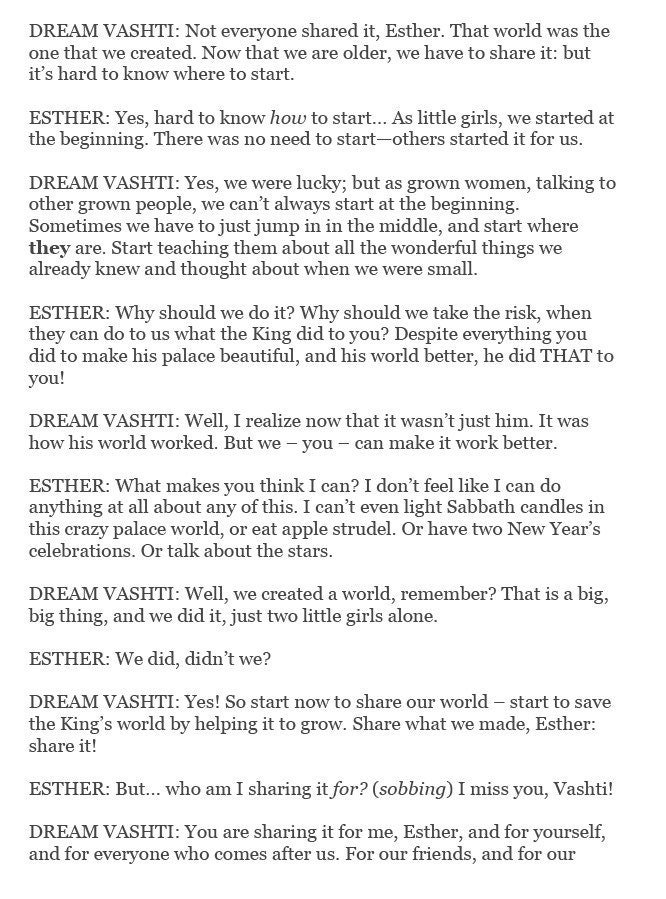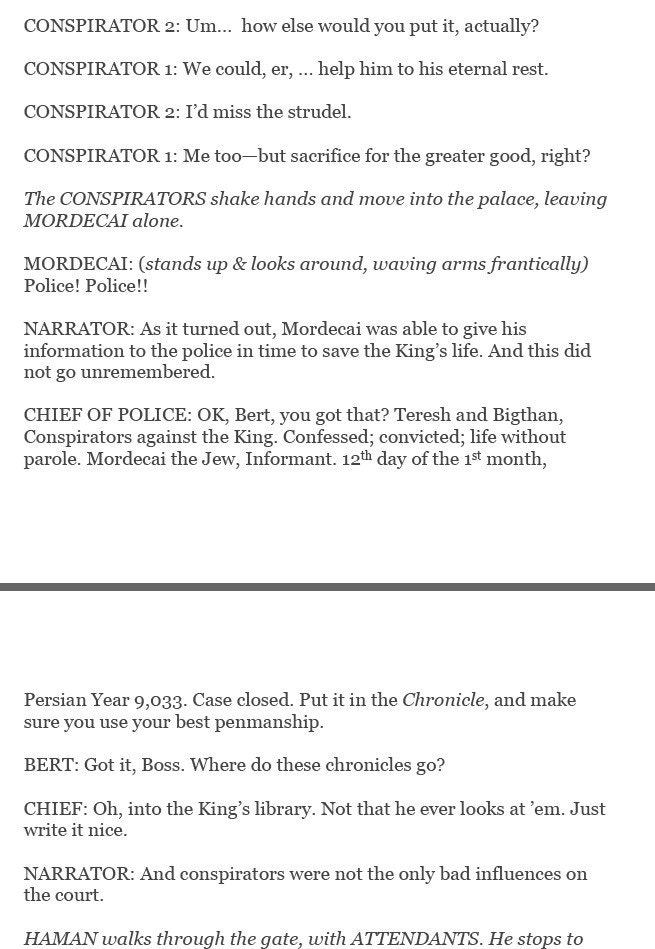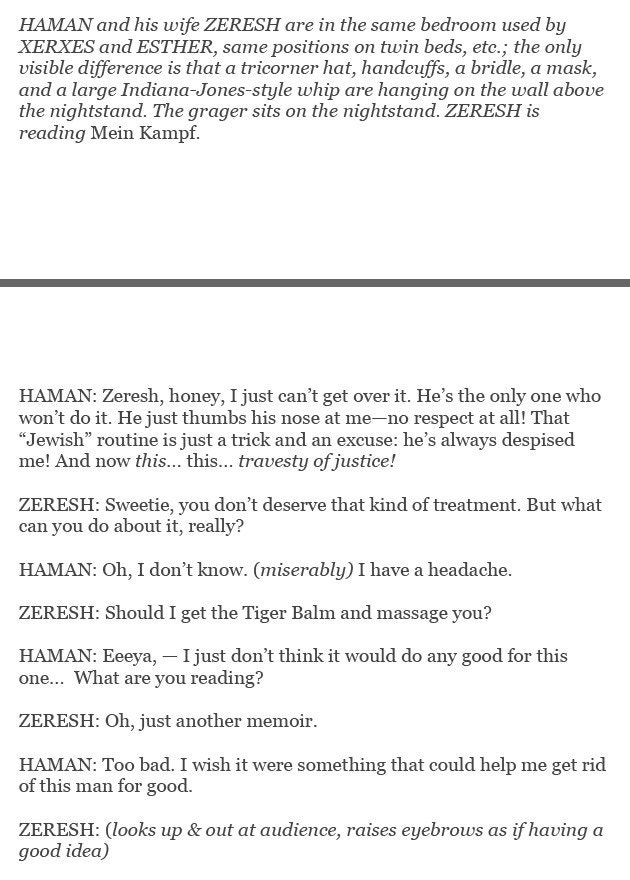 I wrote a play!

In this fun, multicultural, pro-girl, pro-woman retelling of the Purim story, both Esther and Vashti, BFFs since childhood (who knew?), play a crucial role in bringing the traditional tale to an epic, partying, non-violent conclusion! Play is about 40 pages long, and takes about one hour to perform. Family friendly; no cursing, no violence. Occasional jokes--feel free to cut if you don't like any of 'em! ;) See slightly longer synopsis below!

This listing is for a pdf file of the play script, and I'm charging just enough to cover the listing fee; feel free to print out and distribute as many copies as you need/desire, with the proviso that you do give me credit as author, and that you do not charge for the play or make commercial use of it, in accordance with the guidelines of Copyleft: http://en.wikipedia.org/wiki/Copyleft

Happy Purim (and happy Nowruz, and felíz Cinco de Mayo, and happy Holi, and happy Nanakshahi, and happy Easter...!).

No shipping charges (I will send the pdf by email to you).

NOTE: the illustration of the Vashti/Esther flag is not my own, but is by Susan Fischer Weis; to get a cool flag like this for about $5, go to: http://www.haggadahsrus.com/Mayan.htm
***
Brief Synopsis of the Purimshpil: Two Queens Save the World

The well known, semi-historical story of Purim as told in the biblical Book of Esther, of how Queen Esther of Persia intervened to prevent a massacre of the Jews, is constantly referred back to, parodied, and given a new twist in this play. Esther and Vashti together build a childhood fantasy world of multicultural peace and understanding, interfaith friendliness and religious syncretism, only to see their vision challenged by the realities of politics. In a series of short scenes, Esther and Vashti grow up as young girls, Zoroastrian/Persian/Iranian and Jewish, together in a Persian town. The two friends each in turn go to Court to wed the king (Ahasuerus, also known in the ancient world as Xerxes), who was historically notorious for his broad approach to empire. The evil advisor Haman, who tends to quote Hitler, tricks the king into killing off the Jews. Esther, with the help of Vashti, Mordecai (her old Yiddish-speaking uncle), and various friends at the palace, including her right-hand fashionista eunuch, is able to turn the tables on Haman and stop the massacre.

Inspired by feminist re-envisionings of Vashti (e.g. John Brayshaw Kaye and Frances E.W. Harper), this play uses humor and song to tell its story, which we hear from the narrative perspective of the adopted daughter of Vashti.
Meet
the

owner

of

jerise Learn more about the shop and process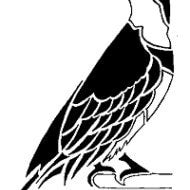 Jerise
PURIMSHPIL - Two Queens Save the World - fun, multiculti, grrl-power Purimshpil script - pdf file - PIF
---
Shop similar items from sellers around the world