The Commoners....
GORGEOUS RE-GLASS* sea glass buttons! One super THICK pure white bottle bottom piece, one gorgeous spring green heart shaped piece, and one frosty chocolate brown!! Large buttons... very organically shaped... Wicked cool!
Use these as a functional or focal button on any of your creations!!
Peace! Paz!
Cute as a button:
seafinddesigns.etsy.com
_______________________________________________________
_______________________________________________________
Re-Glass™ was created by me because I can't waste a thing! Every piece of Re-Glass™ is GENUINE sea glass. Found on the beach by the Prince family!! Lemme esplain… I find so much antique glass on my beaches, they're colorful, and so thick…. But uh oh, there's a nice big chip on the side!! You have no idea how frustrating it is to find a great big piece of cobalt blue only to find a huge chip on it! What to do?? I designed mosaics, the grout can always hide the flaws, but you never receive the money you deserve, for the amount of work that goes in to them! I started using coil wraps around them to hide the chip (full disclosure of course), but it still felt wrong to make a piece of sea glass jewelry that wasn't "flawless"!
So I thought, "Why not just etch the chip?" (non toxic method of course) Glass artists etch their beads all the time!! So Re-Glass™ was born! Every piece is genuine and has retained the all knowing "C"s of sea glass, the pitting if you will! The FROST! Can you tell where the chip was?? Not so sure are you!
This is recycling at its best…… I can't throw anything away….. Well, anything that wasn't askin' for it!!
Please enjoy Re-Glass™ Sea Glass!
Learn more about the shop and process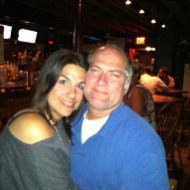 Me and Dew
Cute As A Button - REAL Sea Glass Buttons for Sewing Notions or Jewelry Designs
---