☆ Our Signature 'ULTRAGRIP' Hoop! ☆
Not only have we sold over 28,000 hoops, we have the highest quality, most professional and durable handmade Hoops you'll find! Choose your perfect size and favorite colors. Our 'ULTRAGRIP' Hoops are constructed exactly the same as the rest of our Pro Line of hoops, but cost less.
Want a Criss-Crossed Style Beginner Hoop? We've got you covered! Check out our 'Signature Starter Hoops!'
http://www.etsy.com/listing/61940416
✮FIRST, CHOOSE YOUR SIZE ~
XL ~ 43"
LG ~ 41"
MD ~ 39"
SM ~ 37"
SuperPro/Kiddo~35"
(In between sizes are fine too! We recommend beginners measure from the ground up to about an inch or so above belly button height~this is a great place to start!)
✮SECOND, CHOOSE YOUR TUBING ~
~ STANDARD 3/4" 100 PSI PE. (Standard Hoop Dance Hoop, Recommended.)
Made in sizes 35" - 43" & only collapsible at 35" & above.
~HEAVYWEIGHT 3/4" 160 PSI PE. (Heavier for Beginners or Lg Framed.)
Made in sizes 36" - 43" & only Collapsible at sizes 36" & above.
~1/2" ADVANCED 125 PSI PE. (Thinner, Lightweight, Advanced.)
Made in sizes 30"-38" & all sizes are made collapsible.
~STANDARD 3/4" POLYPRO. (Experienced Hoopers. Lightweight & Fast.)
Made in sizes 28"-38" & are made Push-Button Collapsible.
✮LAST, CHOOSE YOUR 2 COLORS ~
NOTE YOUR COLORS IN THE 'NOTE TO SELLER SECTION' AT CHECK OUT!
Choose 2 Grip Tapes from our 1" Grip Tape Selection Guide pictured above.
IF NO COLORS ARE NOTATED and we cannot reach you, we will send your hoop in our 'default' colors of Teal and Black.
✮100% Satisfaction Guarantee~BEST Selection of Pro Hoops on Etsy!
✮View a simple tutorial on how to collapse your hoop here:
http://www.youtube.com/watch?v=jI0tLpNLQIU
✮Locals may use code FREEPICKUP to eliminate shipping charges. Hoops may then be picked up in Lawrence, KS when complete.
✮Happy Hooping from Hoop Mamas!
All images & descriptions copyright © 2010 Hoop Mamas, LLC.
Learn more about the shop and process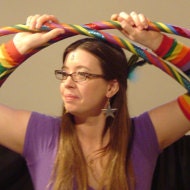 Hoop Mama Ali
The ULTRAGRIP - Design Your Own 2 Color Travel Starter / Budget Hula Hoop - BeSt SeLeCtioN of CoLoRs ONLINE & Over 28,000 Hoops sold!
Listed on Sep 21, 2016
19290 views