Driftwood, topped with cobalt blue sea glass (found, NEVER tumbled by hand!) and complimented with a mixture of gemstones (goldstone, turquoise, quartz), wooden beads, and glass beads.

Most gemstones and accent beads are reclaimed from vintage necklaces, earrings, and garage sales.

Looks gorgeous in any color hair! A wonderful gift for someone who always wears a plain 'slide-in' barrette!

Sea glass in very securely in place atop of driftwood.
This beauty comes adorned with some fabulous pieces of sea-history.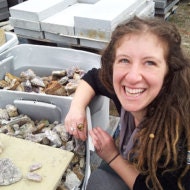 Mara Bee
Listed on Apr 7, 2015
181 views