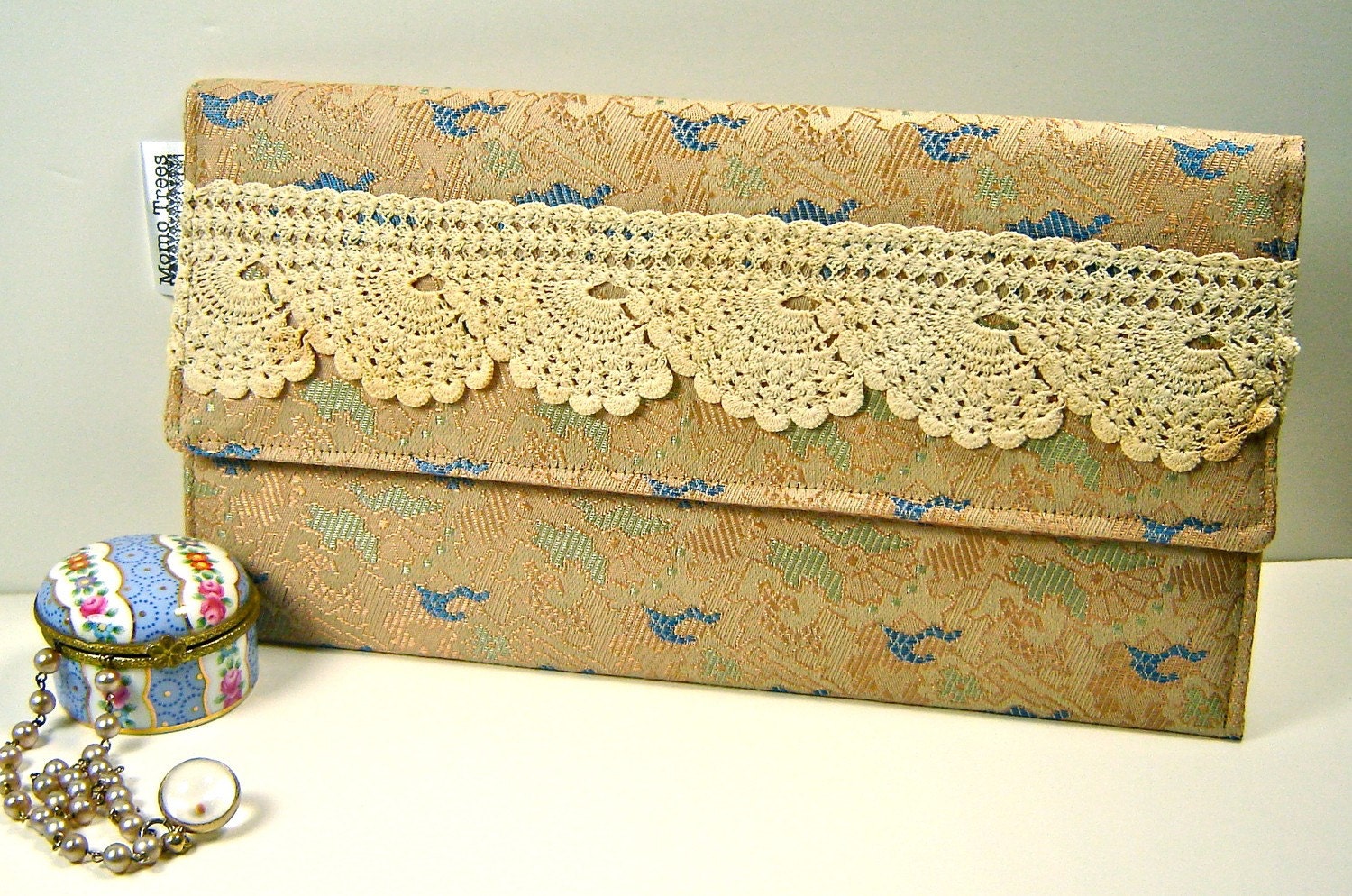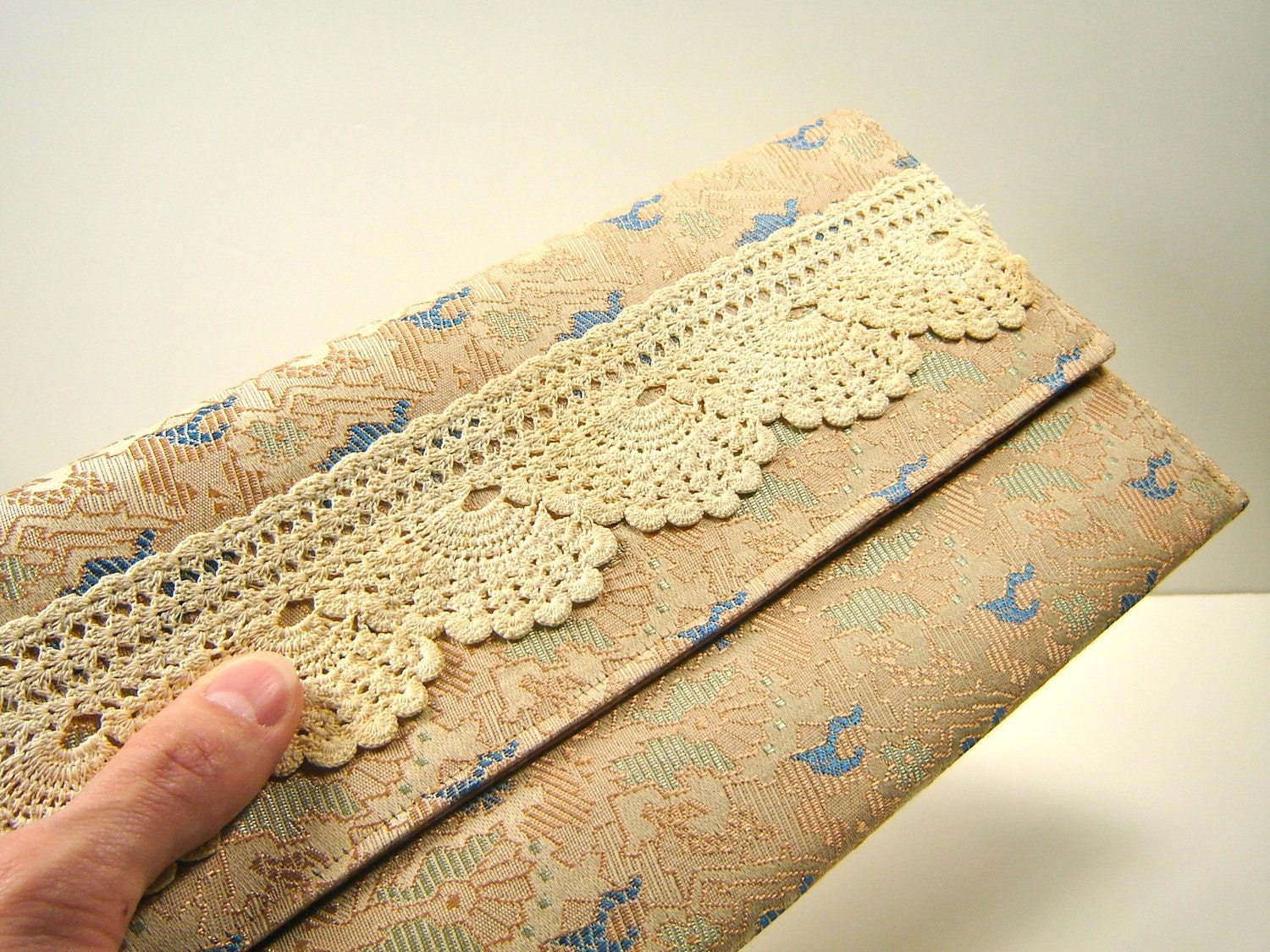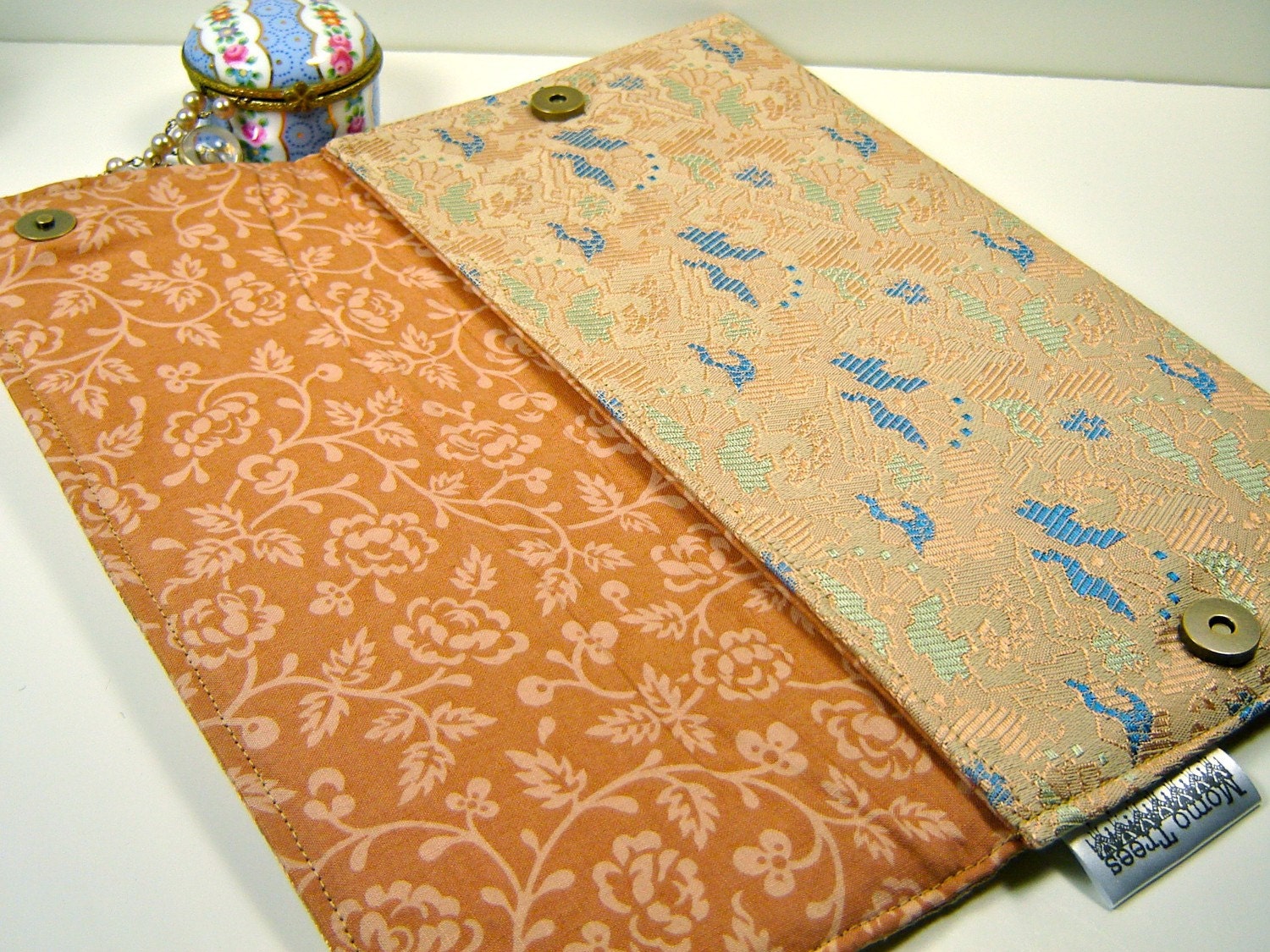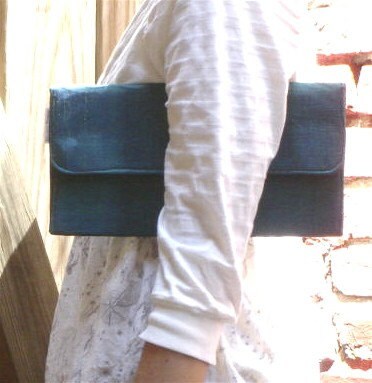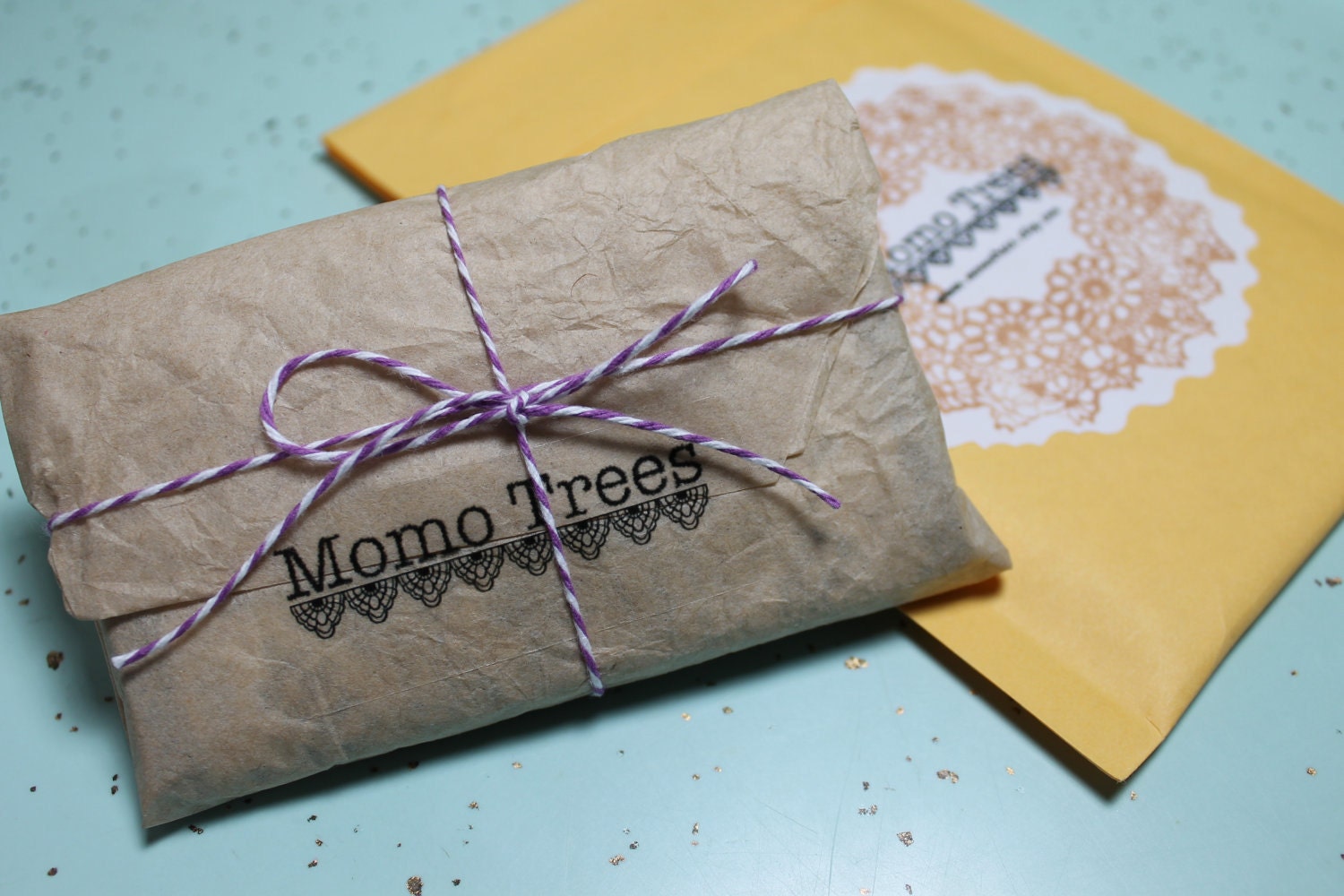 ::Vintage Fabric Envelope Clutch::
Take this clutch with you on your way to brunch with friends! It is perfect for when you just want to bring the essentials; license, money, keys, lip gloss.
::Details::
The outer brocade material is vintage and is tan with a geometric pattern and blue accents. It is decorated with a vintage hand crochet lace across the front flap. Due to the fact that this lace is vintage and was well loved there may be some slight discolorations, this lends to the character & charm of the item. It is lined with a rust colored floral pattern cotton fabric and closes with a two antiqued brass magnetic snap. Also has a thick interfacing to protect your goodies and give structure to the bag.
Measurements are approximately 10.5" wide x 5.75"
˚˚˚˚LAST IMAGE IS FOR SIZE REFERENCE ONLY
::Gift Ready Packaging::
All of my items are beautifully wrapped and packaged. Want it wrapped for a special occasion? Check out my gift wrapping add-on options:
http://www.etsy.com/shop/MomoTrees?section_id=10746140
˚˚ºº˚˚ºº˚˚ºº˚˚ºº˚˚ºº˚˚ºº˚ºº˚˚˚ºº˚˚ºº˚˚ºº˚˚ºº˚˚˚ºº˚˚ºº˚˚ºº˚ºº˚˚ºº˚ºº˚˚ºº˚˚ºº˚˚ºº˚˚ºº˚˚ºº˚˚ºº˚˚
To keep up with exclusive promotions & see what's going on in the world of MomoTrees "like" my Facebook page here: https://www.facebook.com/pages/MomoTrees/131591308265
ºº˚˚ºº˚˚ºº˚˚ºº˚˚ºº˚˚ºº˚˚ºº˚˚ºº˚˚ºº˚˚˚ºº˚˚ºº˚˚ºº˚˚ºº˚˚ºº˚˚ºº˚˚ºº˚˚ºº˚˚ºº˚˚ºº˚˚˚ºº˚˚ºº˚˚ºº˚˚ºº
˚˚º0º˚˚º0º˚˚º0º˚˚º0º˚˚º0º˚˚º0º˚˚º0º˚˚º0º˚˚º0º˚˚º0º˚˚º0º˚˚º0º˚˚º0º˚˚º0º˚˚º0º˚˚º0º˚º0º˚˚º0º˚˚º0º˚˚º0º˚˚
My name is Christina, a.k.a. Momo, & I am somewhat of a hopeless romantic. I love searching through thrift/vintage shops, flea markets, and yard sales searching for new old materials. I rescue them from boring lives of hiding in boxes to give them a life where they can be appreciated again. MomoTrees was born when I inherited vintage fabrics and lace from my Grandmother. She was an inspiration to me then and continues to be today.
Everything, from sourcing materials to designing and cutting out patterns to sewing is done solely by me. My bags & wallets are all made with quality and care and much attention to detail. I stand behind everything that I make because it represents me. Most bags you see are one of a kind or very few of a kind.
Thank you for stopping in and supporting sweatshop-free handmade goods!
˚˚º0º˚˚º0º˚˚º0º˚˚º0º˚˚º0º˚˚º0º˚˚º0º˚˚º0º˚˚º0º˚˚º0º˚˚º0º˚˚º0º˚º0º˚º0º˚º0º˚º0º˚˚º0º˚˚º0º˚˚º0º˚˚º0º˚˚
Check out the rest of my shop for more styles!
http://www.etsy.com/shop/MomoTrees
___________________________________________________________________
SHIPPING: I ship to all US addresses via USPS first class mail with delivery confirmation. To international address I must ship USPS via Priority mail. It is the best method for the price. There are cheaper ways, but they are slower and do not provide a tracking number, nor guarantee of delivery.
Learn more about the shop and process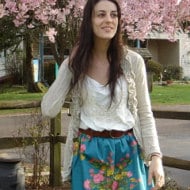 Christina
Envelope Clutch - Vintage Tan Brocade Fabric - Vintage Hand Crochet Lace
---