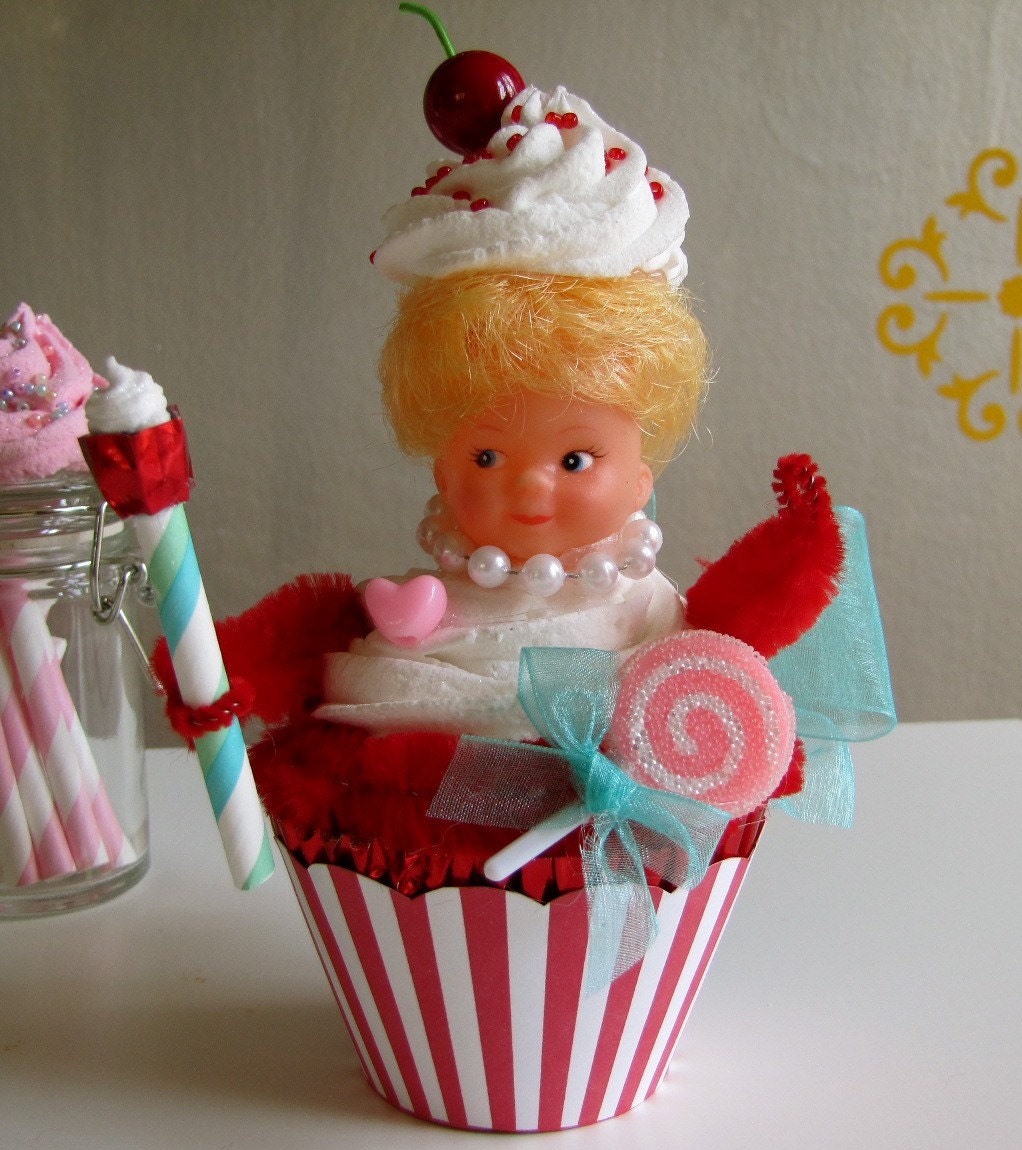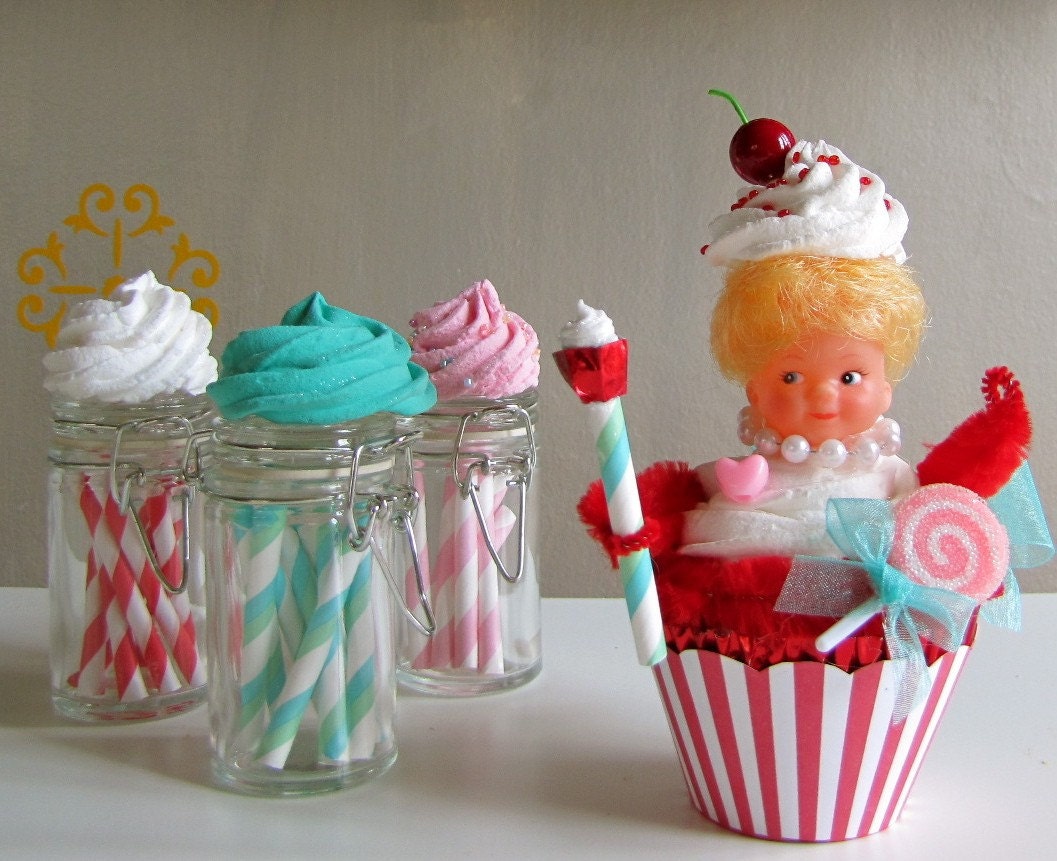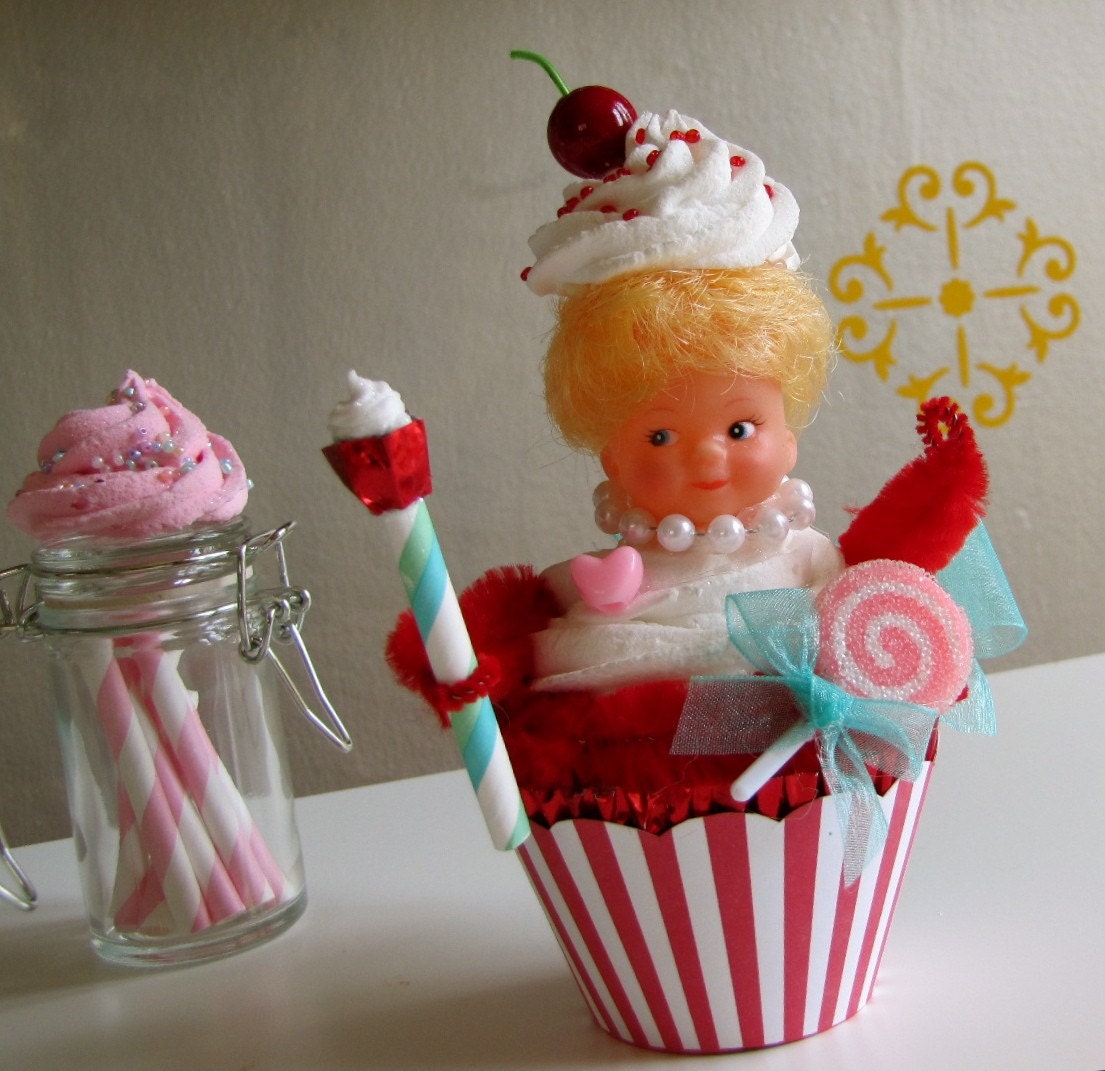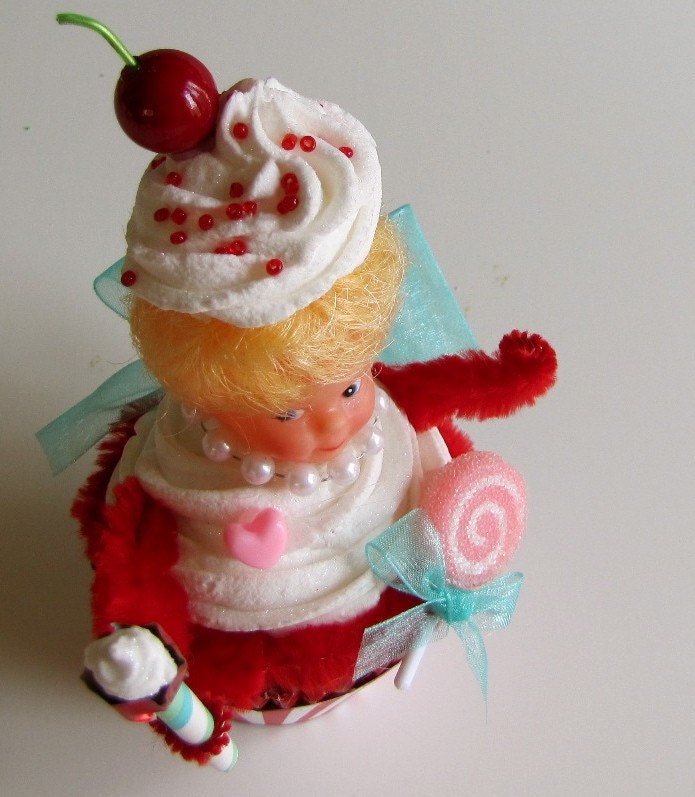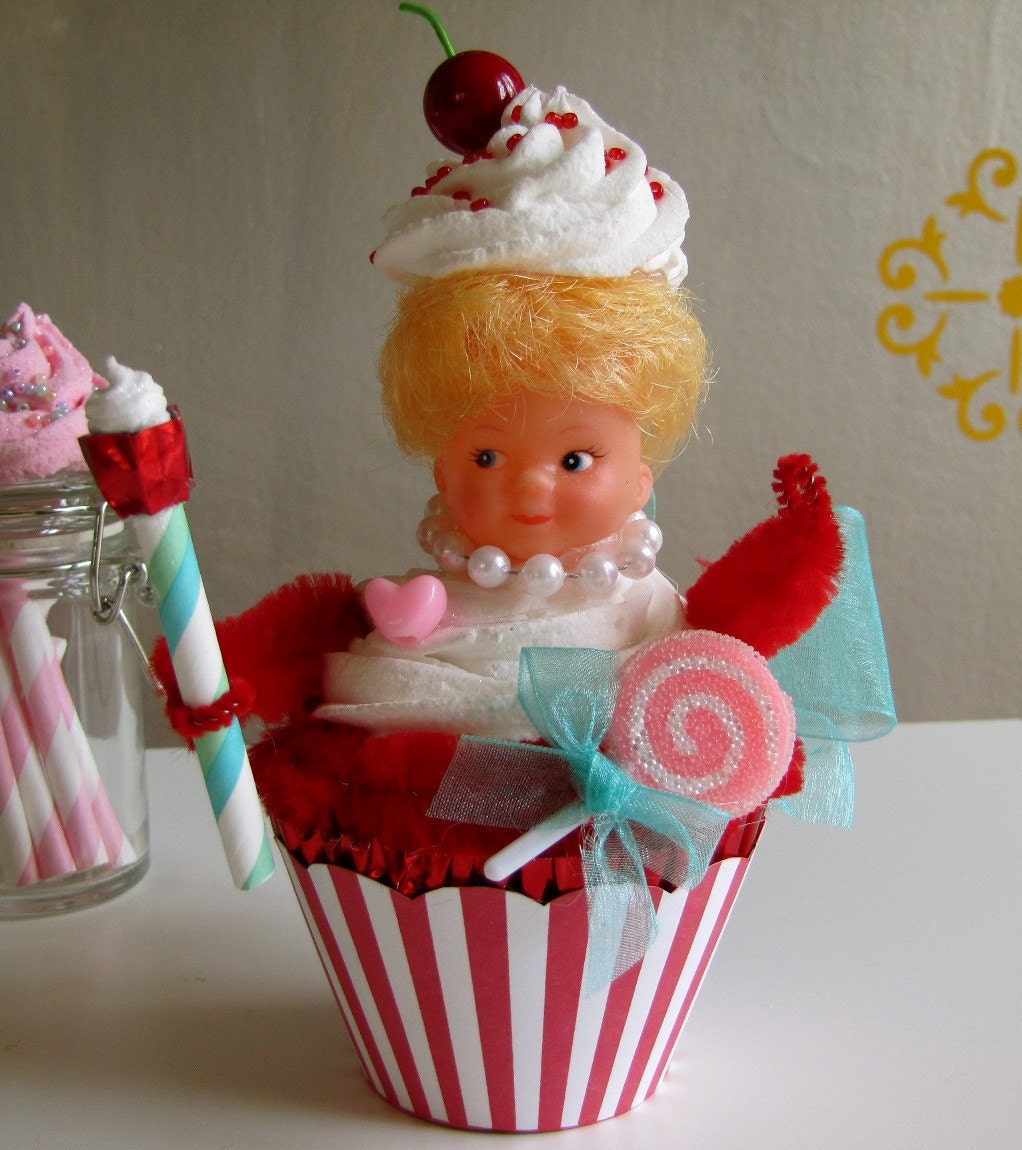 ♡♡♡♡PLEASE READ OUR SHOPPE ANNOUNCEMENT FOR UPDATES BEFORE PURCHASING♡♡♡♡♡.

This listing is for Cherry, Queen of the Sweets. She is fresh from our Cutie Cupcake Collection and serves as a Mood Enhancer Charm for just about anyone. Say someone near you is being a real A**Hole.....maybe someone at work...maybe your boss...simply place her about 6" from them and let her work her magic. Soon their nasty attitude will be out the window and you can get on with your day. She has a Vintage Doll Head, is holding a stripey Cupcake Wand, has a pink lollipop attached, turquoise ribbon, red/white dress and is topped with whipped cream, sprinkles and cherry on top. WHO CAN RESIST HER? She adds sweetness everywhere she goes. She is approx. 7" h from the base of the cupcake to the top of the cherry and is lightweight. YOU WILL LOVE HER! (cupcake jars and other cupcakes sold separately).

FRIENDLY FYI FOR 12 LEGS CUSTOMERS: THESE CUPCAKES ARE MADE TO ORDER AND MAY VARY SLIGHTLY FROM CUPCAKES PICTURED. CUPCAKES WILL BE VERY CLOSE, BUT NOT EXACT. Since cupcakes are made to order, they will be shipped 2 to 3 business days of being ordered and will be shipped USPS First Class. These faux "cupcakes" are made 100% by hand in our 12 Legs "Fake Bake" Kitchen, with our secret inedible recipe and are truly a labor of love process. These cupcakes are too cute and are intended to be used for holiday decor (not eaten ;) in your kitchen or dining room.

No two cupcakes are exactly the same and are little works of art. Each cupcake comes individually wrapped in a small bag with adorable ribbon. If you would like for us to list a custom order for you, simply convo us and we will be glad to oblige. Check back frequently for more adorable cupcake listings. Definitely more to come!

Please note that this IS NOT A TOY, SHOULD NOT BE PLACED NEAR FLAMES OR WATER AND IS DEFINITELY NOT EDIBLE.

Contact Information: All questions regarding merchandise, shipping information, order requests, should be sent prior to bidding. We will respond to your questions and order requests within 24 hours or sooner.

Forms of Payments and Shipping Info... We accept payments via paypal.com. Our shipping charges will be based on shipping via USPS parcel post or whichever is the same price and can be shipped faster to your address. We also purchase a delivery confirmation so you can track your orders. A flat fee of $6 will be charged for shipping/handling for the 48 states located within the U.S. Additional shipping will be required for Hawaii and Alaska. At this time we are only offering shipping for a few international countries. Please verify that we ship to your country prior to bidding and in order to get shipping costs internationally since all shipping costs will vary based on country. If you would like to have your item shipped via another method, please contact 12 legs.

Policies and Returns... We guarantee 100% satisfaction for all of our merchandise. If you are not completely satisfied with your purchase, return within 3 days for a full refund for merchandise. Unfortunately, merchandise must be returned at buyer's expense. Seller is not responsible for replacing lost or stolen merchandise. Lost or stolen merchandise must be filed via the insurance purchased by buyer, however, we will help in any way we can. ALL SALES ARE FINAL ON CUSTOM ORDERS.

All information and items listed and described are considered property or 12 Legs Curiosities and Cards. All right reserved. 12 Legs Curiosities 2011.
Fake Cupcake Cutie Collection Cherry- Queen of the Sweets Mood Enhancer Charm Vintage Doll Head Limited Ed. Original 12 Legs Concept/Design
---