Lulu is Pachyderm Friend is full of spunk and a positive attitude. She loves to have fun- if you can't tell by her bright pattern. She would love to find a home with someone who loves to party and be with friends. Lulu is approx. 4" tall and 5" long.
The plastic eyes studs could fall out if played with aggressively, so Pachyderm Friends are not recommended for young children.
When ordering a custom Pachyderm Friend, embroidered eyes can be requested instead of the typical eye studs. Keep in mind that the item listed is already made with the eye studs (which cannot be removed). If you'd like the embroidered eyes- please message me for a custom made elephant.
Lulu is made from a pattern made by Maggie Smith.
maggierama.etsy.com
Please feel free to message me with any questions!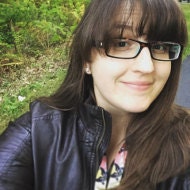 Sarah
Tiny Stuffed Elephant- Lulu
---