3oz twist top shaker bottle
It's here…..Dreaddy Dust!
So first off you might want to know what the heck this is and well it's a knottifying powder that works on all hair types! I have honestly never been a big fan of trying to force a dread to… well …uh …dread and fact of the matter is you simply can't! I mean I don't care what other companies are trying to feed into you head a dreadlock isn't going to become a mature dreadlock with anything but time! That being said do you need this product? The answer to that is ABSOLUTELY NOT! The only thing you need is a good shampoo and some water but do you want this product? Well that's entirely up to you now isn't it after all they are in fact your dreads! But you might want this if your one of those folks who is picky about having wispy ends or undreaded roots. This powder helps to dry out the hair and create some friction allowing the hair to tangle easier and thus allows you to help mold your locks.
You can use it if you are just starting your dreads with backcombing or the twist and rip method itll help whoever is helping you have a much easier time!
Dreads already started? Getting kinda grown? Got the loose roots do ya? Well there isn't much you can do about that especially if you have Caucasian locs but this will help. sprinkle a lil directly on to the root and rub in a circular motion or if you don't want to risk over dusting shake it out onto a hard dry surface and press your thumb and pointer finger into it then rub it into the root, you can do the same thing for loose wispy ends and then either use a metal fine tooth comb to back comb the ends or twist and rip em, you can use this as an aid in palm rolling young dreads if that is your thing (im way to lazy for all that and I like my bumpy crazy locs) it will help the hair grab on and stay! Always keep in mind no matter what you do to your dreads or how much work you do to make them look the way you want your going to lose almost half of the work in a couple weeks time I don't care if your crocheting (even though I firmly feel that that is not the best method of maintaining dreads) or pulling in loose hairs with a loose hair tool or a dental floss threader in 2 weeks time a lot of those hairs will come out no matter what products you use or do not use but this does help to keep more of your work together!
now you've seen knotting powders from commercial brands and ive seen a number of them on the net and I think a lot of misinformation is out there about these products and what goes into them so lemme start by listing the ingredients in the leading commercial brand
Commercial Brand ingredients,
Zinc oxide
silicone dioxide
methyl salicylate
rosin
bentonite
silicon dioxide: also known as silica can be harmful if inhaled even in small amounts especially in those with decreased lung capacity ..it is a natural substance and is a drying agent but I really don't think it's the best choice for this type of product as zinc and bentonite both act on drying the hair and are completely harmless but silica is light its cheap and it takes up space
methyl salicylate:
WAS a natural substance(wintergreen oil) but is synthetically produced for commercial products commonly used in liniments so nuff said its synthetic stuff that smells like bengay yeah…no.. I really have no idea why they put that in there!
now the Dreaddy Dust ingredients
ZINC OXIDE: I'm not really sure why I've seen so many people bashing zinc oxide ,saying things like "OMG it's in batteries" perhaps they skipped out on basic chemistry .. IDK.. but, zinc is very natural matter of fact it's a mineral! the natural sunscreen you've been buying at your local HFS its main active ingredient …yep zinc oxide…its one of two of the only natural sun block products out there! The mineral make up your using now because the drug store stuff is loaded with chemicals.. yep zinc oxide there too! So contrary to all the misconception zinc oxide IS natural and it IS a NECESSARY and main ingredient in this product! I've been developing this product for a while now and it just does not have the same effects without zinc oxide!
BENTONITE: clay yep clay that's it!
SODIUM BICARBONATE: good ol baking soda its used in a small amount as a drying agent not only to the hair but it keeps the product itself flowing smoothly.
MINT: well I think that's self explanatory
ROSIN: tree sap, usually comes from pine, if you take advanced yoga classes you have probably used it on your hands and feet to keep you from sliding off your mat! it kind of does the same thing here it keeps the hair stuck together and really the ratio of this to the other ingredients here is small really really small..But even that tiny dash of rosin improves the action of this product.
So not only is this product more natural than the leading competition its also a lot more product! Theirs weighs 0.2 oz ours is a full 3oz!!
ive never been one to do much work at all on my dreads and I developed this product to help my 7 yr old get started on her journey and ive been using it on myself I started my dreads by neglect and I had a lot of loose wispy ends I know from exp that my hair blunts really quickly and I wanted to avoid that while still getting those ends a lil more knotty and I have been using this and the results are far better than I expected!
Want your item packaged in a box? purchase a priority box upgrade here.
https://www.etsy.com/listing/108411652/priority-box-upgrade
Learn more about the shop and process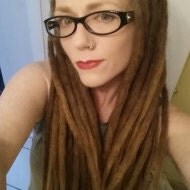 Heather Gamble
Dreaddy Dust Knottifying Powder dreadlock knotting powder (VEGAN)
---
Listed on Jan 14, 2017
6068 views