This item sold on October 28, 2012.

To discover the variety of woodworking I do please visit,
http://www.etsy.com/shop/StudioNorthernLights
Wood: Tulipwood, Cocobolo & Brown Ebony
Length: 14 3/4"
Diameter: 7/8"
Weight: 2.5 oz
Crafted: April 4, 2011
Yes! There is such a thing as Brown Ebony! It is related to other ebony varieties, is very hard, heavy, and polishes up beautifully. This wood sands up super smooth and feels great in the palm of the hand.
The beauty of this wand is in the detail of the design and the color of the wood. The brightly colored Tulipwood, Cocobolo, and Brown Ebony are all natural; no dye or stain has been added. All three woods are hard and dense.
This wand is a unique quality handcrafted work of art. I sanded it super smooth on the lathe to 1000 grit. Then it was buffed with a finish of shellac and natural waxes. Handle and shaft woods are doweled and glued together with epoxy before turned on the lathe.
Custom Orders –
I work in a variety of domestic and exotic woods and would love to do custom work if you wish to create your own design. Email me via Etsy with your wand, turning projects or other wood working ideas.
Magical qualities of wood used to make wand:
Tulipwood:
Wood Origin: Brazil
Gender Association: Feminine
Planetary Association: The Moon and Venus
Elemental Association: Water
Other magical properties:
Tulipwood is part of the rosewood family. It carries with it many of the traits of other rosewoods, with a few unique traits as well. A very powerful feminine energy radiates from this wood. It would be extraordinary if used in moon magic, and anything having to do with creativity, intuitions, and beauty, and natural cycles. This would be an excellent wood for divination. The primary element of this wood is water. Water usually brings with it a calm and peaceful effect. However, the energy of this wood contains the full spectrum of water energy, both peaceful and destructive. It is as though the very energy of the Goddess rests within the wood; beautiful and serene, yet powerful and proud. The wood carries an overall positive energy, and also may be used to bring about affluence and wealth. One of the most powerful woods we have ever encountered, with a very diverse and potent energy.
Cocobolo:
Wood Origin: Mexico to South America
Gender Association: Very strongly Masculine
Planetary Association: Mercury, Jupiter
Elemental Association: Fire
Other magical properties:
Cocobolo is the wood of passion. Within it courses the energy of the flame, burning hot with desire, sexuality, ambition, adventure, even rage. A purely masculine energy radiates from the wood. This wood's energy would be a good tool for goal-oriented people. It will encourage ambition and achievement, and a thirst for knowledge and understanding in whatever the matter is at hand. Cocobolo boosts intuitive luck, but can lead to rash or hasty decisions. Its energy is adventurous, and may lead a person into danger or travel far from their level of usual comfort. This is not always a bad thing.
Ebony (Brown):
Wood Origin: South America, Argentina.
Gender Association: Masculine and Feminine, equality
Planetary Association: Venus
Elemental Association: All 5 (fire, water, earth, air, spirit)
Other magical properties:
Positive luck, balance of energy, Ebony is well-known as the most powerful magical wood. Scott Cunningham, trusted writer of over 30 books about magic and the occult, writes about ebony, "Ebony wood is protective and so is used in making amulets. Ebony wands give the magician pure, unadulterated power." The power of ebony is non-discriminating. It is useful for any magical practice and with any element. It is especially useful in spells dealing with the home, love, and Venus.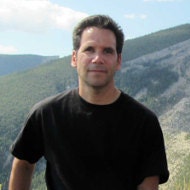 Chuck Cooke
Harry Potter Inspired Wood wand - Tulipwood - Cocobolo - Brown Ebony - Flame 2
Overview
Handmade item
Materials:

tulipwood, cocobolo, brown ebony, birch dowels, epoxy glue, shellac finish with natural waxes

Ships worldwide from

United States

Feedback: 128 reviews
Favorited by: 26 people
Listed on Aug 20, 2012
1127 views