New Order is so typically 80s that they are practically required by federal law to be played at retro parties and clubs. No 80s lover has a complete collection until they have this copy of Blue Monday 1988--not so much for the tracks themselves, which are legendary and massive, but for the utterly delicious cover art.

This one is suitable for framing--it's one of New Order's most easily identified covers, which is saying a lot since most of their artwork is deliberately non-representational or abstract. Peter Saville designed the cover and really outdid himself with this one.

The glories of the 12-inch single can't be underestimated. The experience of playing these is wonderful...a compact, fun journey back to the exciting days when singles were king and people used them to DJ their own parties and get-togethers.

The vinyl is gorgeous, in excellent condition and the cover is fab too--again, suitable for framing with only some minor wear on the back and a bit in on the spine.

The A-side most everyone knows; Blue Monday 1988 is a classic. The B-side Beachbuggy track is a hilarious re-working of Blue Monday with some insane samples and bits of other New Order tracks dropped in for good measure. Wind up the party right with this one...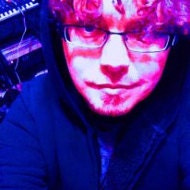 Joe Wallace
New Order Blue Monday 88/Beach Buggy 12-Inch Single New Wave UK Import
---
Listed on Apr 13, 2011
249 views