PATTERN IS IN FRENCH AND IN ENGLISH (THE 2 ARE AVAILABLE.)
FICHES TRICOT EN FRANCAIS ET EN ANGLAIS (les deux sont disponibles).

EXPLICATIONS ARE FOR THE DRESS THE BERET AND THE JACKET ONLY
EXPLICATIONS CONCERNANT LA ROBE, LE BERET ET LE GILET.

"Trois printemps" is a written knitting pattern for 18 inches dolls as Kidz n'cats or american girls
Fiche tricot pour poupées de 45 cm comme les Kidz'n cats ou american girls.

Pattern is PDF format and can be downloaded
Fiches tricot au format PDF à télécharger

Yarn is bamboo
Fils utilisés : bambou

Pattern includes many sheets and pictures.
Les fiches comprennent plusieurs feuilles avec explications et illustrations.
Meet
the

owner

of

soudane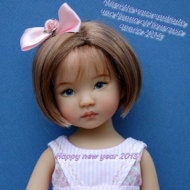 Marlène Soudane
28. English and French INSTANT DOWNLOAD PDF knitting Pattern Kid'z'n'cats american girl dolls 18 "
---