This Rustic French Country Cottage Farmhouse Decor Wool Rag Rug, Cabin Home Decor Floor Mat, Antique Dusty Blush Rose Pink Beige Hand Woven Small Recycled Rag Rug would be a nice accent in a Vintage Shabby Decor Coastal Seaside Beach Cottage or Traditional Country Farmhouse.
This refreshing woven rug would be great for the little princess or in the powder room, anywhere you might want to feel pretty. Take off your shoes and let your toes twirl in the textures underneath them...or hang it on the wall to look at or cover a table as an accent mat.
My Recycled Wool Rag Rugs are both colorful and durable. They are designed and made individually with a painterly style, often as studies in color or themes. They can be hung on the wall, thrown on or under a table, or fit in small spaces that need a little something.
Rags are folded carefully and placed one at a time to overlap with the previous one and to the next to form a tight weave. My wool rugs use wool wefts on cotton warps, recycling old wool clothes and blankets. This rug has muted taupe, oyster beige and cream white tones along with the pretty antique dusty rose blush pinks filling a warp of the same colors with a little golden accent. Fringes are hand-tied and twisted.
Rustic French Country Cottage Farmhouse Decor Wool Rag Rug, Cabin Home Decor Floor Mat, Antique Blush Rose Pink Beige Hand Woven Small Recycled Rag Rug (WRR40)
32.75"W x 35"L
To see all my Rug Listings Click Here:
http://etsy.me/2mi6A7t
********
My style is a bit boho chic, vintage shabby farmhouse romantic, coastal beach, rustic mountain cabin, country home natural style, with a bit of zen minimalism, earthy back to basics simplicity to ground it all...
If you like this, bookmark & browse my shop for other items! Save, Share, Pin or Post!
Kick up your style a notch & enjoy the finer things in life instead of putting them on a pedestal all the time! You deserve style that lasts and you will discover a whole new way of living artfully every day here & now! It's all in the details, putting the extra into extra-ordinary. Have some fun and show a little attitude and flair.
Discover Quality Handcrafted Handwoven Artisan Textiles for Home Decor & Fashion Designed For Artful Everyday Living & Special Occasions in Classic Patterns, Colors, & Textures....
Browse the Style Sections on the Home Page:
http://www.etsy.com/shop/aclhandweaver?ref=si_shop
Read more about me and my work...
http://etsy.me/1Letl4E
...Why Handmade, Why Handwoven…
It is about Living with Purpose and Consciousness of the things around me and the world around me, which we each do in our own way. I am a Weaver, others are Doctors, Lawyers, Astronauts or Auto Mechanics. It's about acknowledging the things in Life that really count, things that make you or me smile & our hearts sing when in action, or at rest. Finding things that center us, things we are good at. Then, we each can share this with others to make a better world. -Amy C. Lund
Weaving since childhood, I find order and rhythm in placing each thread in my designs and enjoy the feel of the textures of the fibers in my hands. I have an affinity for clean, simple designs which utilize and enhance the materials and techniques and bring them together - getting back to basics with an earthy rustic feel. My finished products have timeless classic style suitable for any traditional rustic antique - filled primitive vintage farmhouse, french country cottage chic, coastal seaside retreat, mountain hideaway cabin, contemporary industrial loft, or modern scandinavian - nordic urban home decor. It's all about how you style it!
I completed an M.S. in Textiles and Related Art from the University of RI and have studied and worked in several Art, History and Design Museums, demonstrating in historic settings at Shaker Villages and analyzing and managing collections behind the scenes. I have participated in many Artisan fairs over the years and have had my own Studio & Gallery in Tiverton, RI for over 15 years. My work has been featured in the Directory of Early American Craftsmen, in the Holiday collections of The White House, House Beautiful, Design New England, RI Home Design, Newport Life & Newport Life Wedding magazines, & has been sent around the world.
***********
TECHNIQUE & ARTISTIC DETAILS
Each of my hand woven textiles is made with careful handwork and attention to form as well as well as function. Attention to detail and commitment to traditional artistry separate my hand woven textiles from many others. I work entirely with traditional hand and foot powered looms, not using computers to guide my patterns or mechanics to power the loom. Each piece is a test and display of knowledge of materials, technical skills, and artisanry.
From the beginning, materials are chosen, the threads are wound to the same length, dressed on the beam of the loom, the pattern is threaded meticulously through the eyes of the heddles and reed one by one and tied up in preparation for weaving. This establishes the base for the fabric, aligning the threads of the warp to create a ground. Planning for size, color, and pattern are established before insertion of the weft filler. Most pieces are hemmed and finished by hand, as well, to create a smooth, refined look.
MATERIALS
I prefer to use Natural Fibers and Yarns, mostly Cotton, Linen, Wool, Mohair and Alpaca, although some of my items use mixed fibers for variety, texture and novelty. Every fiber has characteristics that can be used alone, or blended with the others to get different textures and effects. I understand that some people may be sensitive to some fibers and try to find alternatives to create solutions for comfort and care.
Sometimes I will use "Mill-Ends," or yarns left over from textile industry in my weaving. These lots may be limited in quantities or dyelots. To me, using these materials works to utilize our existing resources, rather than always creating from scratch. It challenges me to try to fit my vision to the material, or create a new vision, instead of discarding material because it doesn't suit a style or design. Using "Mill-Ends" continues the cycle of production, recycling, repurposing and reusing materials from other sources to create new product in a new way. With this same view, I also recycle and reuse old fabrics and clothing into the rag rugs and pot holders to continue their life cycle. A hole or stain may devalue an item or structure in one form, while it may have uses in another.
For special orders and custom work, my materials are sourced from more "Standard" commercial yarn supply stores for consistency in color lots, quantities and fibers.
PRODUCTION & DESIGN
Items are made one-of a kind, or in short runs. Items listed here in my shop are ready for sale as described. I try to provide a sampling of choices within a style until they sell out. I am not a production weaver, and do not wish to make 100s of the same thing. That is the art of the craft! Consider within reason if something really needs to be 1 or 2 inches longer or wider as you browse the items being offered. Use the search button or links within the shop to find similar items, which may be offered in different sections. Please contact me if you cannot find something to suit your needs. Special orders can be placed for specific colors, longer runners, sets of table linens, or larger area rugs.
CARE & USE
Each piece is made to be used and should be cared for as you would any well-crafted tool. Many of my finished items are machine washable, unless noted, and meant to be used every day. Many of the items have been tested over the years by myself and by many of my customers. Again, with attention to care, hand woven textiles will last a long time and bring continued enjoyment, although just as with anything, they may not last forever. Consider textile heirlooms from past generations that are still used today. Well-made and cared-for, these can be heirlooms of the future.
COMMITMENT TO CRAFT
I commit myself to my work with my hands, my heart, and with my time as a full-time professional occupation, not as a hobby. In doing so, I compete with machine-made products to earn a living wage to survive in our current economic climate. Consider these pieces as works of enjoyable, aesthetic art as well as lasting utilitarian, working craft, and you will find the long-term values they carry can far outweigh some of the costs of things in your everyday environment that may be much more temporary or disposable.
Enjoy Artful Living with simple, sophisticated and stylish textiles. Hand woven textiles make unique gifts that give pleasure in the simplest of ways, highlighting holidays, celebrations and special occasions. Treat yourself, or give a gift that keeps on giving. I focus on classic patterns, colors, and textures that will fit in both traditional vintage or modern contemporary lifestyles and décor. Heirloom home decor furnishings, textiles, table linens & fashion accessories hand woven in natural cotton, linen, wool, alpaca & mohair, will last for years.
Start your collection of Amy C.Lund Handwovens today and enjoy the pleasures of artful living!
Tell your friends and loved ones what you like, add things to your favorites, email ideas! If you have any questions about my work, please contact me. I am always glad to share my knowledge of my craft and each piece I make. There is a story behind everything!
Find me, fan me, or follow me:
* http://www.amyclundhandweaver.com
* http://www.aclhandweaver.com
* https://www.facebook.com/aclhandweaver
* Twitter @aclhandweaver
Read more about me and my work...
http://etsy.me/1Letl4E
***********
POLICIES
Please review my policies before purchase & feel free to contact me if you have further questions.
http://www.etsy.com/shop/aclhandweaver/policy?ref=shopinfo_policies_leftnav
Learn more about the shop and process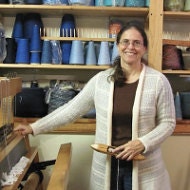 Amy C. Lund
Frequently asked questions about aclhandweaver
Rustic French Country Cottage Farmhouse Decor Wool Rag Rug, Cabin Home Decor Floor Mat, Antique Blush Rose Pink Beige Hand Woven Small Rug
---
Overview
Handmade item
Primary color: Pink
Secondary color: Beige
Occasion: Housewarming
Length: 35 Inches
Width: 32.75 Inches
Shape: Square
Type: Accent
Style: Country & farmhouse
Material: Cotton, Wool
Design: Striped
Ships worldwide from

United States

Feedback: 100 reviews
Favorited by: 75 people
Shop similar items from sellers around the world