We are so excited to begin offering a rare find - woven, non-stretchy deluxe wraps - extremely light, non-bulky and oh, so supportive!!!
A new addition to our Signature Series, this handloomed fabric comes from India. It is 100% cotton and contains incredible detail! Do expect some irregularities since this is handloomed. The main portion of the fabric is a beautiful pewter gray. The fabric is woven as is the Ikat border, so both sides are beautiful! The detail in the Ikat is incredible - silvery thread, gray, pewter, dignified rosy red. . . . This wrap can take you into any situation, regardless of how formal! All edges are rolled-hemmed in a light gray that finishes the wrap neatly.
Because of the fineness of the fabric and the handloomed quality, you will want to wash this in cold water by hand and hang it to dry. The ends are rounded, while the bottom and top edge are finished with a rolled edge in light gray thread. Our label is on the bottom edge marking the middle. This wrap is a wonderfully wide at @27 inches. Length is about 6 yards long - long enough for about any shaped person!
No longer are babywearers limited to a ring sling for Fine Arts occasions with baby! There is now a wrap option that is elegant enough for any event!
Woven wraps are incredible at supporting baby's weight! While stretchy wraps are sweet with the cuddly newborns, if you've ever tried to have a chunky, wriggly baby in one, you may have found it, well, less than satisfactory! A woven wrap, though, will give that needed support after the pounds have started to come on baby (up until about 35 pounds or so!)
Here are the specifics:
****
Length - @ 6 yards
Width - @ 27 inches
Fabric content: handloomed cotton
Fabric Heft: incredibly lightweight (use carries with 2-3 layes to support baby)
Color: Charcoal gray with Ikat border - grays and red in ikat
These are excellent at distributing weight and can be used from infant up through toddlerhood. An accompanying DVD will show you front carry), hip carry, and back carry (not recommended since this is a narrower wrap).
Because they come with instructions and are not "sized" like a pouch sling, wraps, just like the ring slings we carry, make excellent gifts!
And remember to check out the rest of our shop!
http://www.etsy.com/shop/lilpeeperkeepers
ABOUT LI'L PEEPER KEEPER CARRIERS: Great care has been taken to make sure that these carriers are sewn with quality and safety in mind. Pouches are sewn with a reinforced seam, known as a French seam, to shape the carrier. Ring sling fabrics are chosen with care as to style and strength, and each sling is carefully reinforced at the rings.
Babywearing is both a joy and a responsibility. Although Babywearing is simple, it will take practice and precations, just like anything else. Don't expect you or your baby to "sling like a pro" the very first time. Keep at it – it's worth the effort!
Some precautions to take while wearing your baby:
1. Always check the carrier first for signs of wear or any rips. Don't use if damaged.
2. Practice holds with a stuffed animal before trying them on your baby.
3. Use common sense while wearing – i.e. do not bend from waist. Don't use around the water, while cooking, showering, or other potentially hazardous activities.
4. Always make sure your baby has sufficient airflow.
5. Remove baby from sling before placing in bed.
6. While making adjustments, always make sure the baby's weight is supported.
7. If a child is fighting against going into the sling, wait until he is calm and try again.
8. If a child is fussing after being placed in the sling, talk to him, pat back, move around, just as you would normally do to soothe a child.
9. Follow safety guidelines: you use at your own risk, accepting the responsibility for the safety of your child.**Please be responsible to learn and practice safe babywearing. That is the only way these products will be used properly. Check your carrier before use EVERY time for signs of wear or damage. If you find any wear or damage, discontinue use immediately. Carrier "shelf life" depends greatly on the way a carrier is used, is washed, and stored between uses.
Learn more about the shop and process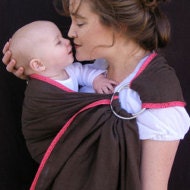 Rebecca
Handloomed Baby Wrap Carrier - Charcoal w Ikat detailed edge - DVD included -Ready to Ship
Listed on Sep 13, 2016
2691 views