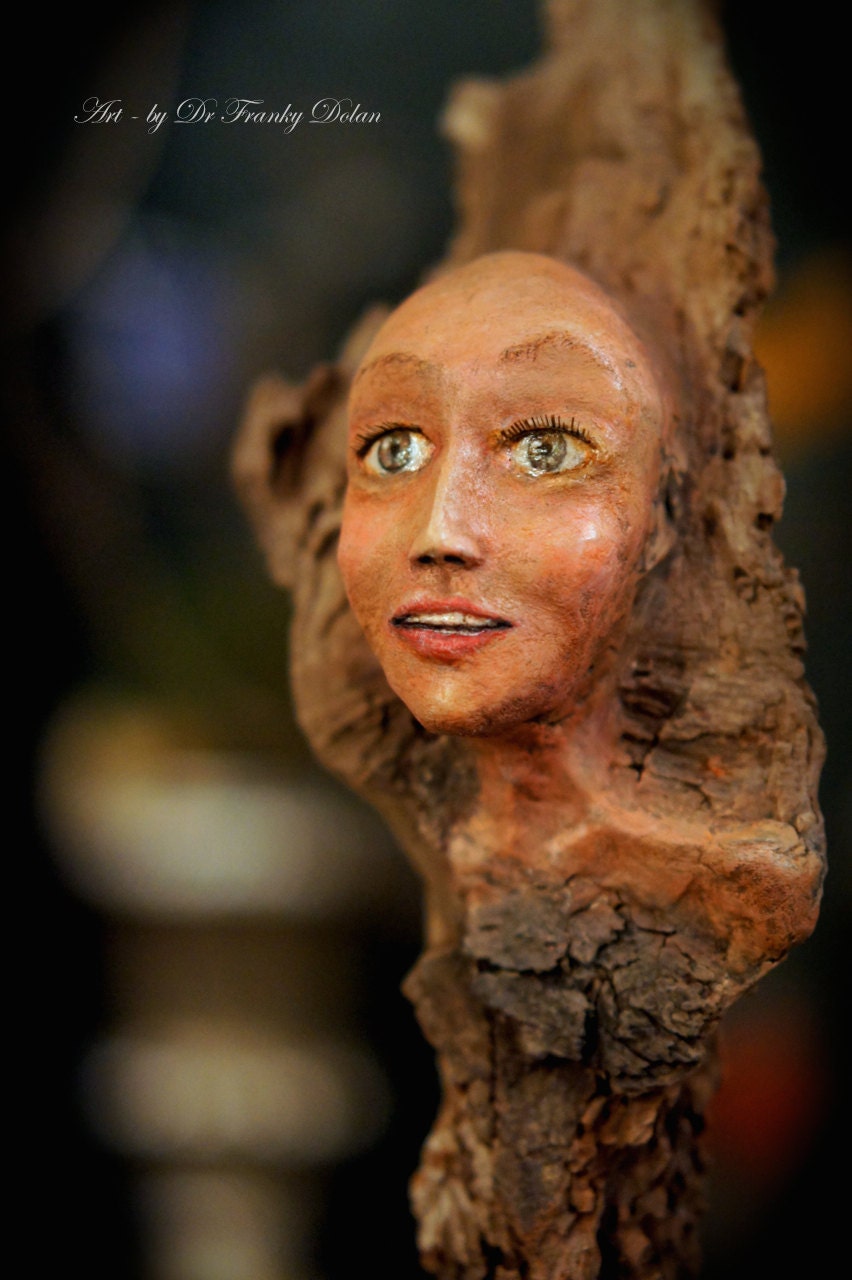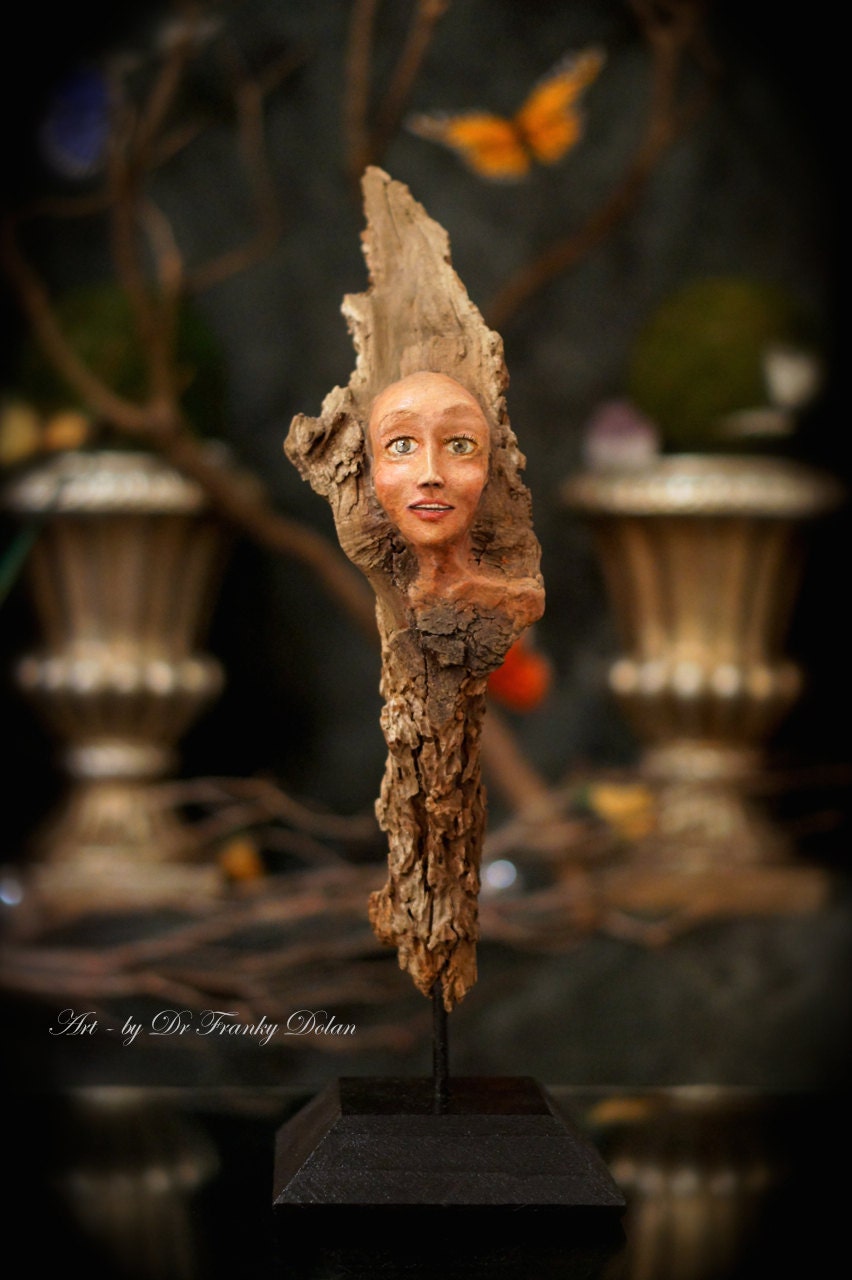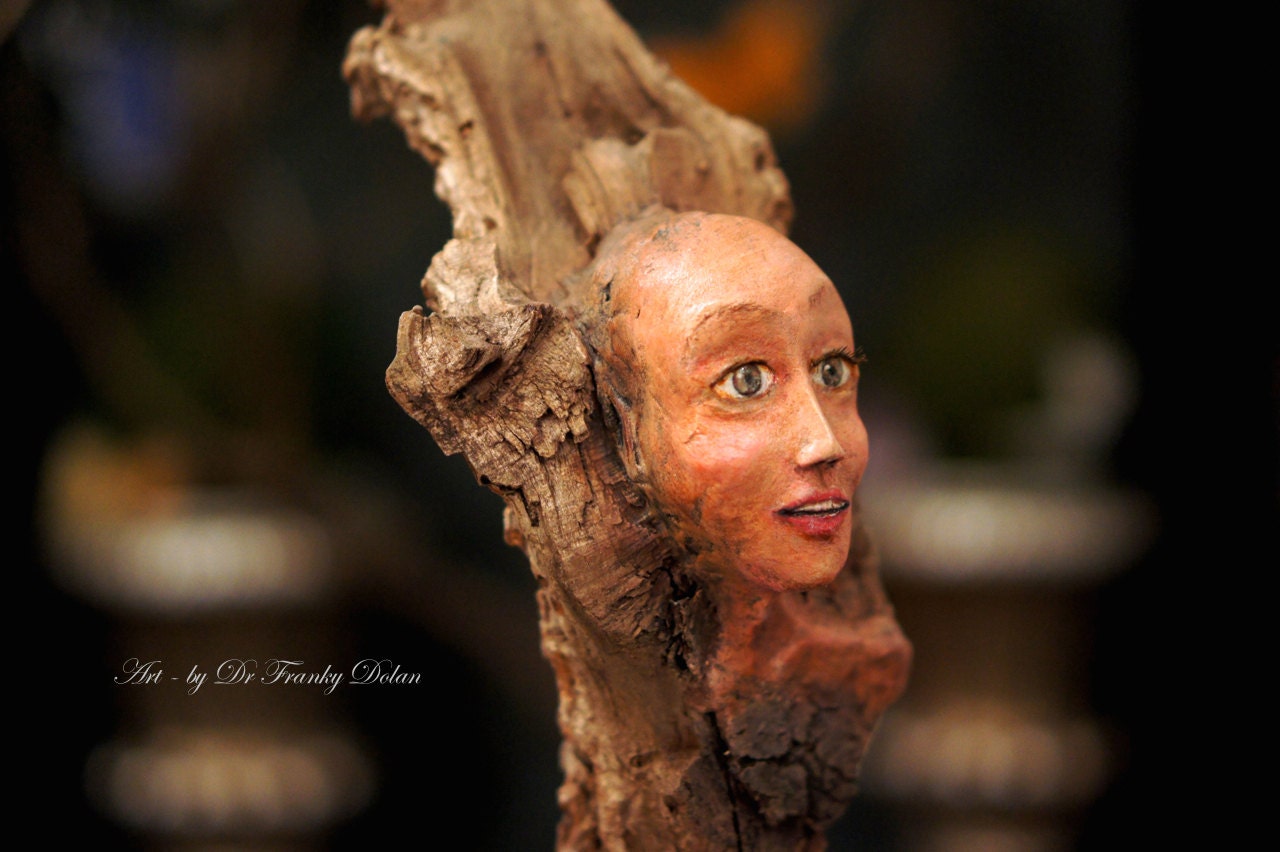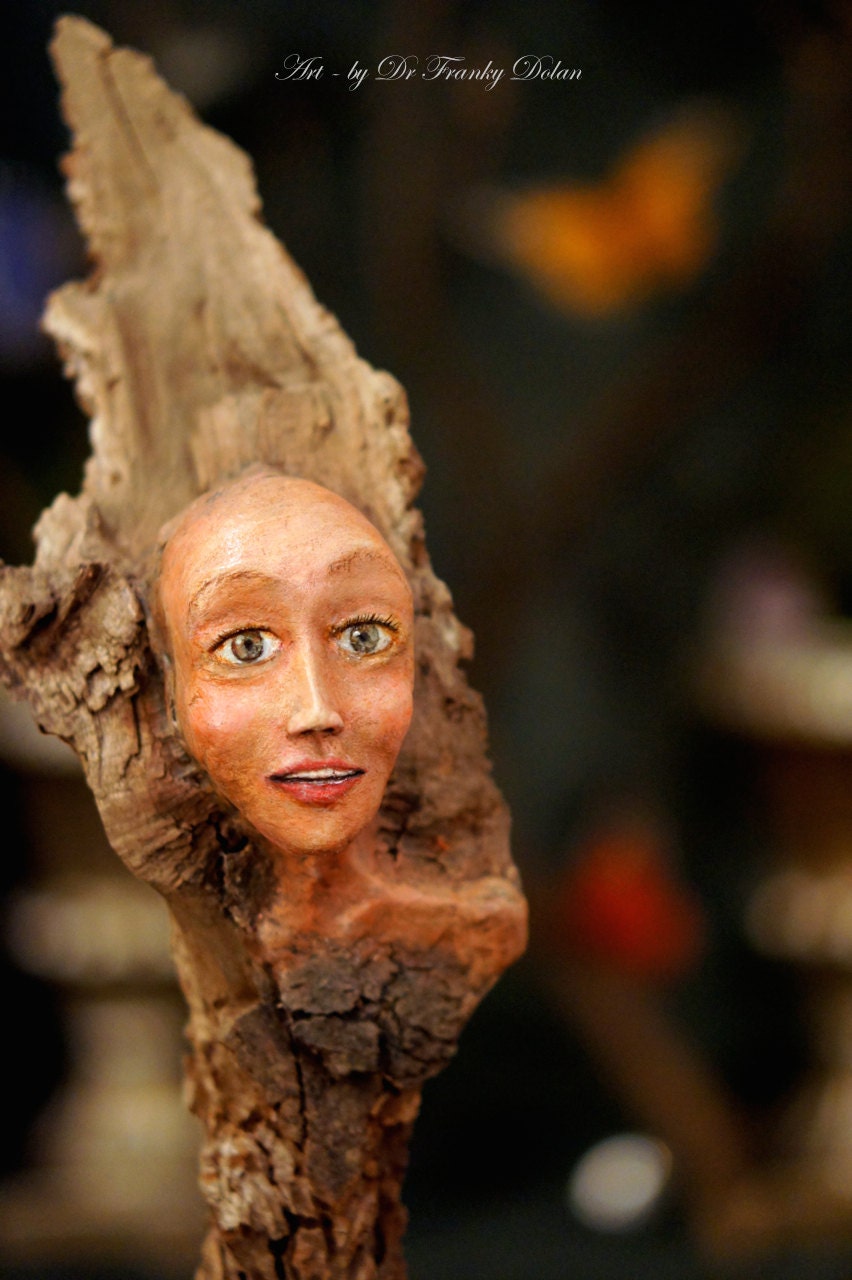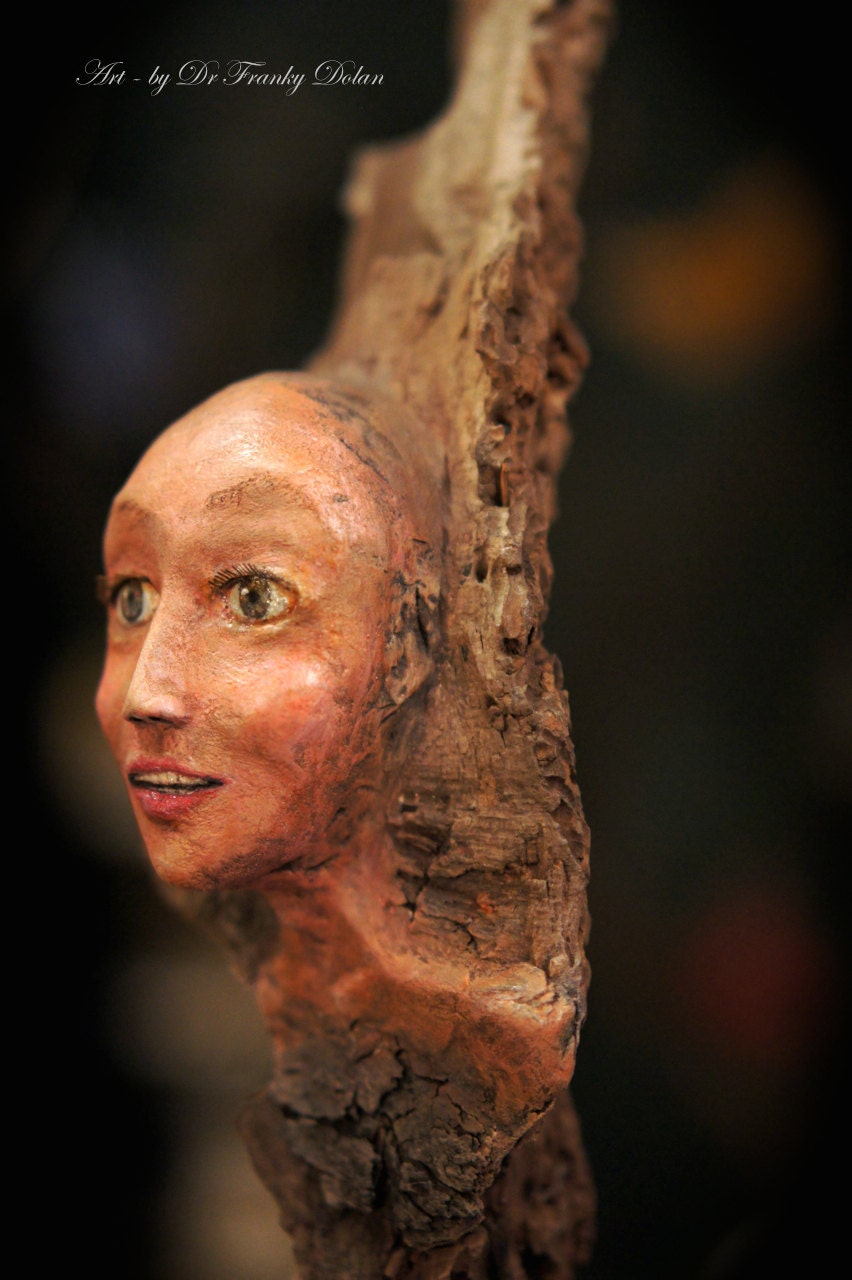 By Disabled Visionary Artist, Dr Franky Dolan, EdD…
THE LEGEND OF THE NYMPHS:
A nymph in ancient mythology, is considered a divine spirit of nature, defining the power of sensuality and beauty. All things living have some form of spirit and beauty. Having a nymph depiction in your home is said to bring a greater sense of your own beauty and strength. This is what inspired Dr Dolan to create his own artistic interpretation of the ethereal, and ever beautiful, nymph.
ABOUT THIS NYMPH:
...There is a gaze, into the future. It looks bright and hopeful. A cracked smile, broad wide eyes, raised eyebrows and optimism abundant, as this handsome face peaks out from the wood. The spirit in this wood brings an energy of true hope to whomever invites it into their home.
This tree nymph is a very skilled hybrid of clay sculpture and a lush wood carving. This art form blends clay into the natural bodies of wood. Several weeks of sculpting, carving, painting, mounting and finishing go into creating these detailed nymph sculptures. See it in person and it really may look alive. Then, touch it in person, you really may feel the blessing of the ancient Gods. This Fae Factory mastery is an offering of peace, strength and beauty to the person that owns it.
DETAILS:
-Size: 18in Tall
-Original artwork
-Certificate Of Authenticity, signed by the artist
-Custom packaging for USPS Priority shipping
SHIPPING:
Each art piece is gift wrapped, accompanied by a care package and filled with information about the artist that you are supporting. All professionally packaged and shipped via Priority mail, for speedy delivery and extra care.
FREE GIFT WITH PURCHASE:
*Fae Factory Give Love Cards, given at the EMMY AWARDS!*
Every purchase supports an important cause! Instead of just asking for donations for medical treatment and advocacy, we decided to sell this art, and give something beautiful in return. For every purchase in our Fae Factory store, we will give you a couple free 'Give Love' cards, as our way to say THANK YOU for supporting our cause! It's one of the many ways that we continue our mission of putting more love into this wonderful world... SUPPORT A GREAT CAUSE, GIVE GIFTS OF LOVE AND HELP OTHERS, ALL AT ONCE! *Great to use as gift tags as well!
Here is the listing for more information on your free gift:
https://www.etsy.com/listing/478037290/10-little-give-love-cards
PAYMENTS:
We can set up payment plans for those who prefer to spread their payments over time. If you have a specific budget in mind for commissions, we can usually find customizations and alterations that will work within your financial scope. Please feel free to let us know your needs. We always say that we have the greatest customers in the world. Those who are called to Fae Factory tend to be deep, intellectual and kind people. We understand the importance of great art, and we will do what we can to bring it to anyone who wishes for some Fae Factory magic. We treat our customers like family! So please, say hello and let us know your thoughts.
ABOUT THE ARTIST, DR FRANKY DOLAN:
All of this art is the culmination of a man who became bedridden and housebound for many years. Hours upon hours were spent alone and painfully ill, leaving the mind with only one option for survival. Franky went into a daily monk-like meditation, every single day for years. Overwhelming visions and messages were so strong, he could barely contain them in his body. So his partner, Randy, brought him paints and clay one day, and said, "create your visions."
With no formal art training, Franky looked down at his hands, and began to sculpt and paint these psychic impressions, all from his bed or even on the floor. From this, they started FaeFactory.com, and use the sales of the various art creations to support treatment, outreach and advocacy. This art is more than just art; to Randy Ordonio and Dr Franky Dolan, it is life. …Thank you for your support, and please, join the mission!
For detailed photos and full portfolio, go to www.FaeFactory.com
***All Sales Go Toward Supporting The "Invisible Diseases" Community***
(Chronic Fatigue Syndrome / M.E., Fibromyalgia, Lyme, POTS etc) See the award-winning Fae Factory creations, featured in media and magazines at www.FaeFactory.com
Tree Nymph Sculpture. Clay and Wood Carving by Fae Factory Visionary Artist Dr Franky Dolan (Figurative Sculptural Art Doll OOAK Nature Art)
---
Overview
Handmade item
Materials:

wood, clay, acrylic, THANK YOU FOR SUPPORTING THE CAUSE

Ships worldwide from

United States

Feedback: 192 reviews
Favorited by: 130 people