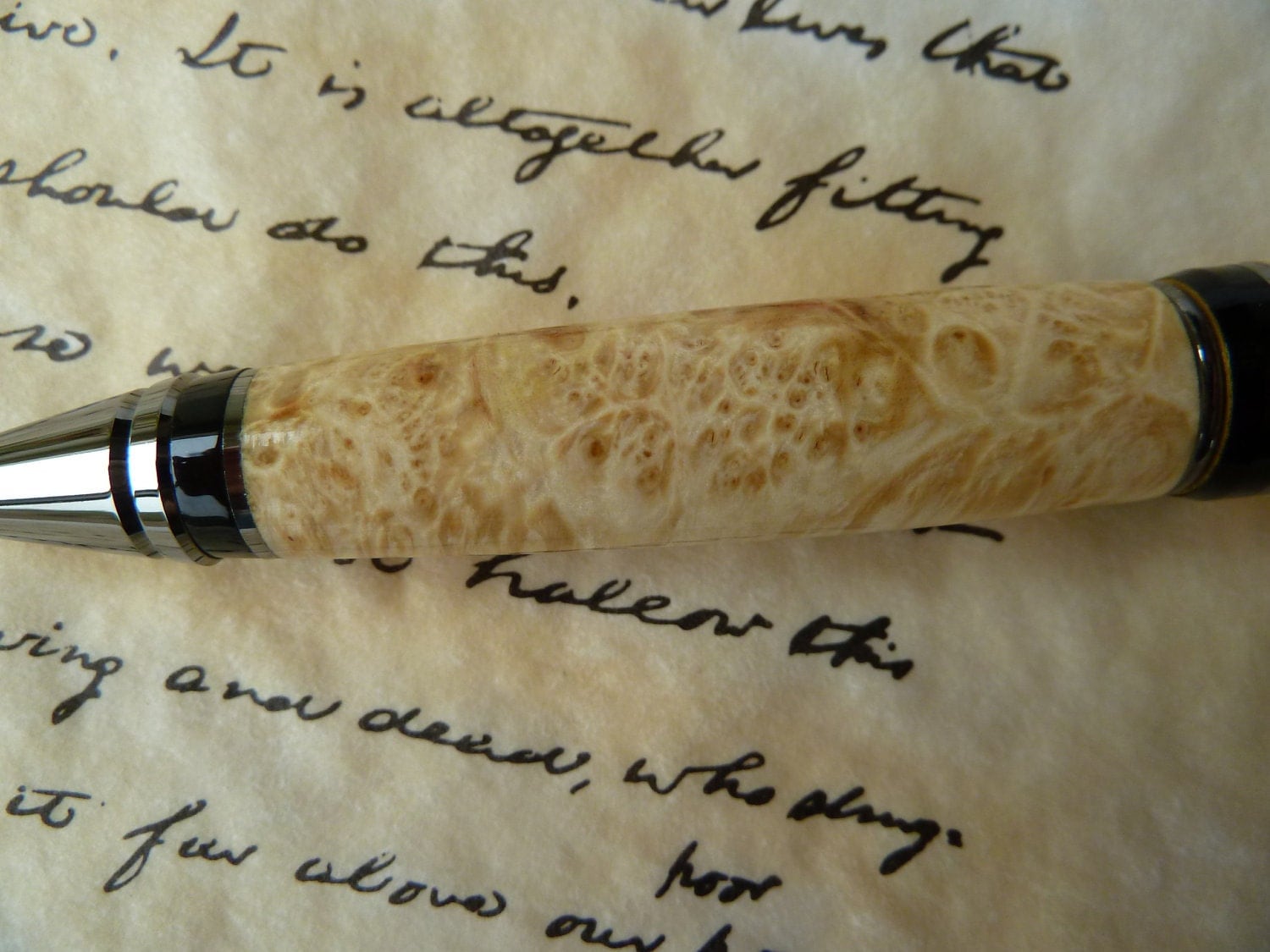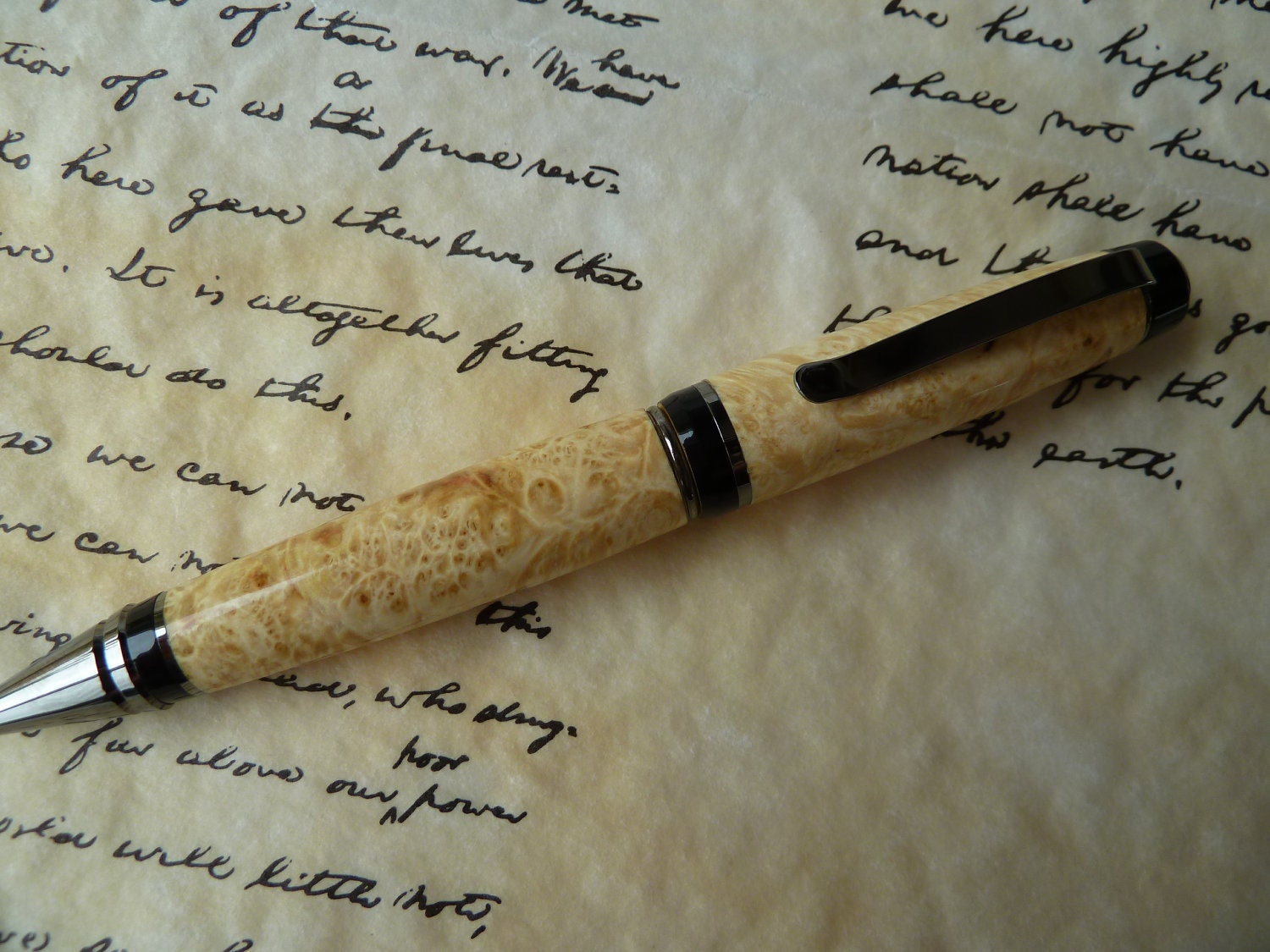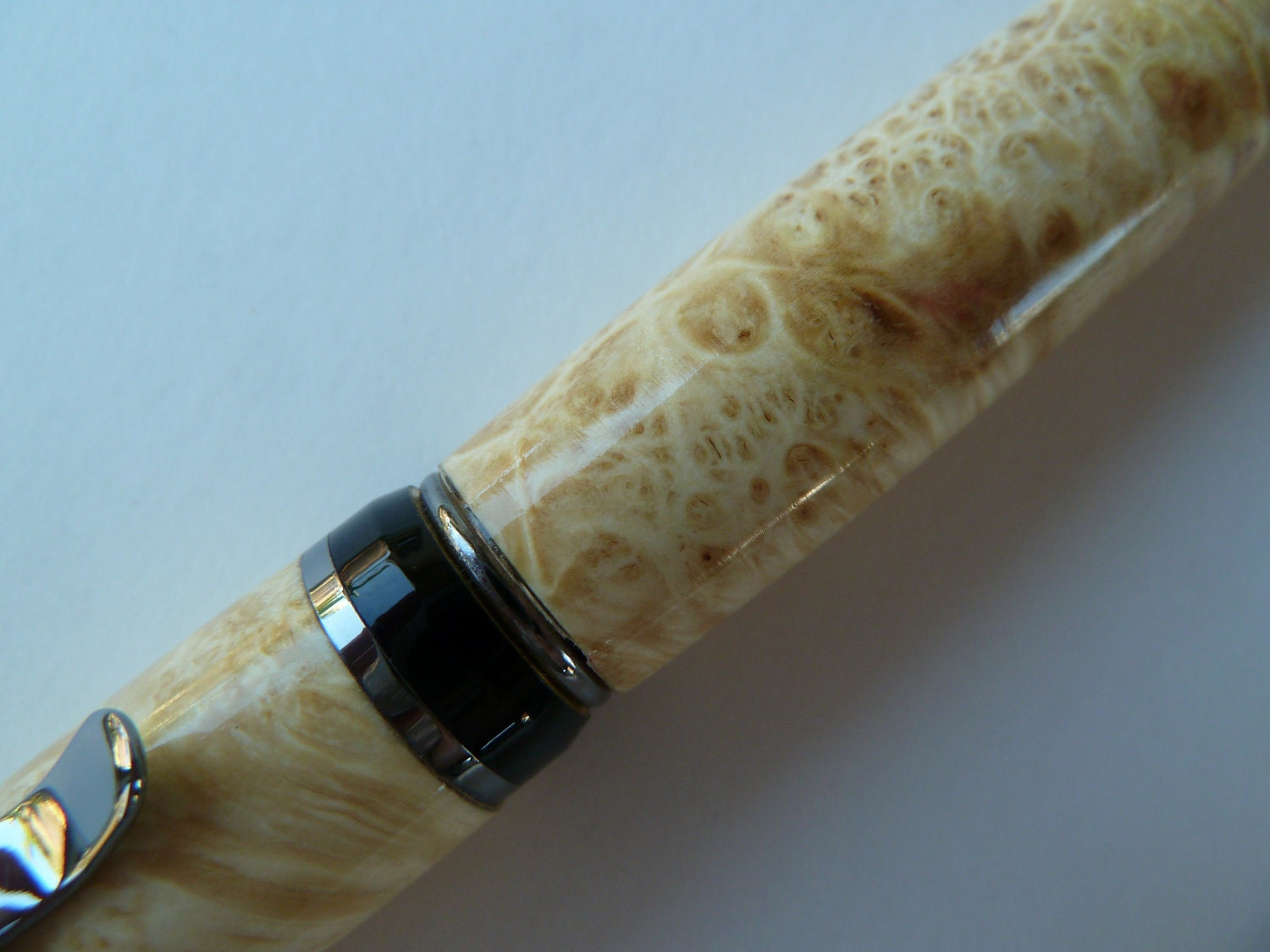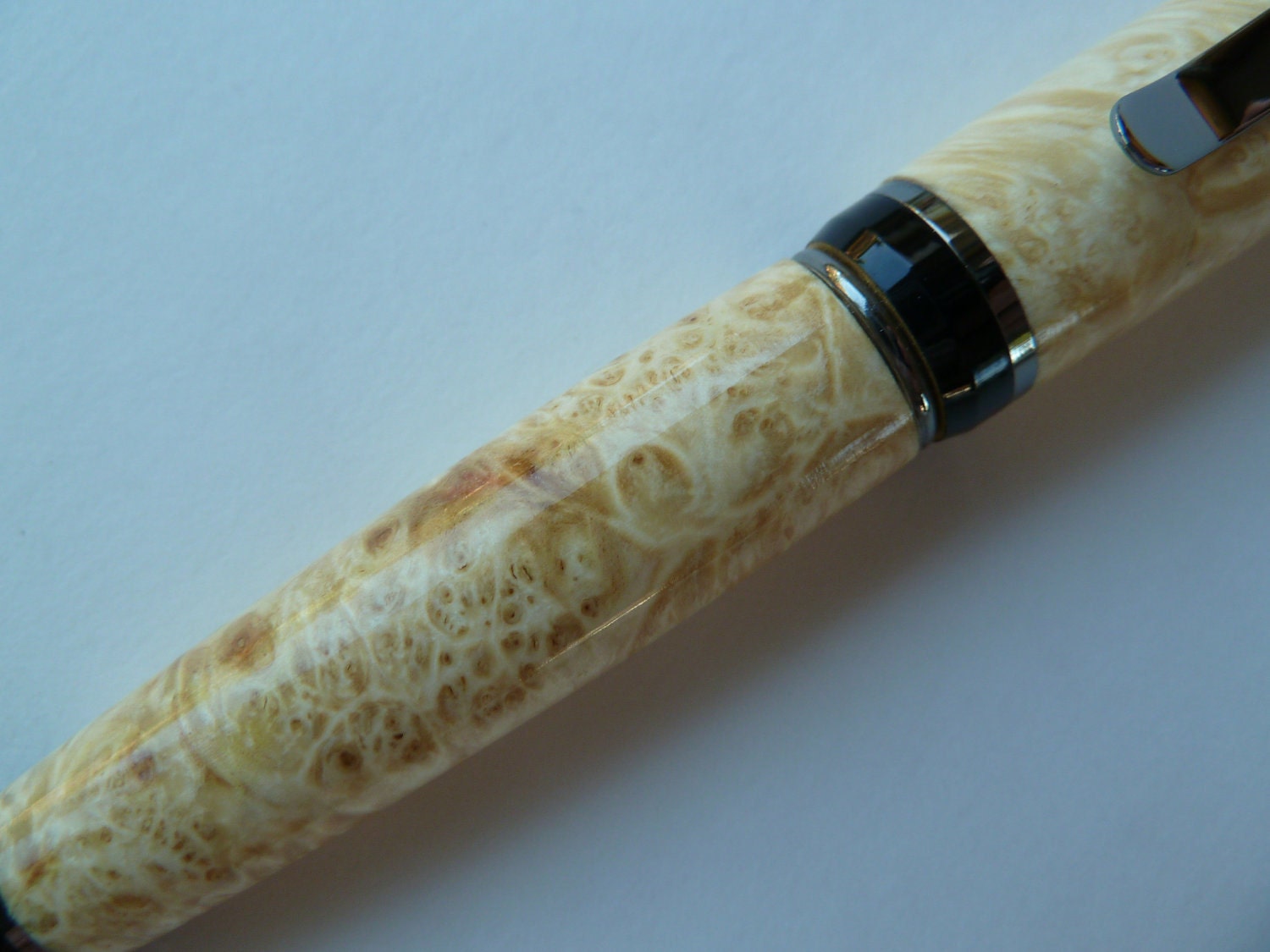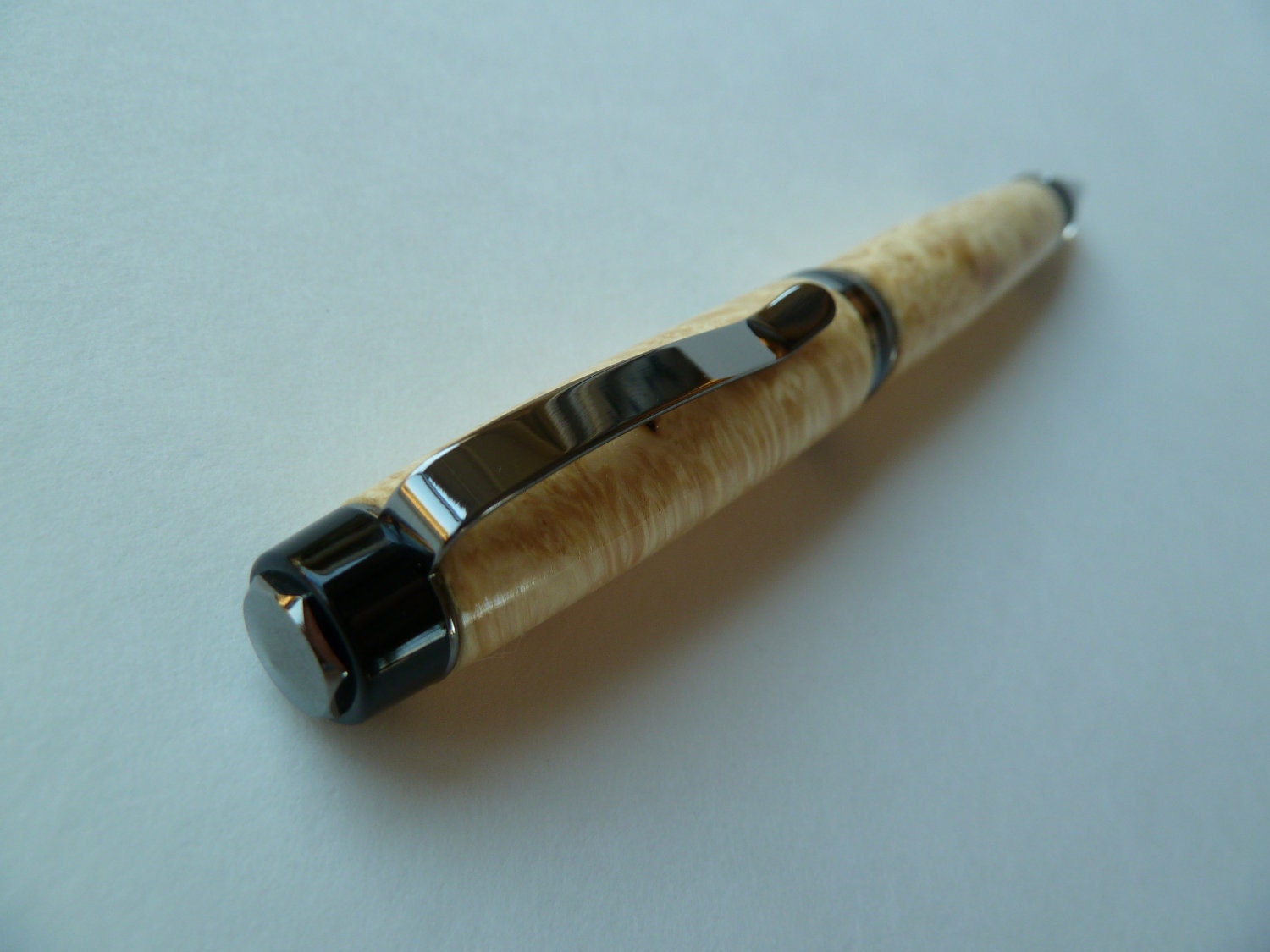 This hand-turned Box Elder Burl Wood pen has a very interesting grain pattern. In some places it almost looks like honeycomb. The pen comes with Black Titanium hardware that twists to reveal a Tungsten Carbide ballpoint tip. Comes equipped with a black standard Parker refill. Also takes colored Parker Gel Cartridges.
Comes in a Black Velvet Pouch (See Picture to the right). For optional pen gift box:
http://www.etsy.com/listing/74511298/optional-exotic-hardwood-pen-gift-box
The natural Box Elder pen is made from burl wood that forms usually on the outside of a tree. The Box Elder tree is an FBI nightmare. Box Elder (Acer negundo) (AKA - Boxelder Maple, Maple Ash, Ash Maple, Ash-leaf Maple, Black Ash, California Box Elder, Cutleaf Maple, Negundo Maple, Red River Maple, Stinking Ash, Sugar Ash, Three-Leaved Maple, and Western Box Elder). In Canada it is known as Manitoba Maple and occasionally as Elf Maple. The Russians got it right - the American Maple. So much for a tree with an identity crisis. The uniqueness of this maple is the leaf formation. Most maple trees have a single leaf but the Box Elder has a compound leaf formation with from three to seven leaves on one stem. If we wanted to standardize the name of this tree ,the government would have to set up a special congressional committee to select a company to do an impact study to report back in a year at a cost of $500,00. Let's just call it a Box Elder and keep the money ourselves.
The Burl Mystery. There have been several studies to determine the cause of the mysterious growths usually on the out side of trees. To date there have been no concrete conclusions found to come up with their origins. The two most common theories are they come from pests or man made injuries to the tree.
The real pleasure in turning pens from Burls is revealing the handiwork of nature. You start out with a block of wood and uniqueness starts to unfold before your eyes. All of these pens are a one a of a kind creations - Gods handiwork. Thanks for sharing some of your valuable time with me. I know you will enjoy this creation brought to you from Look What Turned UP
Visit my Etsy shop often where I am continually adding new creations. In the search box for "Handmade" type Look What Turned Up (or for those of you that would like a shortcut, type LWTU) and click on "search" and you are in my shop. If you like what you see click on the heart on the right for the individual item. This feedback helps me know what people enjoy and make my creativity more fun.
Bob
Father's Day Gift Pen - Natural Box Elder Wood Pen with Black Titanium Hardware for Grads or Dads
---