494 Sales
|
On Etsy since 2010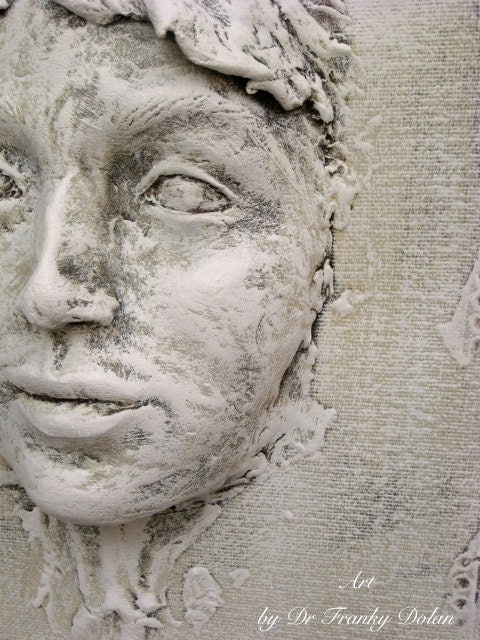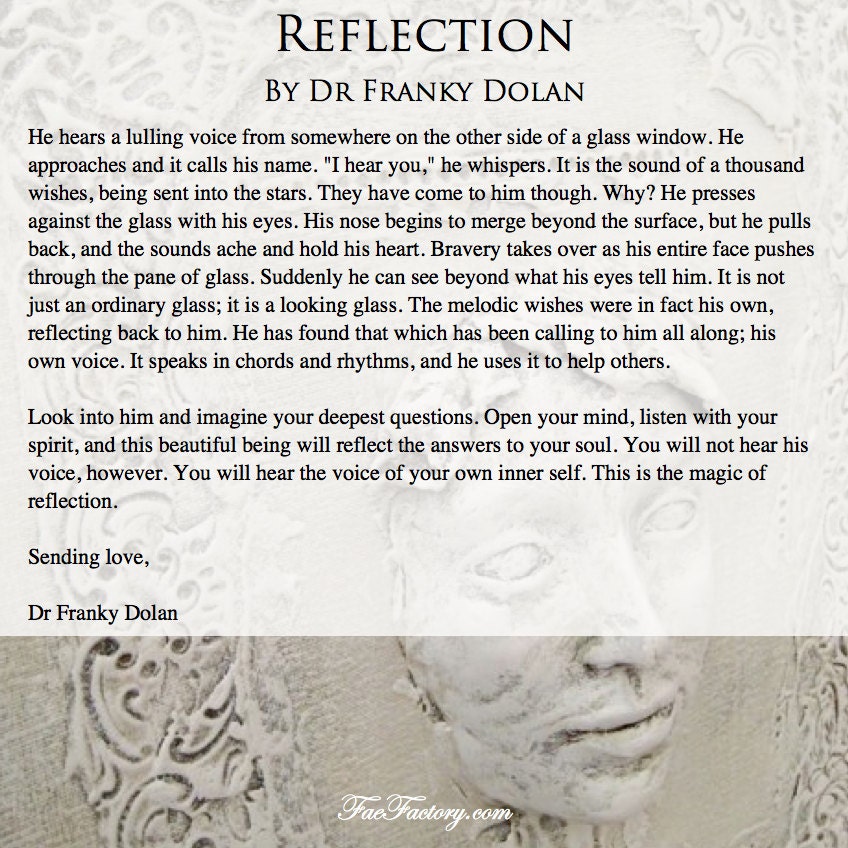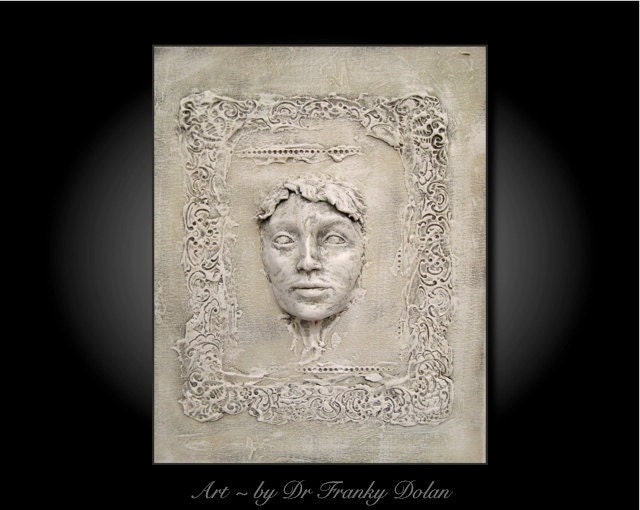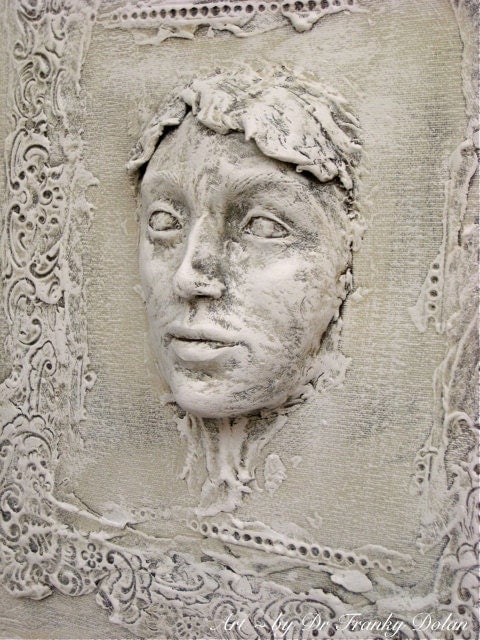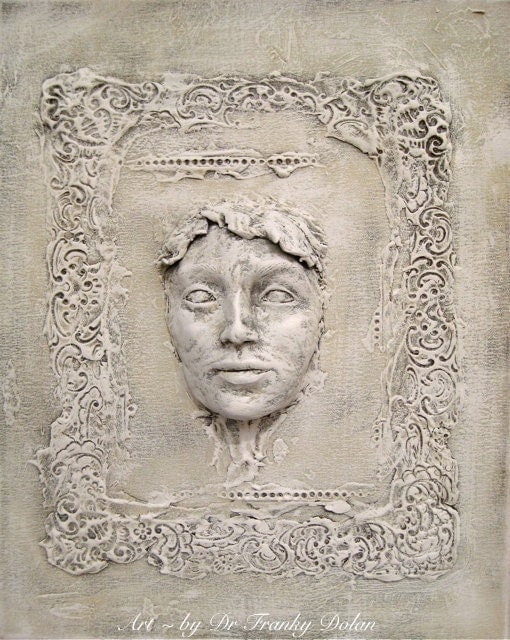 Art by Disabled Visionary Artist, Dr Franky Dolan, EdD
We always say that we have the greatest customers in the world, because people who come to us see the artist and his cause, and they want to support something important. Every sale, big and small, helps with medical care and advocacy for Invisible Diseases survivors. …Give the gift of art to yourself, and those you love, while giving the gift of life back to a lifelong dreamer who became a bedridden artist.
See 'Winged Warrior' video here:
https://www.youtube.com/watch?v=QkdsLItPXSw
See 'Bindi' video here:
https://www.youtube.com/watch?v=u3ye6slsjtE
See 'Purple Heart' video here:
https://www.youtube.com/watch?v=vNt7iVQQLQ4
THE STORY OF "REFLECTION":
He hears a lulling voice from somewhere on the other side of a glass window. He approaches and it calls his name. "I hear you," he whispers. It is the sound of a thousand wishes, being sent into the stars. They have come to him though. Why? He presses against the glass with his eyes. His nose begins to merge beyond the surface, but he pulls back, and the sounds ache and hold his heart. Bravery takes over as his entire face pushes through the pane of glass. Suddenly he can see beyond what his eyes tell him. It is not just an ordinary glass; it is a looking glass. The melodic wishes were in fact his own, reflecting back to him. He has found that which has been calling to him all along; his own voice. It speaks in chords and rhythms, and he uses it to help others.
Look into him and imagine your deepest questions. Open your mind, listen with your spirit, and this beautiful being will reflect the answers to your soul. You will not hear his voice, however. You will hear the voice of your own inner self. This is the magic of reflection.
COMMISSION:
We have many Wall Sculptures available now. The only place you can find these in the world is right here. Once an original is sold, it will never be created exactly the same again. No two Wall Sculptures will ever be the same, though you can commission and customize artwork with a very similar look and feel. See the dropdown menu for the various commission listings. Photos represent an original hand sculpted piece. You can have your own gorgeous work of art, made with the same emotional, spiritual and professional talents, by the artist himself, Dr Franky Dolan.
'Available Now' pieces can ship within a couple business days. Commission pieces, depending on sizes and overall details, vary from 2 - 14 weeks to complete. Let us know your desires and we will work to accommodate your wishes.
INCLUDES:
-Original masterpiece art with separate printed story
-Legal Certificate Of Authenticity, signed by the artist
-Custom fine art packaging for upgraded UPS and USPS Priority shipping
ABOUT WALL SCULPTURES:
Fae Factory Wall Sculptures are hand sculpted 3D spiritual portraits, capturing the exact moment of ethereal beings emerging from another world into ours. These unique masterpieces provide spiritual protection and positive manifestations for the people and places that keep them. Each comes with beautiful ethereal messages. These are so powerful, you can feel their comforting presence every time that you walk by. See the masterful details. Note the finger strokes and rhythms in every sculpted piece. Each is a treasured one of a kind masterpiece of mind and spirit. People speak of these majestic creations totally enhancing the energy of their entire home or office the moment they arrive. Which ones call to you now? Listen to your spirit and reach for the one that pulls you closest. These are beyond art, they are beautiful experiences.
FREE GIFT WITH PURCHASE:
*Fae Factory Give Love Cards, given at the EMMY AWARDS!*
Every purchase you make comes with a free 'Give Love' card, as our way to say thank you! SUPPORT A GREAT CAUSE AND GIVE GIFTS OF LOVE ALL AT ONCE! Click here for more information on your free gift:
https://www.etsy.com/listing/478037290/10-little-give-love-cards
PAYMENTS:
We can set up payment plans for those who prefer to spread their payments over time. If you have a specific budget in mind for commissions, we can usually find customizations that work within your financial scope. Please feel free to let us know your needs, and we will happily work with you.
ABOUT THE ARTIST, DR FRANKY DOLAN:
All of this art is the culmination of a man who became bedridden and housebound for many years. Hours upon hours were spent alone and painfully ill, leaving the mind with only one option for survival. Franky went into a daily monk-like meditation, every single day for years. Overwhelming visions and messages were so strong, he could barely contain them in his body. So his partner, Randy, brought him paints and clay one day, and said, "create your visions."
With no formal art training, Franky looked down at his hands, and began to sculpt and paint these psychic impressions, all from his bed or even on the floor. From this, they started FaeFactory.com, and use the sales of the various art creations to support treatment, outreach and advocacy. This art is more than just art; to Randy Ordonio and Dr Franky Dolan, it is life. …Thank you for your support, and please, join the magic!
For detailed photos and full portfolio, go to www.FaeFactory.com
Reflection. Inspirational Wall Sculpture by Fae Factory Artist Dr Franky Dolan (Original clay relief sculpture canvas painting) {SEE VIDEO}
---
Overview
Handmade item
Material:

clay canvas

Ships worldwide from

United States

Feedback: 192 reviews
Favorited by: 610 people