Newfoundlands are renowned for leaping out of helicopters, saving drowning children, towing boats to shore and being the canine world's greatest water rescue lifesaver. They deserve to look and feel their best! If your Newfie has a dry, crusty, cracked nose (or even one that just needs a little TLC) NOSE BUTTER will come to THEIR rescue! In just a few days of regular application that big nose will be glossy and smooth.

NEWFOUNDLAND DOG NOSE BUTTER IN CLASSIC TIN

AVAILABLE IN:

1 OZ TIN WITH BLACK OR LANDSEER LABEL OPTION
2 OZ TIN WITH BLACK OR LANDSEER LABEL OPTION
4 OZ TIN WITH BLACK OR LANDSEER LABEL OPTION
INCLUDES COMPLETE DIRECTIONS, TIPS AND HINTS
IN A GIFT BAG

8 OZ AND 16 OZ TINS OF NEWFIE NOSE BUTTER AVAILABLE IN OTHER LISTINGS

WHAT THE HECK IS THAT STUFF ON MY NEWFOUNDLAND DOG'S NOSE?

Probably not food, dirt, bad genetics or anything you did or didn't do that you should have (did that make sense?). While your Newfie may have a bit of regular dryness on their nose (which NOSE BUTTER® will take care of), if it is more of a crust or looks like an oyster shell or tree root, your Newf may have Nasal Hyperkeratosis aka crusty nose crud.

Nasal Hyperkeratosis is an idiopathic condition (scientific jargon for they don't have a clue where it comes from) that results in a protein or keratin overgrowth (keratin-more jargon) on a dog's nose and/or paw pads. This protein overgrowth is often seen in older dogs, dogs with certain illnesses or on some medications. Plus, certain breeds or breed types (mixed breed dogs get this too) seem to have a genetic predisposition to the condition. Bully breeds, flat-faced dogs, toy breeds, the mastiff types and anything with a chunky body type seems to be more likely to have this condition. Yeah,Newfoundlands fit several of those criteria!

Now you know what it IS, let's chat about what will get rid of it and keep it at bay...NOSE BUTTER®!

NOSE BUTTER®, the original and trademarked NOSE BUTTER® dry dog nose treatment, is individually handcrafted (by my team and me - Kathy) here in far northern Minnesota using all organic and natural good stuff - shea butter, olive oil, castor oil, castor oil, avocado oil, almond oil, coconut oil, beeswax, cocoa seed butter, just a dash of essential oils and a LOT of LOVE. Every item is tucked into a gift bag with complete directions, tips and hints included.

LIGHTLY SCENTED: Original formula NOSE BUTTER® has a bit of aromatherapy oils (Cedarwood to lessen stress, Cypress for to help ground and balance, and Ylang Ylang for a bit of a lift and joy). Most people do not even smell the oils at all, unless you have a sensitive nose, the subtle scent may be detectable.

UNSCENTED VERSION: We firmly believe in the energetic healing benefits of the essential oils we use in The Blissful Dog products, but we respect some of you may want an unscented version.

NOSE BUTTER USAGE

DAB a bit onto your dog's nose 1-3x a day for 2-3 days (until nose improves) and then as needed for maintenance.

DISTRACT with a treat (keeps them from licking NOSE BUTTER off while it moisturizes)

DONE!

Newfie Bits: In Victorian times in England Newfoundland dogs were often employed as nannies, to protect the children. The dog Nana, featured in the original Peter Pan novel, was based upon a Landseer Newfoundland named Luath, who belonged to the author, J.M. Barrie.

Seaman: The thirty-fourth member of the Lewis & Clark expedition was a Newfoundland named Seaman. Captain Lewis paid $20 for him in August of 1803, this was a lot of money for a dog at that time. The Newfie was relatively unknown in the US at that time.

Lewis and Clark both wrote of Seaman's hunting skills and his guarding abilities (especially against grizzly bears). He is said to have saved their lives on more than one occasion. Constant torture from biting flies and mosquitoes was a part of their journey and Seaman was said to have often jumped into any water to escape. But he kept up and stayed with them until the end of the journey. Lewis was offered many valuables by various tribes of Native American for Seaman, as they had never encountered such a powerful dog. Lewis always refused those offers. Many statues in his honor are found along the Lewis & Clark Expedition trail.

More Newfie News: The origin of this working breed is hotly disputed in Newfie circles. Vikings and Basque fishermen visited Newfoundland as early as 1000 AD and wrote of the natives and their huge black dogs. The breed as we know it today was developed in England, while the island of Newfoundland nearly legislated the native breed to extinction in 1780.
Learn more about the shop and process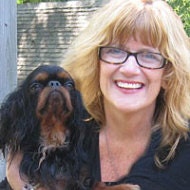 Kathy Dannel Vitcak
Newfoundland Dog NOSE BUTTER® All Natural Handcrafted Balm for Dry Dog Noses 1 oz, 2 oz or 4 oz Tin Choice of Landseer or Black Newfie Label
Overview
Handmade item
Materials:

shea butter, olive oil, avocado oil, almond oil, castor oil, coconut oil, beeswax, cocoa seed butter, dash essential oils, or unscented, love

Made to order
Ships worldwide from

United States

Feedback: 2944 reviews
Favorited by: 22 people
Listed on Aug 19, 2016
446 views