Did you know that in Ancient Japan Japanese Chin were often kept suspended midair in ornate cages, like caged birds? They were adored as creatures of great beauty, which of course they are! A dry or crusty cracked nose will mar the beauty of your Japanese Chin's otherwise perfect face, plus, be uncomfortable for them NOSE BUTTER® to the rescue! Does your pampered Japanese Chin have a bit of crust on the top of their nose? Is it a little dry? Or heaven forbid, cracked? NOSE BUTTER® to the rescue!

THE BLISSFUL DOG JAPANESE CHIN NOSE BUTTER TIN OPTIONS

YOUR CHOICE OF THREE SIZES OF SCREW TOP TINS

1 OZ TIN JAPANESE CHIN NOSE BUTTER®
2 OZ TIN JAPANESE CHIN NOSE BUTTER®
4 OZ TIN JAPANESE CHIN NOSE BUTTER®

LIGHTLY SCENTED OR UNSCENTED OPTION
EACH HAS JAPANESE CHIN ON THE LABEL
COMPLETE TIPS, HINTS & DIRECTIONS INCLUDED
IN A CUTE GIFT BAG

JAPANESE CHIN LABEL OPTIONS

BLACK AND WHITE
SABLE
DARLING DUO

WHAT IS THIS DRY CRUSTY STUFF ON MY JAPANESE CHIN'S NOSE?

The good news is it's probably not dirt, caked on food, a scab, bad genetics or anything you have done wrong. If it is just some overall dryness or the nose seems a little rough, then NOSE BUTTER® will have your Chin's nose revitalized FAST!

If there are layers of crust or it looks like stuff is literally growing on top of the nose, it may be a common canine condition. This type of dry nose problems are often caused by Nasal Hyperkeratosis. I know, it sounds awful, bear with me and we'll get to the answers soon.

Nasal Hyperkeratosis is an idiopathic condition ¯\(°_o)/¯ (science speak for they have no earthly idea what causes it) that triggers your Chin's system to create a protein/keratin overgrowth (keratin-more lingo). This protein overgrowth is usually across the top of their nose or edges of paw pads. It is seen in older dogs, dogs with certain illnesses or on some medications.

Plus, certain breeds or breed types seem to have a genetic predisposition toward developing this condition. Flat-faced dogs, bully breeds, toy breeds, the mastiff types and anything with a chunky body type falls into the higher risk group.

The Japanese Chin has two of those triggers – toy dog and that adorable flat face.

Now you know what it IS, let's talk about what will get rid of it and keep it under control…NOSE BUTTER® for the Japanese Chin.

NOSE BUTTER is a rich moisturizer made just for dogs using ingredients that quickly soak into your Chin's nose in layers. The lighter oils, such as almond oil soak in fast, then the medium-bodied oils are absorbed, such as olive oil, then shea butter and cocoa seed butter melt in,adding a light barrier of protective goodness. But it is light enough for the nose skin to absorb the juicy smells your dog loves.

NOSE BUTTER® is individually handcrafted by my team and I here in far northern Minnesota (yes, it is science fiction cold in the winter) using all natural and organic good stuff: shea butter, olive oil, castor oil, avocado oil, almond oil, coconut oil, beeswax, cocoa seed butter, a dash of essential oils and love.

NOSE BUTTER® DIRECTIONS

DAB a bit onto your dog's nose 1-3x a day for 2-3 days (until nose improves) and then as needed for maintenance (usually 1-2x a week).

DISTRACT with a treat (keeps them from licking NOSE BUTTER® off while it moisturizes, though it won't hurt them if they DO lick some off)

DONE!

SCENTED OR UNSCENTED?

LIGHTLY SCENTED: Our classic NOSE BUTTER® has a dash of essential oils (Cedarwood for grounding and stress reduction, Cypress for balance and clarity and Ylang Ylang for uplifting energy and light), but unless you have a very sensitive nose, you will probably not notice it at all.

UNSCENTED VERSION: While we totally believe in the energetic healing properties of the dash of essential oils we use, we honor that some of you may prefer a completely unscented version.

NOSE BUTTER® and The Blissful Dog® Inc. are registered TRADEMARKS and the usage of these trademarked names is prohibited by federal regulation.

Japanese Chin Facts & Tidbits

From The Japanese Chin Club of America: The Japanese Chin is a fairly healthy breed with a typical life expectancy of 10-12 years; some live to be 15 years of age or more. The majority of problems seen in the Chin are common to toy dogs in general. Among the most common are luxating patellas (slipping kneecaps), cataracts, and early-onset heart murmurs. Reputable breeders attempt to breed from stock that are free of major health defects in hopes that their progeny will have a better chance at a healthy life.

Japanese Chin Bits

In ancient Japanese times, Japanese Chins were often kept in suspended dog cages, much like a bird cage, hanging from the ceiling. They were fed only rice and saki to keep their size small. Strict laws governed the protection of this breed and death was punishment for many infractions against this prized dog.

WE HAVE THOUSANDS OF RAVE REVIEWS AND TESTIMONIALS RIGHT HERE ON ETSY - PLEASE GO SEE!
Learn more about the shop and process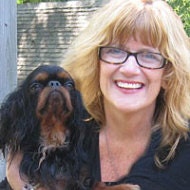 Kathy Dannel Vitcak
Japanese Chin NOSE BUTTER® Handcrafted Balm for Dry Dog Noses 1 oz, 2 oz or 4 oz Tin Your Choice of Darling Duo, B/W or Sable Chin Label
Overview
Handmade item
Materials:

shea butter, olive oil, almond oil, avocado oil, coconut oil, castor oil, beeswax, cocoa seed butter, essential oils, or unscented, love

Made to order
Ships worldwide from

United States

Feedback: 3112 reviews
Favorited by: 39 people
Listed on Nov 9, 2016
911 views