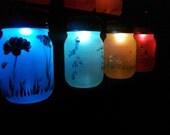 Sorry, this item sold.
Sun and Moon Rainbow Jar Solar Powered Night Light (7 Color)
Item details

Reviews (7)

reviews

Shipping & Policies
Handmade item
Materials:

glass jar, frosting machine, rechargeable rgb solar light, decorative tape, adhesive, Vinyl Tape

Ships from

United States

to .
Favorited by: 52 people
Ask a question
RAINBOW JARS make an excellent decorative accent to any indoor/outdoor area. RAINBOW JARS can be placed on your walkways or steps, gardens, patios, and other outdoor areas. We keep ours on the four corners of our deck and on each side of the openings. The possibilites are endless.

RAINBOW JARS are hand made from 16oz true frosted canning jars with a Solar Charged multi-colored changing LED light source. These Jars are NOT simply "Frost Painted" or sprayed on the inside like you may see on other listings. Our Jars are permanently frosted on the EXTERIOR of the Jar to allow for the reflective properties inside the jar to; well.....Reflect! Our jars are bright enough to easily light an entire room. The LED in these is what is referred to as a Red, Green, Blue or RGB LED. These are the the three primary colors. The other colors are created while the LED is automatically changing from one of the RGB colors to another.
With at least six hours of direct sunlight; the Solar Panel charges the included AAA 1.2v 500mAh Ni-Cd rechargeable battery. On a full charge the battery will last for approximately eight hours. The solar light pack also includes a built in photo cell, which will automatically turn the light on at night and off in the light.

Check out the link below for a Video Demonstration. In the video, you will notice that most of the RAINBOW JARS are shown with handpainted designs on them. The one you see in the pics is the one you will receive. If you want one with a specific design; feel free to ask. We can send pics of the actual item you will receive. It is important to understand that all the RAINBOW JARS function the same way. The only differences amongst them are the designs painted on the front of them.

http://www.youtube.com/watch?v=jy9zgb0mnXs

One final note. The solar lighting fixture can simply be unscrewed from the included frosted RAINBOW JAR, and screwed onto any standard 70mm canning jar. Some 8oz or smaller "Jelly Jars" have beautiful textured fruit designs on the glass that emit a bright "disco" like light pattern onto the surrounding area.


Frequently Asked Questions:

Q: Where should I place my Rainbow Jar in order to ensure it receives a full charge?

A: The Rainbow Jar will need to be placed in Direct sunlight. Room lighting or indirect lighting will not be adequate to charge the Rainbow Jar.

Q: How long does it take to charge the Rainbow Jar, and how long will it stay lit up at night?

A: The Rainbow Jar needs at least six hours of Direct sunlight to fully charge. A full charge will last approximately eight hours.

Q: Will I have to worry about the frosting on my Rainbow Jar flaking or chipping off?

A: No, Rainbow Jars are not "Frost Painted" they are frosted in a non-chemical manner, which makes it impossible to chip or flake the frosting off of them.

Q: What is the lifespan of the rechargeable battery, and is there a way to change it?

A: The included rechargeable battery should last between 18-24 months. The battery may be replaced with any AAA 1.2v Ni-Cd rechargeable battery.

Q: How do I turn the Rainbow Jar off if I don't want it on, even at night? Is there a on/off switch?

A: There is no switch to manually turn the Rainbow Jar on or off. The Rainbow Jar works off of a photo cell to turn on and off automatically. The only way to turn it off, is to remove the battery.

Q: What if it is cloudy or rainy outside, how will I charge my Rainbow Jar?

A: If the Rainbow Jar is unable to receive six hours of direct sunlight it will not be able to be charged by the solar panel. Some people use regular plug-in AC battery chargers.

Q: Can the Rainbow Jar be used outdoors?

A: Yes, the Rainbow Jar is designed for use both indoors and outdoors. You must ensure that the Rainbow Jar remains in an upright position.