There are a million reasons why my Deep Healing Roll-On Salve should always be with you on-the-go! Its' easy 2.25 oz. size makes it PERFECT for purses, diaper bags, hiking packs and even pockets!

Keep my Deep Healing Salves close by for:

- Dry elbows and knees
- Obnoxious itching from bug bites
- Chronic, scaly skin patches
- Rashes
- Sunburns (perfect for sunburns in hard-to-reach areas like the back!)
- Scrapes and cuts
- Pregnant belly itching (perfect size for those times you need to soothe a bad itch in public!)
- Soothing PUPPPs
- Athlete's Foot
....And MUCH MORE!

* This listing is for the 2.25 oz. Roll-On Salve Tube, but is also available in 3 different sizes!

*****************************************************************************************************
I originally created this salve for my own skin condition (scaly patches on my fingers), my daughter's constant diaper rashes, and natural relief from summer sunburns.

This all-natural herbal salve is VERY multi-purpose! I have been careful to research and choose only the best herbs, highest-grade oils and skin-soothing ingredients in this formula.

Deep Healing salves are specially formulated with 7 different powerful herbs and 5 skin-healing essential oils to bring deep moisture to your skin! This is not your simple, average salve... This handcrafted formula takes hours to make each batch, and each Organic herb is carefully infused to perfection to draw out the soothing properties so it can go to work on your skin. Read below for reviews... They just keep coming in!

*****************************************************************************************************

INGREDIENTS:

Certified Organic Sunflower oil and/or Safflower oil, Certified Organic Extra-Virgin Olive oil, Beeswax, Certified Organic (FAIR TRADE) Shea Butter. Oil infusion of: Organic Chickweed, Organic Dandelion leaf, Organic Calendula, Chamomile, Organic Comfrey leaf, Red Raspberry leaf, White Willow. Essential oils of: Tea Tree, Roman chamomile, Frankincense, Lavender & Geranium. Tocopherol (Vit. E)

*****************************************************************************************************

-PICTURE 4 shows my arm after it came into contact with a bad allergan (dogs). I got hives and intense itching. As you can see, my arm became very red and the hives very puffy.

-PICTURE 5 shows my arm exactly 2 hours later after applying this salve twice. I first applied it, then waited 10 minutes. The intensity of the itching starting calming down but I still felt uncomfortable. So I reapplied the salve and waited another 15-20 minutes. The itching DISAPPEARED! As you can see, the redness calmed down, the puffiness came down and I was sooo glad I had packed this salve on my vacation! For another before/after pic, please see my 4 oz. salve listing.

*******************************************************************************************************

I make my products from scratch in a 100% smoke-free kitchen dedicated for my business and we have no pets. Your product is being made with love in a clean, healthy environment.

As promised by my business name, "Innocence Body Care", you can expect all of my ingredients to be all-natural, mostly Organic and extremely hydrating to your skin! Toxic chemicals &/or irritating ingredients such as: mineral oil, parabens, petrolatum, propylene glycol, & synthetic waxes will NEVER be found in any of my Innocence Body Care products. It is my goal to nuture your skin and to bring healing.... innocently. Isn't it time your skin is innocent of toxins?
_________________________________________________________________________
Below you will find customer reviews, and the description of each ingredient:
_________________________________________________________________________

** REVIEWS:

* 'This is definitely helping our eczema issues! It is a relief to not have to think about using steroid cream from the pharmacy on the kids. Thank you' - KP

* 'My daughter has been using this on her eczema patches for a few days now and it really seems to be helping' - Dawn

* 'It has really helped with some of my worst skin problems: athletes foot, an itchines left after a burn under both my arms, spots, any wounds and thrush. Still using it however but it really is working well. Thankyou so much for this! I will definitely buy more! ' -Hannah

* 'Absolutely amazing....my second order....thank you Jenessa =)' -Falon

* 'Magic in a tube! Eczema is nearly gone in just a few applications! A++++!!!!' -prospeerpine

* 'Wonderful product! So soothing to my itching!! Thanks again!' -Patti

* 'I think this salve is healing my psoriasis. Also, I like the smell and the non-greasy feeling. Very nice. Will probably buy again!' -Alexandria

* 'Love this, works great on clearing up my eczema' -Lee Anne

* 'I've been dealing with nasty eczema breakouts, even weeping, on my hands for months now. Prescription medication is the worst and I've tried other natural eczema salves, but Jenessa's Deep Healing Salve is my favorite, the texture is almost creamy and absorbs great without being greasy'- Sabrina

* 'Thanks for much for letting me know about your products. The salve has helped my really dry skin and helped my son's rash. I LOVE the lip balm (too)!' -ginisorgen

* 'Thank you very much I have already noticed my psoriasis looking better and it hasn't hurt at all since I started using the salve.' -Micaela

* 'amazing for the eczema on my hands. everyone is impressed when i keep this on hand for bug bites, works great! ... very soothing for itch and irritation on my hands. surprisingly not as greasy as similar products that i have tried. pleasant herbal scent, not too stong.' -Rachel U.

* 'Very nice product that has helped heal some very dry, itchy patches on my winter-dry skin. Highly recommend' - Urbistudio

* 'I reordered this balm right away because it was so good for my skin. Really wonderful and helpful for irritated skin' -Marian

* 'great communication from buyer... LOVE the product!! it really helped with my eczema' -Jess

* 'Having dealt with psoriasis for 12+ years and using steroid based ointments it is nice to have a topical application that is of natural products. Deep Healing Salve helps to keep the flareups less frequent. So the need for prescription strength ointments is lessened. I have found Deep Healing Salve helps with the itch sometimes present with psoriasis flareups. The deodorant type applicator is very convenient for applying just after showering and just before bed.' - D.R.

* 'I love the Salve.. it has been so great for the dry skin issues our family seems to have that lotion does not affect.'

* ' Hailey had a really itchy spot of skin, so I rubbed the salve stick on it and she instantly stopped itching and didn't complain about that spot again. I told my mom that she needs to get one of those sticks to keep in her camping trailer. I'm excited to try more of your products and have been telling friends and family about them.' -S.H

* 'Just wanted to tell you that I burned my arm on a boiler on Saturday night and put some of your deep healing salve on it and man that stuff sure soothed my burn - no more stinging, minimal pain - it was great!'

* 'We are loving your products! The salve has really helped Drew's keratosis pilaris, the white bumps on his upper arms.... The doctor said he'd have to just "live with it", but the salve has really helped the itchiness & the bumps are diminishing. Love the natural way to go!'- S.J

* ' I am very happy to say that when Darcy is very itchy, the salve helps to relieve the itch. I have also found that it works well on dry patches on her skin. Unfortunately, I still have to use steroid creams on her when she gets very bad patches. Good news is that I don't have to use the steroid creams as often now, so I am VERY happy!!! I take the salve everywhere I go. Thanks for a great product.'

* ' 'Love, love, love this! It has helped Jacqui's skin so much in just 1 week! I was applying special lotion 3+ times a day to control her eczema, your salve I put on once a day (if that) and she is better than ever!' - Colleen W.

* 'Your products are wonderful! My son had terrible eczema (he's nearly 7 months old) and the only thing that controlled his itching is your deep healing salve. We tried everything - seriously, everything, even products I wasn't comfortable using. I'm so glad your product works and is chemical free!' -Angela

* 'I love the smell, it reminds me of herbal tea' -A.G

* 'My elbows where dry and chapped, I put this on one evening before bed time and my elbows were looking much better in the morning. We are looking forward to seeing how this works on my husband's psoriasis. thank you!' - Jenny P

* 'Thank you InnocenceBodyCare! My balm arrived well packaged and included a lovely surprise! Excellent seller who cares very much about her customer!!! I will definitely buy again!'

______________________________________________________________

DESCRIPTION OF EACH INGREDIENT:
______________________________________________________________

* Certified Organic SUNFLOWER and/or SAFFLOWER oils and Organic Extra-Virgin OLIVE OIL: Both are high in antioxidants, due to the high amount of vitamin E. Both oils are very moisturizing to your skin. I use extra-virgin olive oil because it is closest to our skin's natural PH.

* BEESWAX: I use purified beeswax. Beeswax locks in moisture, and in most people carries an irritation potential of zero (according to Botanical.com).

* SHEA BUTTER: I use only raw, unprocessed, Certified Organic Shea butter. My shea butter is Grade A, meaning its' healing and beauty properties are completely intact. It is imported from Benin, Africa and observes FAIR TRADE practices, providing the villagers who actually produce the butter to receive a reasonable wage. Shea butter is far superior to cocoa butter! It is rich in Vitamins A, E and F, is full of antioxidants and provides unmatched, deep moisture!

** A WORD ON SHEA BUTTER: Many companies who use shea butter use the refined type which has been put through a chemical process (including the use of Hexane which is a by-product of gasoline) to extract more shea butter and involves bleaching & deodorizing it. Unfortunately, when this is done, many of the vitamins and rich antioxidants of the orginial shea butter are lost and the skin healing-properties are diminished. Although it is less expensive to use refined/processed shea butter, I find it most important to use only the highest quality!

------------------------ HERBS: -------------------------------------------

* CHICKWEED LEAF: An herb that is cooling and soothes skin inflammations. It works to protect damaged tissue from more damage. It is a natural source of antihistamine properties.

* DANDELION LEAF: A powerful herb used since ancient times by Chinese physicians for boils and itching.

* ORGANIC CALENDULA: Calendula helps to soothe skin inflammations and contains a high amount of flavonoids. It works by increasing blood flow to a wound & produces collagen proteins which are used to heal skin and connective tissue. It also can help speed the healing of burns.

* CHAMOMILE: Used to treat skin disorders and sunburns. Soothing to the skin.

* ORGANIC COMFREY LEAF: This herb is a contact tissue healer & is used for rheumatism and cuts. Contains Allantoin which has been shown to be an effective healing agent.

* RED RASPBERRY LEAF: Rich in vitamins C, E and A. Used to tighten skin and alleviate skin irritation.

* WHITE WILLOW: A natural bark that has been used for millenia for natural pain relief due to its' salicylate glycosides.

---------------------ESSENTIAL OILS: -------------------------------------------

* TEA TREE: Has fantastic healing properties that help fight skin infections. Tea Tree is used for bug bites, rashes, athlete's foot, etc. Due to Etsy's restrictions on sharing medical findings/studies, I am unable to describe in detail the healing properties of Tea Tree essential oil, so I invite you to visit my secure webpage below to read about it! http://www.innocencebodycare.com/pure-essential-oils.html

* ROMAN CHAMOMILE: This oil helps fight infection and has sedative properties. Promotes peace of mind and soothes skin. Read more about it on my webpage: http://www.innocencebodycare.com/pure-essential-oils.html

* FRANKINCENSE: Has been sought after by kings and valued as highly as gold due to its' anti-arthritic properties called boswellic acids which inhibit inflammation. Used for wounds & dry skin. Very well known for fading scars and dark spots.

* LAVENDER: Known to relieve nervous tension, headaches, sunburns, and much more.

* ROSE GERANIUM: Helps scars and spots on the skin to vanish (cicatrisant) which makes it great for stretch marks. Helps fight against infection. Geranium has other amazing skin-healing properties! Please read about them on my webpage at: http://www.innocencebodycare.com/pure-essential-oils.html

Why use products that are labeled for Eczema or Psoriasis when they have a lot of toxic ingredients in them and penetrate into your bloodstream? I offer you an all-natural alternative! ___________________________________________________________

Reg. Price: $16.50 for one 2.25 oz. twist-up tube, shrinkwrapped and carefully packaged (Also available in chapstick size for small spots & large 2 oz. & 4 oz. jars!)
* PLEASE see the important disclaimer in my shop policy section and read carefully before your purchase!

NOTE: Because my formula is made with raw Shea butter & has a high quantity of herbs, please expect my salve to have a slightly nutty fragrance and very earthy. The herbal fragrance should go away within 30 minutes of being absorbed and the slightly oily feeling on your hands (due to the natural shea butter/beeswax) during application should, as I have found, be easily absorbed into your skin within 1-2 minutes. Please know what you are allergic to before purchasing & please view my shop policies before ordering!
Learn more about the shop and process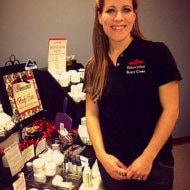 Jenessa
Healing Salve: Eczema, Psoriasis,Severe Dry Skin, Bug Bites, Itch, Rash, Burns. TWIST-UP. Before & After Pics, Best-Seller, Large Lotion Bar
---
Overview
Handmade item
Materials:

Certified Organic oils, Raw and unprocessed shea butter, Tea Tree essential oil, Organic Calendula, Roman Chamomile essential oil, Lavender essential oil, Beeswax, Comfrey Leaf, Red Raspberry Leaf, Geranium essential oil, Chamomile essential oil, roll on, Eczema cream

Ships worldwide from

United States

Feedback: 914 reviews
Favorited by: 163 people
Listed on Apr 20, 2017
3151 views