Would you like to learn how to make amazing art dolls without sewing even one stitch? Join me in this fun and comprehensive needle felting workshop and learn the fun and magic of making one of a kind needle felted dolls!

These dolls are fun, flexible and oh so very lifelike. They have a natural range of motion with their amazing needle felted joints, they can stand on their own little needle felted feet and their needle felted eyes sparkle with life. Their clothes, teeth and hair are even needle felted wool.

My name is Kay Petal - I've been creating needle felted dolls since 2007. My Felt Alive dolls have been seen in magazines, cd covers and even on tv! I so enjoy sharing this exciting craft with others and my Felt Alive Video Workshops are a great way to do it. I'd love you to join me in this fun and comprehensive video workshop so you can experience the excitement of bringing wool to life.

~~~~~~~~~~~~~~~~~~~~~~~~~~~~~~~~~~~~~~~~~~~~~~~~~~~~~~~~~~~~~~~~~~~~~~~~~~~

Felt Alive Needle Felted Dolls Video Workshop
10 Hour Needle Felting Video Workshop - 4 disc DVD with a Deluxe Needle Felting Kit that includes Felt Alive Exclusive Super Duper color- coded felting needles to make following along even easier and enough wool to make at least one 10" - 14" needle felted doll. You'll have plenty of wool and supplies left after the first doll to get going on another.

Felt Alive Needle Felted Dolls video workshop is the equivalent of an intensive 3-4 day live workshop except you work from comfort of your own home at your convenience and leisure. Not to mention the fact that you can pause and rewind me anytime! And you get a bird's eye view of my felting pad, no straining to see from across the room, no peeking over shoulders or feeling lost as the class moves along before you are ready.

We filmed this workshop in my studio using two high-definition video cameras. One camera was positioned to capture a Kay's-eye view of my work space. The other camera was positioned to capture zoom shots of the intricate details. I narrated the entire 10 hours unscripted as we filmed, sharing my insight into this amazing art craft while explaining every step in detail all along the way. I share my own pitfalls and how to fix mistakes.

The instructions in this workshop are not pattern-based. Instead, I teach a distinct set of techniques that can be repeated over and over, never creating the same character twice. I do not teach you how to make a specific character, instead I guide you along as you develop a character that is unique as you or I.

I have shared the magic of this amazing craft with thousands of people all around the world through my Felt Alive video workshops and I hear time and time again from my happy students that needle felting along with my workshops is like needle felting with a friend. Many of my students are now professional needle felted doll-makers, instructors and even suppliers. Some have broken a language barrier and followed along even though they don't speak English. I am very proud of my students! I have galleries of their work online and share on Facebook and on my blogs.

But OH NO, you say, Not another craft!! But coming from the crafty sister with closets full of various craft supplies, I'm here to tell you, needle felting has been known to rise to the top of that heap in a hurry!
You can make soft-sculpted, fully-jointed dolls without all of the usual steps.
No Sewing
No Stuffing
No Wire Armatures
No Painting
These dolls are 100% Needle Felted Wool!

Appropriate for all skill levels ages 13 and up!


~~~~~~~~~~~~~~~~~~~~~~~~~~~~~~~~~~~~~~~~~~~~~~~~~~~~~~~~~~~~~~~~~~~~~~~~

Here's What You'll Learn!

CHAPTER LIST

Disc #1

1 Introduction
2 The Basic Shape
3 The Nose
4 The Mouth
5 Cheeks and Chin
6 Sculpting Facial Features
7 The Eyes


Disc #2

1 The Eyes Continued
2 Facial Expressions
3 Teeth
4 Ears
5 Shading
6 A Quick Review
7 The Neck
8 Hair


Disc #3

1 Body Introduction
2 Body Parts
3 Hip Joints
4 Securing the Knees and Elbows
5 Body Building


Disc #4

1 A Review
2 Making the Feet
3 A Review
4 Getting Dressed
5 Attaching the Head
6 Finishing Touches

~~~~~~~~~~~~~~~~~~~~~~~~~~~~~~~~~~~~~~~~~~~~~~~~~~~~~~~~~~~~~~~~~~~~~~~~~~~

Deluxe Needle Felting Kit Contents for a 12" - 14" Needle Felted doll

3 oz Core Wool Batting
2 oz Felt Alive Flesh Tones Needle Felting Wool
2 oz Felt Alive Needle Felting Wool (variety of colors)
2 sheets of Merino Prefelt for clothing options (not shown in photos - sorry!)
1/2 oz Curly Locks or Merino Roving for Hair

Doll Maker Detail Kit
Small Amounts (less than .25 oz each) of the Following:
Brown Wool Batting
White Batting
Merino Roving hand-painted in a variety of colors for eyes, lips and shading
Felting Sticks (aka lollipop sticks)

6 Felt Alive Super Duper Felting Needles - 2 ea 40T, 38 Star, 36T
Foam Felting Pad 9" x 12" x 1.5"

4 Disc DVD (note - DVDs are packaged in plastic sleeves rather than plastic covers as shown in the photo)

~~~~~~~~~~~~~~~~~~~~~~~~~~~~~~~~~~~~~~~~~~~~~~~~~~~~~~~~~~~~~~~~~~~~~~~~~~~

Recommended Supplies (Not Included in Kit)
Sharp Pair of Scissors
Strong, Sharp Sewing Needle (not for sewing!)

~~~~~~~~~~~~~~~~~~~~~~~~~~~~~~~~~~~~~~~~~~~~~~~~~~~~~~~~~~~~~~~~~~~~~~~~~~~
Shipped within 1-3 business days via USPS Priority within the US and USPS First Class for International Orders. (please note that first class international can take up to 6 weeks for delivery and there is no reliable tracking. Let me know if you would like your international shipping expedited.)

~~~~~~~~~~~~~~~~~~~~~~~~~~~~~~~~~~~~~~~~~~~~~~~~~~~~~~~~~~~~~~~~~~~~~~~~~~~
Thanks for visiting and please feel free to contact me with any questions!

Kay Petal
Your friend in needle felting.
Learn more about the shop and process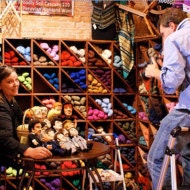 Kay Petal
Needle Felted Dolls Kit with Video Tutorial on DVD
---
Overview
Handmade Supply
Materials:

felting needles, wool, core wool, merino roving, roving, foam felting pad, norwegian c1 batting, wool batting, wool roving, norwegian wool

Ships worldwide from

United States

Feedback: 710 reviews
Favorited by: 179 people
Listed on Jan 4, 2017
4036 views