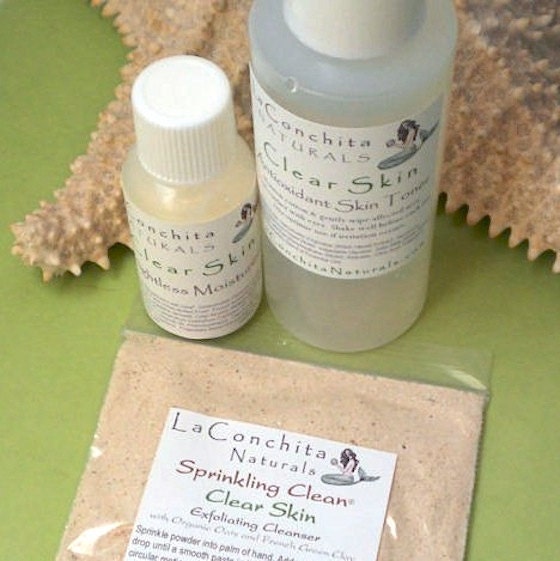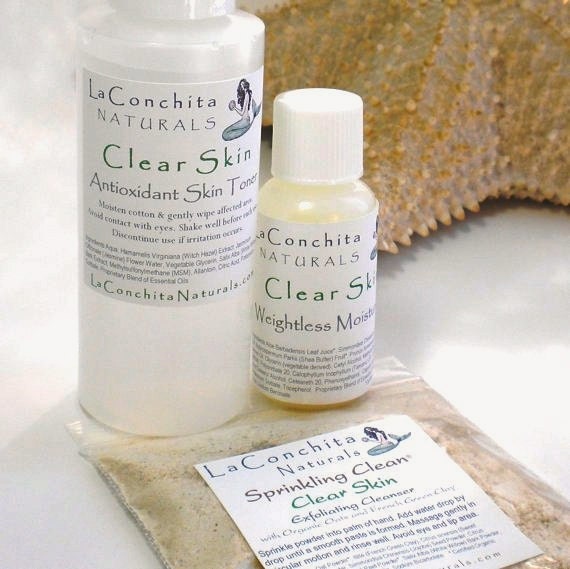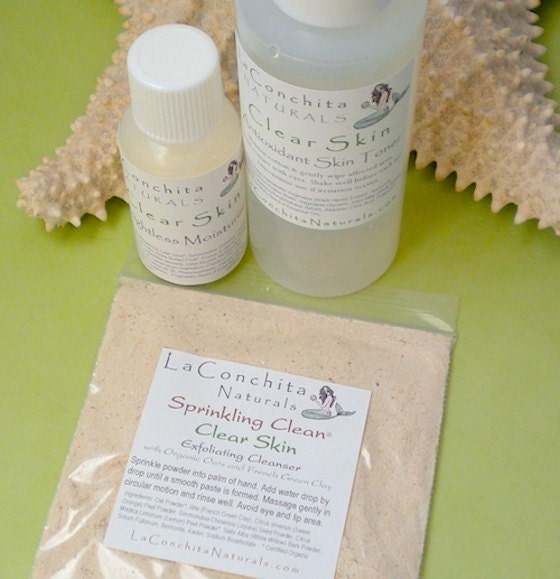 This convenient set includes three skin care essentials from the Clear Skin System, my natural approach to balancing and healing skin. This 3 step system is ideal for those with dull, oily, skin types that are prone to blackheads and occasional breakouts.
For perstant breakouts or chronic acne, Clear Skin Night Serum is recommended:
http://www.etsy.com/listing/59825431
This listing is for a trio that includes written directions for the Clear Skin Regimen and one of each of the following:
(1) Sprinkling Clean Powder- Trial size
Cleanses and gently Exfoliates skin with a purifying blend of mineral-rich clays, soothing oatmeal, and botanical ingredients to help detoixy skin and draw out impurities that can lead to breakouts.
*If your skin is prone to dryness or peeling, use with Honey Drops:
http://www.etsy.com/listing/57427582/
(2) Clear Skin Toner - 2 oz bottle
A vital part of Clear Skin System that helps remove residue from skin and tighten pores. Contains MSM and soothing Allantoin. Hydrates skin and removes impurities without overdrying skin or clogging pores. I use essential oils rather than relying on a high percentage of drying alcohols to help inhibit the growth of bacteria that can cause breakouts.
(3) Clear Skin Weightless Moisturizer with Organic Aloe - .5 oz bottle
Made with non-greasy Jojoba extract and Soothing Organic Aloe Vera to effectively hydrate skin without leaving a heavy coating of pore-clogging waxes and petroleum-based ingredients like mineral oils found in commercial moisturizers. Contains a dose of Natural Vitamin E and MSM and to support skin health. Makes a great base for mineral makeup as well!
*Does NOT contain synthetic fragrances but will have a faint, natural scent from the Botanical Extracts/Essential Oils.
_________________________________________________________
3 Tips To Help Overcome Acne
http://www.laconchitanaturals.com/Natural_Skin_Care/Clear_Skin.html
LCN Skin Care Regimen: 'How To' Instructions for Day & Night
http://www.laconchitanaturals.com/Natural_Skin_Care/Skin_Care_Basics.html
___________________________________________________________
FAQ:
Why a Natural Approach?
Conventional acne treatments use drying alcohols or active ingredients like benzoyl peroxide or salicylic acid to zap acne. These conventional treatments can cause dryness, peeling, and irritation and typically contain harsh preservatives and other chemical additives that can also trigger various reactions.
____________________________________________________________
Key Ingredients Used In the Clear Skin System Include:
* Organic Tamanu is an unique oil and is renowned by native Tahitians as a 'sacred oil' that has been used for centuries to heal a variety of ailments not limited to skin issues. Tamanu has a distinctive composition of lipids and possesses natural antibacterial and anti-fungal properties. I use organic Tamanu oil, as recently seen on the Dr. Oz show!
* Jojoba Oil is a light yet nourishing oil pressed from the seeds of a desert plant. This fabulous oil is one of my all time favorite ingredients and a true beauty secret. Its structure is very different from most oils, making it more stable and boasting a range of therapeutic properties. Jojoba oil has a natural affinity to human skin because it is incredibly similar to our skin's natural oils. It is readily absorbed without leaving a shiny or greasy residue, even on oily skin. Jojoba is also naturally rich in antioxidants and is useful for all skin types.
* MSM - You may know of MSM's benefits as a supplement for joint health. The same collagen building power of MSM also makes it beneficial in helping acne breakouts and speed skin regeneration.
* Essential Oils are the complex essence of plants. I use a combination of pure essential oils including Tea Tree & Lavender to act as active ingredients.
* Natural Vitamin E, derived from plant sources, is a powerful antioxidant.
___________________________________________________________
-For external use only. Keep away from heat and direct light.
-Contains (less than 1%) phenoxyethanol, a paraben-free preservative.
-Always perform a patch test when using a new product.
____________________________________________________________
Other Facial Care products:
http://www.etsy.com/shop/LaConchitaNaturals?section_id=6358537
Shop Policies:
http://www.etsy.com/shop_policy.php?user_id=7569348
Thanks for Visiting
LaConchitaNaturals.etsy.com
These statements and products have not been evaluated by the Food and Drug Administration and are not intended to diagnose, treat, cure, or prevent any disease.
Copyright © La Conchita Naturals. All rights reserved.
No use or reproduction of text or images may be used in any manner without written consent of author.
Learn more about the shop and process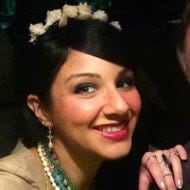 Conchita
Frequently asked questions about LaConchitaNaturals
Clear Skin Trio for Acne and Problem Skin with Face Cleanser, Toner and Moisturizer - On Sale
---
Shop similar items from sellers around the world