14 Bath Bomb Fizzies (almost an ounce each)

I handmade these bath bomb fizzies (we call them our little bag of balls). They are shaped like large gumdrops and almost an ounce each. Use them to fragrance your bath as well as moisturize and soften your skin. We make these with extra fragrance and extra Vitamin E. Place them in a fancy glass bowl in your bathroom and they will fragrance your bathroom as well.

Each fragrance is created with a different color.

You can use one per bath or several in each bath. Draw your bath and drop in and watch them fizz. A great way to pamper yourself while you moisturize and soften your skin.

Bath bombs make great favors for bridal showers, baby showers, promotional gifts, etc.

Listing is for (little bag of balls) 14 bath bomb fizzies. Select 1-2 fragrances.

Special requests welcome.

FRAGRANCE LIST 2014

Absinthe - Just the right combination of star anise, fennel, spicy cinnamon cassia, nutmeg, melissa, fresh green herbal notes, with base notes of amber and woods.

Acai Berry – The unique tropical berry fragrance of Acai berries.

Acqua di Gio - A sexy, fresh, aquatic aroma with bergamot, neroli, and tangerine; flowing into mid notes of rosemary, jasmine, and persimmon; all sitting on a woodsy base note of essential oil of patchouli.

Aloe Vera – A soothing scent derived straight from the aloe plant, a clean, green and herbaceous fragrance.

Amazing Grace Women - Pure, clean, and feminine, a women's fragrance that will make you feel rejuvenated. Fresh citrus notes of mandarin orange and grapefruit are bright and cheerful, so you'll feel like spring is in the air all year long. This fresh scent also blends freesia, jasmine, and rose for a harmonious, floral bouquet that lends a touch of delicate beauty to its wearer.

Amber Romance - Blend of Sandalwood, Amber, Musk and Vanilla Comparable to: Victoria Secret

Angel by SpaGirl - Luscious rich top notes of lemon, raspberry, honeydew melon, black currants; with middle notes of jasmine, gardenia, and nutmeg; bottom notes of white chocolate, patchouli, musk, sandalwood, and patchouli. Very complex!

Aphrodisiac – Amazingly complex and energizing. Begins with top notes of grapefruit, lemon, mandarin and green tomato leaf, followed by middle notes of jasmine and dry base notes of eucalyptus and woods

Apple Butter Caramel - Notes of Macintosh apple, steamed milk, cane sugar, vanilla bean, fresh nutmeg and creamy caramel. It will make your mouth water!

Apple Butter Pie - The perfect arrangement of tart pie apples, apple butter, evaporated milk, cinnamon, and buttery, flakey pie crust.

Autumn Magic – Autumn comes to life in this magical fragrance. Autumn magic starts with top notes of lemon and apple; followed by middle notes of anise, cinnamon, and ginger; sitting on well-rounded base notes of woods, musk, and vanilla.

Awapuhi Seaberry - The aroma of tropical flowers and ozonic marine notes collide in this fresh fragrance. Awapuhi seaberry fragrance begins with top notes of Italian bergamot, tart seaberries, and marine, ozonic notes; flowing nicely into middle notes of geranium, jasmine, and fresh rose petals; well-balanced with a base note of white musk.

Baby Powder - Reminiscent of Johnson's Baby powder scent.

Basil Sage Mint -A fresh medley of basil leaves, clary sage and peppermint sprigs accented by hints of citrus zests, fresh spring flowers, and soft, soothing musk.

Beautiful –.Blend of Orchid, Jasmine, Rose and Musk Compared to: Estee Lauder

Beneath the Stars - Fragrance begins with top notes of delicate pink rose, Asian jasmine, enhanced with soft violets. Lingering base notes of sweet musk enhanced by unique woodsy notes.

Birthday Cake - The perfect blend of moist white cake and sweet butter cream vanilla frosting. If you close your eyes, you can almost smell the little candy sprinkles.

Bite Me - Fresh citrus notes of lime and orange sparkle with effervescent highlights as they lead to a luscious blend of berry and cherry in this playful scent. Leafy green accents add intensity as a base of vanilla creates sweet tones for the fragrance.

Black Raspberry Vanilla – An enticing blend of blackberries and raspberries with middle notes of white floral greenery and bottom notes of musk and vanilla.

Black Tie Affair – This is a sultry yet clean fragrance. This fragrance has a hint of citrus mingled with a soft base note of musk.

Blackberry Apple A smooth blackberry and apple combo - very fruity.

Blackberry Sage - Strong top notes of tart blackberries, mulberries, and orange zests; middle notes of nutmeg, rose petals; bottom notes of fresh green sage leaves, red clover, and a dry down of vanilla.

Blackberry Tangerine -

Blackberry Vanilla - Delicious blackberry with rich vanilla.

Bonsai – A complex and sophisticated "zen" fragrance consisting of citrus lime and pine on a background of cedarwood with the barest hint of light floral on the dry down. Men especially love this refreshing unisex scent.

Bora Bora – Sweet pineapple, acai berry, mango zest, passion fruit, yuzu zest, green apple, orchid leaves and musky nuances.

Bourbon De Vanilla - blends the richness of sweet creamy Madagascar Vanilla extracted with a smooth essence of aged Bourbon, for a delicious, comforting fragrance. Warm and inviting, playful yet relaxing, this exquisite gourmet Bourbon de Vanille fragrance lifts the spirits with it's sensuous aroma.

Brown Sugar & Figs A magical, complex fragrance composed of top notes of Fresh figs, peaches, and passion fruit; followed by middle notes of coconut milk, vanilla orchid, jasmine, muguet, and freesia; well-balanced with base notes of vanilla beans, caramel, maple sugar, fig leaves, and musk.

Bubble Gum – An aroma of a sweet, juicy childhood bubblegum.

Butt Naked - Smooth blend of Peach, melon, coconut, strawberry & vanilla.

Buttercream Cupcake – A Best Seller! You've never smelled a buttercream cupcake fragrance like this one! This wonderful fragrance begins with top notes of churned whipped butter, blonde sugar cane; followed by middle notes of Madagascar vanilla and maple; well-rounded with a dry base note of vanilla extract. Beware to all dieters, this one will make you very hungry!

Butterfly Garden - The perfect scent for spring. Welcoming you into an enchanting garden of soft apricot blossom, Blue Iris, and Lily of the Valley.

Calabrian Bergamot & Violet - This fragrance is like taking a stroll through a Tuscan garden; a wonderful floral scent w/hint of freshness. A sweet, fruity, bergamot floral type with top notes of citron, bergamot, orange and pear; a floral violet, rose geranium middle note, and a sandalwood, sweet heliotrope dry out.

Candy Cane – A wonderful combination of fresh peppermint leaves and sweet ripened strawberries, on a dry down of vanilla.

Caribbean Coconut – Delicious fragrance of freshly cracked coconut, sure to whisk you away with thoughts of a sunny, sandy exotic beach.

Carpe Diem - Combines exotic floral & citrus nuances with sensual woods for a warm and earthy, invigorating scent that lingers even after you dry off.

Celtic Moonspice -

Champagne Kisses - Sparkling bubbles of crisp champagne are delightfully blended with tangy grapefruit, champagne grapes and deep plum.

China Rain - A truly refreshing, clean aroma with top notes of fresh rose petals, middle notes of wisteria and cyclamen, bottom notes of sandalwood and vanilla.

Chocolate Amber - Romantic, yet daring blend of intriguing notes including pineapple, berries, honey, patchouli and jasmine with bottom notes of musk sweetened by precious amber and hints of soft vanilla.

Cinnamon Bun - Rich butter, gooey rolls, with cinnamon swimming in caramelized sugar, and a hint of frosting.

Clementine - Wonderful citrus arrangement including top notes of tangerine, orange, grapefruit, and lime; with middle notes of ginger, and lime blossoms, and a fresh base note of vanilla bean.

Clementine Lavender – A calming and balancing scent that is clean and pure. Herbal French Lavender mingles with fruity notes of sweet clementine and hints of tangerine. The scent is rounded out and balanced by a bed of aromatic bergamot and Italian Lemon bottom notes.

Coconut, Lime, Verbena - Very fresh! A citrus bouquet of lime, kumquat, grapefruit, lemon, with a soft floral undertone of jasmine, on a background of musk and sandalwood.

Coconut Vanilla - Coconut, cream and sugar; followed by middle notes of rose and lily of the valley; with base notes of cedarwood and vanilla.

Contradiction for men - Top notes, lemon, lime, lavender, mandarin orange, clary sage; middle notes of nutmeg, coriander, pepper, cardamon, base notes of sandalwood, musk, ebony wood, vetiver.

Cookies N Cream - Sheer cookie heaven! Chocolate sandwich cookies with creamy frosting centers! (If you like Oreo's you will love our Cookies N Cream.

Cool Citrus Basil - Tunisian basil, California orange, Italian bergamot and Sicilian lemon oil, followed by middle notes of damascenia rose, clove bud and ylang ylang with base notes of precious woods and musk.

Cool Water - Charming blend of sweet jasmine, white lilies and violets; middle notes of lavender, rose combined with a delicate touch of sun ripened pineapple; bottom notes of fresh apple and fresh green melon.

Cotton Candy - A blend of fresh strawberry and French vanilla.

Cranberry Chutney - You will fall in love with this tangy/sweet cranberry aroma.

Creamy Coconut - Relax under a tropical palm tree and soothe your senses with this sweet, inviting aroma of fresh, creamy coconut. This marvelous scent has a rich undertone that makes it full-bodied, yet soft and subtle.

Creamy Praline Pecan - A delicious blend of carmelized brown sugar, buttery vanilla and nutty candied pecans. YUM.

Cucumber & Melons – An aroma of sweet and sour cucumber and a deep green oily note with hints of violet, with a background of sweet, freshly sliced honeydew melon.

Daisy by Marc Jabobs type (W) – A Floral Fruity fragrance for women. Top notes are grapefruit, green notes, raspberry and pear. Middle notes are jasmine, rose, violet, litchi and apple blossom. Base notes are musk, virginia cedar and plum.

Day at the Spa - A calming and balanced fragrance that combined notes of lemongrass and black currant with hints of patchouli and sugar cane.

Dolce & Gabanna (M) type – The One Gentlemen Cologne by Dolce & Gabbana. This is a sophisticated and modern scent for men. Notes include pepper, fennel, lavender and cardamom, while a base is composed of vanilla and patchouli.

Dragonfly Moon -

Dragon's Blood - Warm,woody and earthy scent, with notes of amber, vanilla, sandalwood, light tones of powdery musks and hints of asian florals to bring out subtle spice undertones. A year round favorite, Dragon's Blood is a potent and earthy fragrance infused with cedarwood, orange and patchouli essential oils. The scent combines sweet and spicy notes to form a sophisticated complex blend.

Drakkar type - A classic and seductive male fragrance that begins with fresh citrus combined with herbal and woody notes.

Egyptian Dragon -

Egyptian Musk - The romantic aroma of true Egyptian musk.

Eucalyptus & Spearmint - The invigorating herbal blend of eucalyptus and spearmint with fresh citrus lemon, lavender flowers, and a hint of sage

Eggnog – A creamy Christmas scent. This creamy eggnog has strong notes of buttercream vanilla with hints of cinnamon, nutmeg, and clove.

Eternity by Calvin Klein type (M) - Calvin Klein's exhilarating, cool fragrance opens with notes of lavender, green botanics and mandarin releasing a refreshingly crisp edge and ending with a warm woodsy trail.

Flirtatious - A youthful, delicate and feminine fragrance mix of florals, hints of plums and currants in a bed of light musk.

Flower Bomb type (W) -Sweet and sensual, Flower bomb complements every woman. Tea and bergamot in the top notes of this fragrance for women fill up your senses. The middle notes contain sambac jasmine, cattleya orchid, freesia, and centifolia rose, which lend a floral sweetness to the fragrance. The citrusy patchouli and intense musk in the base notes of this fragrance for women combine perfectly to leave behind a desirable sweetness. Essentially feminine.

Forbidden Fruit – So much sweetness, sinning is a given! Don't let the fact that this is a Pomegranate scent run you off - this oil is INCREDIBLE. It's a delicious, captivating scent that will leave you wanting more.

French Lilac - Sweet aromatic springtime floral.

French Vanilla & Amber - A sensual scent of creamy vanilla with warm amber mingled with soft wood notes of cedarwood, oak, sandalwood and patchouli.

Fresh Brewed Coffee - This coffee fragrance has wonderful effervescent coffee top notes (not chocolaty, pure coffee scent!)

Frosted Pumpkin -This fragrance begins with fresh top notes of citrusy lemon, leading to middle notes of creamy pumpkin and hints of nutmeg and ginger; sitting on base notes of maple sugar and vanilla frosting.

Fruity Rings – Compare to Fruit Loops. Top notes of lemon rinds, lime, and grapefruit; middle notes of lemongrass, lily, and verbena; and base notes of vanilla sugar.

Funnel Cake - A yummy combination of fried dough sprinkled with sugar and cinnamon.

Gardenia - A floral blend of gardenia and jasmine with a strong orange flavor bottom note.

Georgia Peach - Smells like a basket full of fresh peaches.

Ginger Lime - a bright and zesty lemon-lime blend combined with the warm and comforting notes of honeyed ginger for a sophisticated twist on a refreshingly clean combination.

Ginger Peach - Blend of Peach and Ginger Comparable to: Pier 1

Goodie Goodie Gumdrops - Top notes include cinnamon and clove; middle notes of eucalyptus and rose; well rounded with base notes of cassis, nutmeg, and woods.

Grandma's Kitchen - The aroma of rich, creamy vanilla with a touch of fresh ground cinnamon sticks.

Grape Googly Moogly – Reminiscent of grape soda on a warm afternoon.

Green Tea - The crisp, rejuvenating scent of green tea.

Green Tea & Cucumber -

Green Tea & Lemongrass - Begins with citrus notes of Valencia orange, bergamot tea and plum wine with jasmine, violet, lavender, orange flowers, and clean citrus musk.

Happy Type - Happy is a refreshing, flowery fragrance. This feminine scent possesses a blend of floral jasmine, lily of the valley, carnation.

Honey Almond – A nutty blend of sweet, golden honey and buttery almond.

Hot Baked Apple Pie - This is the most wonderful Hot baked apple pie fragrance we have found! The aroma of fresh cut granny smith apples, smothered in butter, cream, and cinnamon, with a background of fresh baked crust.

Hydrangea Heaven – A robust floral, with a touch of green notes. You'll think the window is open over a hydrangea bush.

Iced Gingerbread - Iced Gingerbread is a fresh baked gingerbread cookie fragrance with the creamy sweet white icing notes. Delicious year round but very popular in the fall as a holiday favorite.

Issey Miyaki - L'Eau D'Issey Pour Homme will give you hot flashes and heart palpitations! Heady, invigorating, yet fresh and eclectic. Base notes of Verbena, Tangerine, Cypress, and Yuzu Zest set the stage for a sexy middle of Coriander, Clary Sage, Geranium Bourbon, Blue Water Lily, Nutmeg, Saffron, with a memorable dry down of Ceylon Cinnamon Bark, Amber Tobacco, Vetiver, Sandalwood, and Musk.

Jamacia Me Crazy - Blend of tropical fruits with a twist of citrus and a hint of coconut.

Jammin' Rock Candy - Blend of juicy ripe cherries, strawberries, and raspberries harmonized with hints of tangy citrus brought together by icy peppermint and sugary hard rock candy.

Jasmine - The exotic blend of freshly cut jasmine flowers with a base note of rose petals.

Jelly Bean – A burst of luscious fruity tones, wild cherry, ripe peach, tangy strawberry with hints of cinnamon, vanilla, and musk sugary undertones.

Juicy Couture – The perfect fragrance for the girl who wants it all! This fragrance combines wild berries and mandarin, honeysuckle, gardenia and jasmine. Embodied with the aroma of amber, caramel, sandalwood, vanilla and praline to add just the right touch of sweetness.

Key Lime Pie - Mouth watering key lime filling topped with meringue on a flakey pastry crust.

Kiwi, Sage & Ginger - Fresh sliced Kiwi with a hint of herbal Sage and Ginger.

L'Homme by St. Laurent (M) type – Launched by the design house of Yves Saint Laurent in 2006, L'HOMME YVES SAINT LAURENT by Yves Saint Laurent possesses a blend of Cedar Virginia Cedar, Ginger, Violet, Citron, Tonka Bean, Sandalwood, Vetiver

La Nuit De L'Homme YSL (M) type - La Nuit De L'homme Cologne by Yves Saint Laurent, This is a spicy /oriental fragrance for men and recommended for evening.

Lavender - The wonderful aroma of true lavender flowers.

Lavender Apples & Oak – This is a FABULOUS unisex fragrance. The scent is a very smooth mix of apples with a light woodsy touch of oak, underscored by a soft lavender.

Lavender & Chamomile – A calming herbal and floral blend with top notes of lavender, chamomile and eucalyptus with rose petals, ylang ylang, night blooming jasmine, cyclamen, soft sandalwood and powdery musk

Lavender Luxury - A lavender lover's dream! A tranquil combination of fresh herbs and cool camphor. Unique and lovely! Lavender luxury fragrance begins with top notes of Italian bergamot, eucalyptus leaves, citrus zest, and French lavender; followed by middle notes of lily of the valley, and clary sage; sitting on base notes of Nordic pine, cool camphor, and clove buds.

Lavender Martini – Fragrance begins with top notes of tangy lemon zests, orange, and carbonation; followed by middle notes of spicy bergamot, mint and lavender, sitting on a base note of rosewood.

Lavender Mint – A fabulous well-balanced herbal blend of earthy lavender flowers and fresh peppermint and spearmint sprigs.

Lemon Cream - Fresh, zesty lemons, warm vanilla extract and a hint of sugar blended with fresh cream. It's a refreshing and mouth watering blend of tart and creaminess.

Lemon Verbena - This is a tangy yet smooth lemony fragrance, invorating and refreshing.

Lick Me All Over - Rich notes of tropical fruits.

Light Blue - Exotic bergamot adds a classic accent to this lush bouquet. Floral tones of calla lily, white jasmine and wood violet combine with hints of gardenia for a garden signature. A base of sweet amber balances with a highly textured musk blend and exotic woods to create lingering sensuality.

Lilac (lilac) A Best Seller! The aroma of a freshly blooming lilac bush.

Little Black Dress - One of the sexiest fragrances we have. Bottom Notes of white carnation and blood orange are the perfect foil for the heart notes comprised of sandalwood, black rose, smoky wood, and a kiss of patchouli. The top notes give a hint of toasted vanilla bean and whiffs of vetiver, amber, and the tiniest touch of Egyptian musk for a smoky, sexy finish. This is a big hit with the husbands and boyfriends! It just screams strappy sandals and slinky dress!

Lime Coconut - Cool & refreshing, not too sweet and not too tart...just right! This smooth fusion of lime & coconut will make you want to dance.

Lime Sugar Supreme – It is positively bursting with bright notes of lime with lush background notes of musk and tiny floral notes.

Lola - A warm, floral perfume with flirty notes that work well for day or night. With pink peppercorn, pear and ruby red grapefruit.

Lolita Lempicka - A blend of pineapple, rose, lemon and vanilla.

Love Spell This is an airy, sparkling floral scent. The top notes are a fresh blends of citrus, grape and orange with a light nuance of orange peel. The body of the fragrance combines rose, violet and jasmine. The base accord is sweet, dominated by musk, amber and vanilla.

Maharani - An intoxicating and heavy floral oriental, luxurious rose and night blooming jasmine supported by silky sandalwood and strong incense undertones. Sweet vanilla and earthly patchouli emerge with whispers of powdery musk, amber, and frankincense to create a sensual and sexy fragrance. A favorite of mine.

Malibu Heat type – Sunshine, ocean, sand and sun! This is the perfect blend to set the mood for a beach escape. Fresh Mandarin, California Orange, hints of crisp pear, sweet juicy pineapple and rich and creamy coconut milk together with orange blossom, lily of the valley and coconut water with sandalwood and musk complete this scent. Grab your suit and make a run for the beach.

Mandarin Basil Lime is a haunting, exotic, and fabulous fragrance bursting with an exotic and refreshing citrus accord. Herbaceous basil notes join with a spicy wood and black pepper bottom to round out the bright citrus and create an incredible and lingering unisex

Mandarin Tiki - A luxury spa fragrance! Imagine yourself lying in a hammock on the beach, while drinking a fresh Mai Tai. A fresh and energizing aroma that stirs the senses and brightens the spirit with its crisp citrus essence; Mandarin Tiki fragrance is an upscale, complex aroma of mandarin rind, red currants, strawberries, and blueberries; with middle notes of watercress and palm leaves; balanced with musky bottom notes.

Mango Mandarin Sage - The refreshing aroma of freshly sliced mandarins and tangerines on a bed of diced ripe mango.

Midnight Fantasy – Night flowers and exotic fruits make it mysterious and appealing. Top notes of exotic Framboise, black cherry and plum. The heart features a harmonious night orchid, freesia and iris. Amber, musk and vanilla create dark and warm bottom notes.

Midnight Pomegranate - Midnight Pomegranate is comprised of ruby red pomegranate, a whisper of spices, berries and lively citrus notes. Mid and bottom notes of Cassis, Blackberry, Iris, florals, country raspberries, sensual musk, deep forest sandalwood, creamy vanilla, and a touch of patchouli.

Misbehavin' - Firtatious, fruity & sexy fragrance. A tantalizing aroma of sweet juicy candied apples and pomegranate, with nuances of fresh ivy and oakmoss.

Mistletoe – Fragrance is a beautiful pine with greens and a barely-noticeable drop of spice for warmth. This combines perfectly with evergreens, blue spruce, holly, green ivy and dewy ferns. Our favorite for the Christmas holiday.

Monkey Farts - It's a blend of fresh bananas, kiwi, strawberries, pineapple, bubble gum and undertones of vanilla.

Moonlight Path - Fragrance begins with top notes of delicate pink rose, Asian jasmine, enhanced with soft violets. Lingering base notes of sweet musk enhanced by unique woodsy notes.

Oatmeal, Milk & Honey - Creamy French vanilla with milk, honey and nutty almond. Good enough to eat!

Orange Blossom - A nice blend of neroli and orange blossom, for a white-floral fragrance with a bitterorange heart to give it depth and complexity. Perfect for spring and summer.

Orange Blossom & Honey – Rich citrus base with lingering honey finish.

Orange Dreamsicle – Sweet and dreamy, Orange Dreamsicle is a reminder of those childhood orange push-ups we all loved. A blend of orange citrus swirled with creamy vanilla.

Patchouli – An earthy aroma of true herbal patchouli.

Patchouli Amber - An earthy blend of Patchouli and Green grass with Fresh Lavender and hints of licorice and amber making this masculine fragrance sexy!

Pearberry – this fragrance is a blending of juicy green pears, crisp red apples, fuzzy peaches and a touch of ripe melon.

Pink Sugar - Pink Sugar is a scent that evokes sensuality, gentleness, and passion. It is has notes of pink cotton candy, sweet lemon drops, raspberries, fig leaves, caramel, Sicilian orange, Barbe-a-Papa, Lily of the Valley, and powdery vanilla musk. Playful, mischievous, romantic.

Pleasures – Similar to Estee Lauder. Lilies and violets, roses and peonies, with other exotic blossoms and fragrant woods.

Plumberry - Peach and Cherry blended with raspberry, pear and cloves. A great fall fragrance.

Plumeria - A sweet floral combination of jasmine, lilac, rose and lily of the valley with light fruity notes of peach, lemon, lime and tart green apple.

Pomegranate – A Best Seller! The wonderful aroma of freshly sliced pomegranate. One of our best selling fragrances!

Princess – For flirtatious women who enjoy adventure and excitement. Blend of water lily, lady apple, mandarin meringue, golden apricot skin, ripe pink guava, Tahitian flower wild tuberose, dark chocolate, pink frosting accord, precious amber, forbidden woods, royal musk and chiffon vanilla.

Pumpkin Crème Brule - This scent is so yummy, we can't seem to get enough sniffs & whiffs from the bottle! You'll find notes of creamy pumpkin puree, ground cinnamon, cardamom, Vermont maple, rum, french vanilla and caramelized sugar. Oh so delicious!

Pumpkin Crunch Cake - The aroma of creamy pumpkin pie filling with rich eagle brand milk; surrounded with freshly baked yellow cake, melted butter, pecans, and hints of spice.

Pumpkin Pie Spice – Best Seller! The aroma of sweet cream pumpkin, complimented with nuances of nutmeg, cinnamon, clove,ginger; and rounded out with buttery vanilla notes.

Pure Seduction – Another Victoria's Secret duplication. Airy freshness and citrusy sparkle refresh a strawberry apple blend woven into jasmine muguet floralcy. Musks sweeten the impression and marry the blend for a richer texture."

Raspberry Sangria - Juicy red raspberries with cherries, grapefruit, and lots of sweet red wine with a hint of orange.

Reaction – Kenneth Cole Type (M) - Grapefruit, Green Apple, Mandarin, Melon, Musk, Patchouli
Reaction suits all occasions and attires.

Rice Flower & Shea - A rich bouquet of fruits and flowers on an intense, alluring base of musk and creamy vanilla notes."

Rosemary Mint - A crisp, minty, herbal type with a touch of peppermint and spearmint.

Sands of Morocco – Classic carnation blended with warm, powdery sandalwood and musk.

Satsuma - A wonderful blend of orange, mandarin, mango, peach, lime, jasmine and orange flowers. Energizing and intoxicating. We love it!.

Sensual Amber – Romance fills the air with this scent. Sweet, precious amber blended with the floral aroma of lotus blossoms

Sex on the Beach - A Best Seller! A fruity combination of fresh ripened peaches, fresh squeezed oranges, and spiced cranberry.

Strawberries & Champagne -

Strawberry Passion - A rich ripened strawberry fragrance with bottom notes of cotton candy and French vanilla.

Strawberry Shortcake - The aroma of buttery vanilla cake with notes of freshly sliced strawberries, with base notes of rich vanilla cream.

Sugar Cookie - A warm butter cookie with a background of vanilla.

Sparkling Currants - A unique berry fragrance with black and red currants, strawberries, a hint of oakmoss and musk.

Sweet Grass – The ozony aroma of fresh cut grass, clover with a hint of wisteria.

Sweet Pea - An English garden reminiscent of hyacinth, lily of the valley, violets and wild jasmine with a background of light herbal and musky notes.

Sweetheart Roses - A sensual aroma of velvet rose petals, fresh oriental tea leaves, rounded out with base notes of soft musk. Sure to set a romantic mood.

Toasted Marshmallow & Hot Cocoa – Imagine being curled up in your favorite blanket with your favorite person sipping warm cocoa topped with toasty marshmallows. That is the perfect Fall and Winter evening and just in time for the holidays.

Twilight Woods - Top notes of mandarin balm, tangelo, eucalyptus, middle notes of jungle moss, patchouli leaf, sandal tree and base notes of red wood forest, amber glow, musk.

Vanilla - Sweet, sugary aroma of fresh vanilla beans.

Vanilla Cream – Warm and wonderful vanilla. This is bakery vanilla,

Vanilla & Lace -

Vanilla Sandalwood – A beautiful duplication of the Yankee scent. The beautiful combination of luscious, rich vanilla, and earthy Indian sandalwood.

Very Sexy for Him -A spicy citrus blend, has top notes of pink lime, bergamot leaves, and tangerine. Middle notes of cinnamon bark, limewood, and sage. Vetiver and orange flower comprise the dry down. Very Sexy...yes he is!

Viva La Juicy Women Type - Blend of golden amber, Egyptian musk, sparkling citrus, lily of the valley, pink jasmine and warm woods.

Watermelon - A fruit blend of melons, peach and strawberry with a hint of vanilla.

Wedding Day – A romantic, complex fragrance with top notes of pears and apricots, middle notes of rose, orchids, birds of paradise, and bottom notes of English ivy, sandalwood and musk.

Welcome Home – This is honestly one of the BEST scents we've ever smelled! Toasted graham crackers, vanilla frosting, creamy caramel, and juicy raisins.

White Gardenia – Similar to White Gardenia that Kate Middleton wore when she married Prince William. White Gardenia begins with top notes of citrus, lily of the valley and aldehydes, followed by middle notes of white gardenia, jasmine, and muguet; sitting on a subtle note of amber woods.

White Tea & Ginger - White tea, yuzu, lemon, bergamot and ginger with a hint of nutmeg, geranium, musk and berries. Gorgeous…!!!

Ylang Ylang - Ylang Ylang with the soft, sweet, sensual quality, a truly magnificent fragrance.

Yuzu – Also referred to as Japanese Grapefruit. Yuzu begins with top notes of mandarin, tangerine, lemon Satsuma, and ruby red grapefruit, middle notes of bergamot and base notes of oakmoss.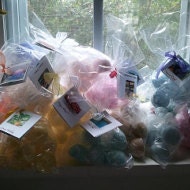 Marlene Nicosia
14 bath bombs (select from over 100 fragrances) our Little Bag of Balls (great for dry skin)
Overview
Handmade item
Materials:

epsom salt, baking soda, citric acid, fragrance, shea butter, cocoa butter, mango butter, safflower oil, vitamin e, milk powder, colloidal oatmeal, sea salt, almond oil

Feedback: 1298 reviews
Ships worldwide from Illinois, United States
Listed on Mar 29, 2015
10165 views