This item sold on June 21, 2011.

Favor of Duna festival of Litha Summer Solstice Prehnite set in sterling silver.

This ring was constructed for the summer festival of 2011 on June 21 .

The Prehnite stone is 20 mm across round X 10mm thick 36 ct stone . the stone is round for the earth and the cycle of life that had no beginning or end as everything is the genesis of something else . That is all life being connected . The stone is Set in a sterling silver Ring with a triple trinity symbol on one side and a feathered nude goddess on the other for transformation ,mother protector and fertility . The stone is circled by a double strand twisted wire for the joining of the male and female bound in life . and Backed with the Pentacle / Pentagram The sign of magic and protection .Set in the middle of three circles . All held together on a triple ring band .

Copy and Past link below to see this ring from all angels . in a short Yahoo video

http://www.flickr.com/photos/25259607@N06/5857431124/in/photostream

Ring size 9.5

Total weight 23.2 grams


Duna Celtic fertility goddess, venerated as the mother of the gods, Her name is old as memory itself , and was worshiped as their mother protector . It is believed she was also a goddess of wisdom , water and the wind.
Danu was often connected with water rivers, lakes, springs, oceans, and was a symbolic of fertility and abundance.
Later Her identity is commingled with the war-goddess Morrigan and the fertility-goddess Brigit.

Hindu Mythology: Hindu goddess Danu, was a goddess or personification of the primeval waters and mother-goddess of a race named the Danavas.

Mystical Properties Prehnite :

Prehnite is quite a protective stone. It can protect one on all levels, as it strengthens the life force and generally increases energy as well as stimulating it. It aids spirit communication through meditation and visualization, out of body travel and as a powerful dream stone. It is also known as a stone of prophesy which stimulates inner knowing of oneself. It is a very accepting stone, encouraging analytical thinking and helps to dispel unpleasant memories.

Prehnite crystals will help to teach one to let go of old memories that are painful. If there has been avoidance of the truth due to pain, these crystals will assist you in facing, understanding, and ridding yourself of that pain. It will help one to recognize the true potent that lies within, your divine self. It will guide in fulfilling this potential, even if it is through a mundane life; it eases acceptance of circumstance without allowing the surrender of dreams.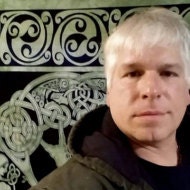 Lee Billings
Favor of Duna festival of Litha Summer Solstice Prehnite set in sterling silver
---
Listed on Jun 21, 2011
37 views