Henna Day of the Dead Sugar Skull tambourine. This tambourine measures 8 inches in diameter, and has 6 sets of double silver jingles, a goatskin head, and a natural wood frame. A henna sugar skull has been applied to the goatskin head, and will over time leave behind a nice stain.

The pictures show the henna paste still on the tambourine. Once the henna paste is scratched off the skin of the tambourine will be stained a deep brown to cherry red color. The longer the paste stays on the tambourine, the deeper the stain becomes. The tambourine can be used with the paste still on, over time it will begin to flake off. The paste can also be scratched off whenever the user wishes. I always recommend leaving the henna paste on as long as possible, as to achieve the best stain.

***please note, the tambourines are made to order, and may have slight variations from what is shown in the photo. They're handmade after all ;) ***

Taking care of your tambourine...Here's a couple tips about using your new tambourine. I recommend letting the henna fall off the tambourine naturally. The longer the henna paste stays on the tambourine, the darker the final stain will be. It can take up to a year for the final color to develop. If you decide you want the paste off the tambourine, use a credit card or something similar to scrape the paste off. Sometimes it sticks pretty good, so this can take some time and effort. If you want to use the tambourine for display purposes only, try not to touch it very much, as the henna paste is meant to flake off. The tambourines do develop a pinkish/brownish stain on the entire skin from the henna paste dying the whole tambourine head. This is normal, and the actual design where the henna paste has been applied will be much darker, and still visible. The tambourine as a whole develops a 2 tone look.
Learn more about the shop and process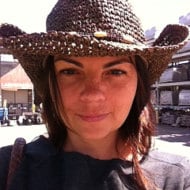 Melissa Ure
Henna Sugar Skull Tambourine, Day of the Dead
---
Shop similar items from sellers around the world