RARE 1960s FIGHTING COWBOYS Heart Shaped Flicker Necklace Pendant

Estimated value: $40.00

These have been seen recently selling on other large selling websites for $30-$50 each due to rarity.

This is the most unusual item I have ever seen. This is one of those cool flicker items made and then sold in gum machines in the 1960s. If you know anything about the flicker technology, the tighter the ridges, the better the motion and the higher quality it is and collector's go crazy for this type since it shows longer sequence of action. With all that out of the way, this is pretty graphic for a kid's toy! Shows a cowboy shooting another cowboy and the victim falls down.

Most boys did not want to buy a heart-shaped necklace with a pink or red plastic cord even though it shows two cowboys duking it out and one of those cowboys keeling over from the shot.

Even more, most girls did not want to buy a flicker heart pendant showing a cowboy shooting another cowboy.

I have been told the back-story by a guy who spent several years working a toy machine route during the 1960s and he explained how and why these came about and why they even exist.

The company that made these offered cartoon character-like animal versions that were designed to appeal to the girls. Well, the company said, "Well, we need to make something that will appeal to the boys!". So the company told the manufacturer in Hong Kong to send some for girls and make something for the boys. Well, the manufacturer saw that American boys loved cowboys and westerns and so they put in the flicker cowboys.

Seemed to make sense but I guess the folks in Hong Kong did not make the connection with the shape of the pendant being more appealing to little girls than to boys. The guy told me that the machines sat full of these for two months. Maybe two or three sold. These are VERY RARE to find since many were just thrown away.

These come in green, blue, pink and yellow. Random color sent. Buy more than one and I start mixing the colors.

Measures about 1.5 across and tall. You are buying ONE of these and not the multiple shown. Cords are roughly 14 inches long.

Let me know if you have any questions prior to buying.
Learn more about the shop and process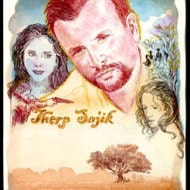 Therp Sajik
Frequently asked questions about therpsajik
RARE 1960s FIGHTING COWBOYS Heart Shaped Flicker Necklace Pendant
---
Listed on Dec 27, 2016
258 views