How to make your own cute shoes for your Lati Yellow BJD, Blythe, Kish Riley and other small dolls. Fantastic lessons, patterns, supply resources and more!
Language: English -- it is free to translate the files into any language using Google's translation tool
This listing is for a complete collection of my doll shoe workshop in PDF format. There are 20+ different shoe patterns included in addition to several variations in design and embellishment ideas. The workshop is 327 pages long with hundreds of full color photos to guide you step by step through the shoe making process. There are 11 lessons total. Each lesson averages 20-30 pages in length. You can print out the full lessons, or just the parts and patterns.
The patterns in this collection are designed to make 28mm shoes for a flat style foot—these fit Lati Yellow Dolls, Blythe, Kish Riley and other similar tiny feet. Instructions for altering the sizes of the patterns are included as well if you'd like to make shoes for a different sized foot!
This workshop was more than a year in the making. Here I have done extensive research and development for you, so you can concentrate on the fun of making tiny shoes for your dolls! I will show you how to customize the look of your shoes, where to find the best supplies and I share all the design patterns you could ever wish for!
Traditional shoe how-to guides only contain a few patterns, and are not very thorough when it comes to HOW to put the shoe together. My workshop not only shows you step by step how to make perfect tiny shoes, it shows you how to make custom adorable chunky soles to go with them! Plus, by the time you have completed all 10 lessons, you will have oodles of patterns and variations. Your dolls will definitely have an enviable shoe collection!
The lessons are as follows:
Tiny Doll Shoe workshop 0
Alteration guide & Index (written after lesson 10, this bonus lesson includes a master supply and resource list, pattern index, in-depth guide to shoe alterations to make the shoes fit any doll and a few extra tips and techniques.) 1 Shoe pattern in 5 different sizes
Tiny Doll Shoe workshop 1
Making the Last (how to make the model to build the shoe on)
Tiny Doll Shoe workshop 2
Making the Soles (Make your own custom soles!)
Tiny Doll Shoe workshop 3
The Basic Shoe (The staples of shoe making) Includes 1 shoe Pattern
Tiny Doll Shoe workshop 4
The Embellished Shoe (Designing and decorating is the best part!)
Tiny Doll Shoe workshop 5
Boots (Patterns & Instructions for rain boots, work boots, historical boots, punk boots…we love boots!) 4 patterns with several variations
Tiny Doll Shoe workshop 6
Dress Shoes (Mary Janes, ballet flats, bows, beads, flowers and more!) 3 Patterns
Tiny Doll Shoe workshop 7
Slippers (Pjs, slipper socks, comfy boots, Moccasins) 4 Patterns
Tiny Doll Shoe workshop 8
Sandals (Strappy summer sandals, slides and more) 3 Patterns
Tiny Doll Shoe workshop 9
Lace-Up Shoes (Sneakers, saddle shoes, simple tie shoes) 4 Patterns
Tiny Doll Shoe workshop 10
The Embellished Shoe II (More shoe design possibilities!)
Bonus: This collection will also include my tutorial "Making Perfect Tiny Doll Socks" for free!
FAQs:
Can I sell the shoes I make?
- Yes! You can make a profit off the shoes you learn to create in this workshop! Heck, if you make and sell just two pairs of shoes, you'll have made your workshop money back! The only limitation I have on these workshops lies with the patterns themselves—you may not sell or redistribute the workshop text and patterns without my consent.
Is this workshop for me?
- Do you want to learn how to make your own custom tiny shoes? Or can you envision your dolls rolling in pairs and pairs of shoes? Or do you want to make a little extra money for your hobby? If so, Yes, yes and yes! Or maybe you want to save a little money by not buying fancy doll shoes at $20-30 a pair—you can make your own!
How can I know this workshop will be awesome?
- These workshops are 100% developed by me, Jessica Hamilton. I have been teaching art workshops at national and private retreats for the last 6 years—I even taught on an episode of DIY's" Craft Lab." I have a bachelor of science in fine art and a master's in technical writing—I love teaching and I love to research, experiment and write workshops!! Here are some nice things clients have said about my PDF workshops:
"I would like to thank you for an excellent project. There is so much detail, real step by step process and enough info to make a wonderful [project]. I have now read through the whole thing and can't wait to start."
"The "booklets" are fantastic. Well written and the pictures are a real help and not the typical "fluff" people seem to feel the need to stuff in their directions."
"Hi Jessica, your instructions are well written and quite easy to follow.. I am happy w my purchase."
"I just finally finished [printing] the class tutorial. WOW what a ton of work you do on this class. Just wanted you to know how appreciated it is. And I love the fact that my next [project] will be so much better because of it."
"This workshop has been one of the best I've taken… Jessica is a fantastic teacher and the project is so much fun."
_______________________________________________________
What are you waiting for? Let's make shoes! :]
Still not convinced? Would you like to see a sample shoe pattern? This is my free mini tutorial for making simple tiny doll slippers in the same scale as my shoes. (This free slipper tutorial is not one of the 20+ patterns featured in the complete tutorial--it's an extra bonus pattern :].)
http://www.dollproject.com/blog/2011/7/1/how-to-make-tiny-slipper-shoes-for-dolls-patterns-included.html
I hope this helps! I am happy to answer any questions you may have about the tutorial or its contents so we can make sure it is right for you!
Thank you for visiting Doll Project Art by Jessica Hamilton on etsy! :]
dollproject.etsy.com
Learn more about the shop and process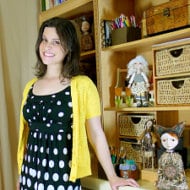 Jessica Hamilton
Tiny Doll Shoe PDF Tutorial Make 28mm Shoes for Lati Yellow Blythe Pukifee Dolls
---
Listed on Apr 9, 2017
31096 views