This item sold on April 5, 2012.

When I was little I has a pillow with a tiny pocket on it for putting my new emancipated tooth in, and in the morning I would greedily search the pillow for the money the Tooth Fairy would leave me. Since I was living overseas at the time the money would be in halalas (the coinage of Saudi Arabia). Having done some math I feel extremely cheated by the Tooth Fairy! She left me 50 halalas per tooth, which at the time was about 13 cents! This was in the 80's, but still.. I think 13 cents was a bit low.

Perhaps if I had an awesome tooth fairy box like THIS one, she would have been able to fit more money into it! Actually, unlike the traditional tooth pocket pillow, she would not have to be limited to money at all. Small gifts or toys, movie tickets, or even just a letter to the kid could be hidden in this box! Of course, so could lots of money, but that isn't the point at all, honest!

This box is not overly large. It measures 3" by 2". The robotic tooth extraction unit was designed by my husband (who is much more in tune with what the youth of today are into, being a big kid himself!). It is felt lined on the bottom, the inside and the inside of the lid to protect tiny teeth.

~~~~~~~~~~~~~~~~~~~~~~~~~~~~~~~~~~~~~~~~~~~~~~~~~~~~~~~~~~~~~~~~~~~~

Wooden toth fairy box with robot design.

* Affordable
* Cute
* Original
* Fun!


~~ HAND CRAFTED BY A FAMILY OF ARTISANS ~~~~~~~~~~~~~~~~~~~~~~~~~~~~~~~~

We use a variety of woods in our products, depending on the type of item. This box is made from birch. It has been wood burned with traditional wood burning pens, by hand, and then painted in thin layers to allow the natural grain of the wood to show through. We do not use lasers, image transfer machines or printers, or any other sort of robot!

For more information please visit our website: www.heritagebaystudios.com

~~ PRODUCT CARE ~~~~~~~~~~~~~~~~~~~~~~~~~~~~~~~~~~~~~~~~~~~~~~~~~~~~~

This item has been coated with an acrylic varnish to protect the woodburned and painted surface. As with all wooden items, you should not submerge this in water nor run it through a dishwasher, as this will damage it! To clean this item, simply wipe spills with a damp rag or paper towel. Do not use harsh abrasives or cleaners.
Learn more about the shop and process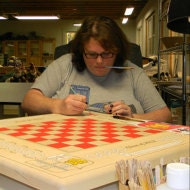 Alissa
Tooth Fairy Box - Robo-Tooth
Listed on Mar 3, 2012
59 views