This handmade full and fluffy tutu is made in a simple blend of light pink and hot pink. The 8" pixie tutu is the shortest style of pixie tutu offer, perfect for the most petite little ones!
Perfect for ballet class, dress up, birthday parties, recitals, flower girls, and so much more! Also makes great gifts for all occasions! Check out our princess gift packs, fairy wings, and other matching accessories in our shop!
*Last two photos are provided as examples of the 8" pixie tutu style on a model. This listing is for the Simply Pink pixie design only.
♥♥♥ Pictures provided by drewBphotography. Check out her blog at http://blog.drewbphotography.com/ ♥♥♥
Technique and Materials:
All of my tutus are created using a technique that allows for maximum stretch and durability!
My tutus are machine sewn on an elastic waistband. I use a traditional braided elastic, as a non-roll elastic does not have the proper resiliency needed (once stretched out, it does not return to the original size) to allow for the stretch I like to offer in my tutus. If you prefer your tutu be made on a non-roll elastic, please contact me or include your request in the order details.
I use a high quality diamond weave nylon tulle. This fabric meets all current standards for children's clothing.
Fullness:
The fullness of my tutus is created by the large amounts of fabric used on each tutu. I use more than 100 yards of fabric on even the smallest 12" tutu! This causes the tutu to be fuller on the bottom, and can not be seen through! The poofiness and lift of my tutus is created by the fabric filling in from the bottom and pushing the top up higher and higher, creating a round, full tutu. I use a formula that allows me to determine exactly how much fabric is needed on each tutu to create the fullest tutus! I never skimp on the fabric! You will always receive a very full and fluffy tutu, and your tutu will only get fuller and fluffier the more it is loved! ;-)
Most of my tutu styles are made using the same formula. This system creates a flat top and a very full, round tutu underneath. Extra full tutus have more fabric packed on creating a bit more lift at the top, achieving an even rounder look. All 6" tutus are created in the extra full method unless requested to be less full. All other "extra full" tutus will be described as such and priced accordingly.
Stretch Allowance:
The technique and products that I use allow for the waistband to stretch about 12" to be easily put on and taken off! Little girls can put them on and take them off, all by themselves! This also makes it easier to fit over jeans and diapers!
My tutus will stretch approximately 6" without distorting the look of the tutu or exposing the waistband, allowing for an average of 3+ years of growing room!
*Stretch allowance will be limited on items that have marabou trim sewn at the waistband.
Sizing:
To ensure a perfect fit, please provide measurements with your order! Due to the technique I use, measurements are not necessary, although always recommended! If not providing measurements, please include the current standard pant size the child is wearing.
Available in any size from 0-3 months up to 5T.
Please specify a size with your order. Include a waist measurement for a perfect fit!
Larger sizes are available at an additional cost. You can find some teen and adult tutu listings available here:
http://www.etsy.com/shop/tiarastutus?section_id=5880522
Accessories:
Every tutu comes with both a bow and a flower. Each one is made on an alligator clip. These accessories are made to be removable! I designed my tutus this way to allow for them to be more easily cleaned, stored, and traveled with. This great feature allows you to mix and match your accessories! You can wear the bow alone, or the flower without the bow! You can position the bow in the back and the flower on the front, you can attach either item to a shirt to create the look of a matching set, or even wear the accessories in your hair! This feature also provides the opportunity to buy additional flowers and bows to give it a different look for multiple events!
Embellishments:
Rhinestones, flowers, glitter, ribbons, and anything else you can imagine can be added to any tutu at an additional cost. Contact me if you would like to add embellishments.
Specialty Tutus:
Some specialty tutus come with features such as marabou trim, beads, ribbons, feathers, appliques, etc. These items will be attached securely. They may be hand sewn or attached using a high quality adhesive, and will not be removable.
Layered tutus may need extra care after purchase. If the tulle moves out of place it can easily be repositioned. Additional instruction is included with your order.
Order Details:
Etsy provides a place to include notes to the seller at checkout. This is the perfect place to include all the details I need to complete your order!
Please include sizing information and/or measurements. Include all details regarding tutu colors, bow color, flower preference, and any other specific requests you may have. You may also provide me with this information through a "conversation" by clicking on the "contact seller" button below my avatar on the right side of any page in my shop. :-)
If no details are included with the order, I will request this information in my order confirmation, a message I send at the time the order is processed. If I do not receive any further information regarding colors and size within 2 days of my request, your order will be filled in a standard sized tutu (size 12-18 months for infant tutu listings, and 3T for all other listings) and in the colors shown in the first photo of the listing.
Shipping:
Your tutu will be shipped in a roomy box. It will be carefully packed with the accessories unattached, so your items will arrive in the best condition possible! Instructions will be included to explain just how to care for your tutu, including how to remove any kinks created from shipping, and how to attach your accessories! Feel free to contact me if you have any questions or concerns. :-)
Sewn vs. Tied/Knotted Methods:
I often get asked what the difference is between a tied or knotted tutu and a sewn one.
Tied tutus have strips of tulle tied around an elastic or ribbon waistband. My tutus have strips of tulle sewn around an elastic waistband!
Many tied tutus are not made to be very full. The way they are tied causes the tulle to stick out, creating the look of fullness, but in actuality, it is very thin and essentially a "belt" of tulle.
Another benefit of sewn tutus over tied tutus is the amount of stretch allowed! Because of the lack of fabric on most tied tutus, they will quickly begin to show the elastic through the fabric at the waist, when stretched out. They will also begin to have the strips move out of place and the tutu inevitably becomes a jumbled mess. The technique and amount of fabric I use on my sewn tutus allows them to be stretched up to 12" without showing the elastic band! And the fabric will always return to it's proper place, ensuring you will get many years of use out of your tutu!
However, not all sewn tutus are created using the same technique, either. Many sewn tutus have the fabric sewn directly to the elastic, severely limiting the amount of stretch. This also limits the amount of fabric able to be attached to the waistband, making them much less full.
**Flowers, bows, headbands, and all other accessories are subject to availability. These items are included free with your tutu purchase. If you would like to ensure your order comes with a specific flower, bow, or headband, please include that information in the order details. I will always do my best to provide these items! If the items you have requested are no longer available, I will include the best possible replacement. Thanks!**
*Headbands are available only while supplies last*
~~~~~~~~~~~~~~~~~~~~~~~~~~~~~~~~~~~~~~~~~~~~~~~~~~~~~~~~~~~~
At Tiara's Boutique all of our tutus are handmade, as they are ordered and treated as a custom order! This allows for many possiblities for you to create the perfect tutu!
You provide us with the size and length you need, or measurements for a perfect fit. Then we begin the tutu on an elastic waistband.
All of our tutus are made to stretch up to 12 inches to make it very easy for little girls to put them on and take them off all by themselves! This also makes it easier to fit over jeans and diapers. Each tutu can also be stretched up to 6" without making the tutu look any less full. This provides plenty of growing room for many years of play!
We offer many different lengths and styles of tutus! We have listings for predetermined length tutus like our very popular 6" and 8" tutus, as well as our pixie cut tutus in 11" and 14.5" options. We also have many listings that allow you to choose your length: up to 12" in length, up to 15" inches in length, up to 20" in length, and of course our tutu dresses offer you to choose up to 30" in length!
Because all of our tutus are made as they are ordered you are also able to make any adjustments you would like! There is no limit on the amount of color options you can use in one tutu. You can create a unique color scheme choosing any combination of over 40 colors! We keep 30 colors in stock at all times, but we don't mind ordering that special color just for you!
You can also add embellishments such as ribbon streamers, rhinestones, glitter, flowers, or anything else you can possibly imagine!
Learn more about the shop and process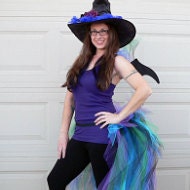 Tiara Lynn
Simply Pink - Pink Pixie Tutu - Custom Sewn 8" Infant or Toddler Pixie Tutu - sizes Newborn to 12 month
---
Overview
Handmade item
Length: 8 inches
Materials:

tulle, elastic

Ships worldwide from

United States

Feedback: 4519 reviews
Favorited by: 19 people