Pixxxie Pie & Posie Presents the The Green Woods & Vine Collection - Sampler 7 Pack! This magnificently charming sampler 7-pack of perfume/cologne oils comes to you wrapped lovingly in 2 old world parchment envelopes and consists of an array of Pixxxie Pie & Posie's green-and-woodsy-semi-sweet aroma blends!!
An act of sweetest alchemy, Pixxxie Pie perfumes & colognes are a delight to the senses. Each aroma blend is meticulously forged to be an act of seduction, beset with tender tendrils & nuanced layers ever anxious to evolve against the warmth of your skin.
♥-----------------AVAILABLE AROMAS- 7-Pack - EACH GLASS VIAL IS 1/32 OF AN OZ--♥
The following aromas are included in this offering. Note that many have unisex qualities!
----------The Prim:
(Primary Notes: Cypress, Clover, Lily) / Aroma Gender: Unisex
Personality: The Prim lies at the pulsing center of a primordial rainforest. Lush and fantastically green, the aroma has a depth and gravity that pulls you ever deep and deeper into the arms of old-growth trees, trailing mists, clinging vines, slithering things and the whispering underworld.
----------Miette:
(Primary Notes: Honeydew & Green Grass) / Aroma Gender: Feminine
Personality: Fresh cut honeydew melon imparts an aroma that is light, sweet, comforting and cooling. Outlined in a fringe of tall green grass, this scent is layered and relaxing.
----------Ergot:
(Primary Notes: Kiwi, Coriander, Sage, Vetivert) / Aroma Gender: Unisex
Personality: Ergot is deeply green, earthy, and magnificently herbaceous. Notes of ripe Kiwi lend a mild, fruity sweetness that is wonderfully balancing against the bold backdrop of heady, herbal components.
----------The Weirding Way:
(Primary Notes: Pear Glace and Vine) / Aroma Gender: Feminine
Personality: The Weirding Way is diaphanous, fruity and lightly sweet. Wild vines entwine a core that brings to mind orchards filled with ripe green Anjou Pears.
----------Lichen & Loam:
(Primary Notes: Lush Clover and Aloe) / Aroma Gender: Unisex
Personality: Lichen & Loam is wondrously green and lush treasure. Clean and light, the verdant bouquet smells much like a forest right before it shakes off the dew.
----------The Shadow Woods:
(Primary Notes: Frasier Fir, Jasmine, Pine) / Aroma Gender: Unisex-Leaning Masculine
Personality: The Shadow Woods is akin to stepping barefoot into an old-growth forest of Fir and Pine trees after a heavy spring rain. Intensely woody, the scent of pine needles, leaves and branches is intertwined with a delicate note of wild Jasmine.
----------For Strange Little Girls
(Primary Notes: Cucumber, Green Tea) / Aroma Gender: Unisex - Leaning Feminine
Personality: For Strange Little Girls is the definition of a clean, lightly green, airy aroma. The notes are refreshingly carefree, bright and vibrant, yet at the same time there's a deep sense of serenity and calm flirting about the corners. A heart of green tea steeped with fresh cucumbers sets a tone that's relaxing and deeply grounding.
Note: Check out the 7 Vial Variety Pack product in the event that you wish to purchase 7 vials of the Pixxxie Pie perfume of your choosing:
https://www.etsy.com/listing/94761468/7-vials-of-wonder-in-dapper-parchment?ref=shop_home_active
♥-------------------------------------------------------------FORGET-ME-NOTS---♥
♥-----NATURAL COMPONENTS: Product is made from natural components. Only high quality essential oils, botanical resins/oils & plant absolutes are utilized. The sumptuous carrier oil ingredients of this wonderstuff consists of the Pixxxie Pie & Posie "House Blend". Commonly consisting of a mix of Golden Jojoba Oil, Sweet Almond Oil and a tiny touch of Hazelnut Oil, this mix makes for a perfume oil that leaves your skin soft & supple. Simultaneously, this lavish conspiracy of oils also adds longevity to the fragrance oil itself.
♥-------OLD WORLD GIFT WRAPPING: Product will come to you in gift-style wrappings, packaged with love & care. Product labels & such are produced in-house & are completely composed of recyclable parchment paper. Peel off labels & keep tags to tuck away as keepsakes or bookmarks! Or keep the wee perfume bottles or vials for another uses since they are high quality & can easily be washed & up-cycled.
♥-------NUANCES OF NATURAL PERFUMES/COLOGNES: If this is your first time to try a natural perfume/cologne oil, consider checking out my blog article regarding the various nuances of natural perfume/cologne oils via the following handy link: http://www.pixxxiepieandposie.com/?page_id=38
♥-------OF REFUNDS & SAMPLES: There are no refunds on sampler packs since I can't use or resell a sampler once it has been opened by you. The purpose of the sampler is to allow you to sample an aroma to see if it will be a good choice & fit your particular needs. I understand that aroma preference is extremely personal & subjective though, so if you don't like a sample please consider gifting it to a friend before you consider throwing it away. Even if a creation isn't right for you please keep in mind that a lot of work went into creating it & it might work great for someone else in your life=) !
♥-------NEED A LARGER QUANTITY? Send an email if you require multiples of this sampler pack & the quantity available will be updated accordingly (once I check inventory). Sampler packs make great gifts for all sorts of events. Perfect for all manner of odd weddings and showers, they also make great tea party favors to boot!
♥---------AROMA FAMILIES: Many find it much easier to shop when things are organized into aroma families, so the Pixxxie Pie & Posie aroma pantheon now spreads before you with every aroma nestled conveniently within a family. So whether you're new to Pixxxie Pie or stopping in for your monthly refill, this new organization scheme will help you quickly narrow down which aromas are right up your alley. Check out the top of my shop Policy page:
http://www.etsy.com/shop/pixxxiepieandposie/policy
♥-------SHIPPING: Orders shipped in the USA are sent via USPS Priority Mail for super fast shipping with a handy tracking number that gets emailed to you through Paypal and USPS.com. Orders for international clients also ship via USPS with a customs tracking number. This business is a one-woman-show...so all orders ship out within 3-7 business days of payment receipt. Please send email or leave a note if you need your order shipped out by a specific date for a birthday or similar special occasion and I'll be happy to ablidge.
Shipping to international clients has almost doubled as of 2/2013, so you'll have to contact me for a shipping quote if you're at an international ship-to location. Please include your full ship to address in the email request, along with all products you're interested in. A special listing will be created for you if you approve the quote.
♥-------ALWAYS PATCH TEST: Always remember to perform a patch test on a small patch of skin so you can make sure you're not sensitive to the essential oil components utilized. Many natural perfumers use a host of exotic oils, (some of which you've never heard of, much less ever been in contact with) so test things out before rolling around in your new aroma product.
♥-------COPYRIGHT JAZZ: Photos, Product Label Design & Such © Pixxxie Pie & Posie
Learn more about the shop and process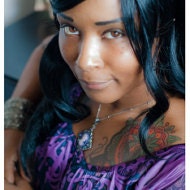 Raquel VanDerZee
7 Vials of Botanical Seduction: The Green Woods and Vine Collection - Natural Perfume Oil Mini Sampler 7 Pack
Overview
Handmade item
Materials:

jojoba, sweet almond, glass vial with lid, parchment paper, eye of newt, essential oils, natural botanical oils, plant absolutes, hazelnut oil

Ships from

United States

to select countries.
Feedback: 1570 reviews
Favorited by: 73 people
Listed on Sep 16, 2016
1183 views