ORIGINAL HANDMADE ART DOLL WITH A RED CROSS DRAWING
Nurse Art Doll: Sister Eva is a very precious and unique piece of our doll collection.She is about 13 inches tall. She is made of a special clay that we made ourselves-our own formula
Her clothes are made of fabric combined with a special glue so that it can stay beautifully stiff no matter how you would like to move her. For the face and body we used a pencil, that enabled us to draw all the details beautifully. The drawing is fixed with a protective varnish.
Her arms are movable and joined to the torso. The skirt isn't removable (it's glued in place)
She can be hanged on the wall somewhere safely, away from small hands, direct lighting and any source of heat or water, this is not a doll for children, it's a special designed art object. It is not porcelain, so it does not compare in any way to the fragility of it !
Our art objects are entirely handmade. You may well see tiny imperfections, craquelures and signs of a handmade item. This is absolutely normal, we are not machines, that's why it's called handmade. Those will only add a certain unicity to the item
We are so happy to have our dolls featured in the Art Doll Quarterly magazine
We do our best to photograph our art objects as accurately as possible but due to differences in computer screens there may be small differences in coloring
The dolls need to be handled with extreme care.They are not easily breakable, they are resistant. Do not place them in or near extreme temperatures or in direct sunlight
We make our dolls with lots of love and attention to detail. Please know that we only sell our very best! We hope they bring you as much joy as they do to us
WE CAN SHIP THIS ITEM FASTER, only contact us before the purchase for details about time and prices, so that we can change its shipping fee
We ship worldwide : United States of America, Australia, Canada, New Zealand, China, Japan, Great Britain,Germany, France, Sweden, Denmark, Norway, Switzerland and many other countries
If you have any questions about any of our handmade products please don't hesitate to contact us. We love answering your questions
Check out the sections in our shop:
WALL SCULPTURES
https://www.etsy.com/shop/DoubleFoxStudio?section_id=10955206
UNIQUE ARTISTIC JEWELRY NECKLACES BROOCHES
https://www.etsy.com/shop/DoubleFoxStudio?section_id=7153792
https://www.etsy.com/shop/DoubleFoxStudio?section_id=6860563
FANTASTIC PENCIL DRAWINGS which could be the perfect gifts: Birthday, Wedding, Anniversary, Christmas, Bar Mitzvah, Valentine's, Baby Shower
https://www.etsy.com/shop/DoubleFoxStudio?section_id=6994175
You can see more of our work on our BLOG:
http://harem6art.blogspot.ro/
Thank you so much for taking the time to look at our art
NEW :
IT'S NOT A PROBLEM IF YOU DON'T HAVE A PAYPAL ACCOUNT.
A customer can pay using a credit card without a Paypal account. Paypal allows this a certain number of times for each customer. You would still need to go to Paypal but you would be prompted to pay with a credit card rather than sign into your Paypal account
Learn more about the shop and process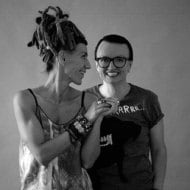 Orka and Flavia
Nurse Art Doll, Ceramic Hanging Sculpture, Air Dry Clay, Original Handmade, Red Cross Inspired Art Object, Drawing on Clay, Keramik, Kunst
---