Raw Smoky Elestial Quartz Crystal - Elestial Quartz Cluster - Raw Smoky Quartz stone - Smoky Quartz Crystal - Elestial Smoky Quartz Cluster
Price: $2.29–$73.44
Loading
Handmade

Materials: healing crystals, elestial, cluster, smoky quartz, elestial quartz, smoky elestial, elestial quartz crystal, smoky quartz cluster, raw smoky quartz, smokey quartz, smoky quartz crystal, smoky quartz stone, healing crystals and stones
Raw Smoky Elestial Quartz Crystal - Elestial Quartz Cluster - Raw Smoky Quartz stone - Smoky Quartz Crystal - Elestial Smoky Quartz Cluster

The listing is for one Beautiful and Unique Smokey Elestial Quartz Stone From Brazil. PLEASE NOTE that these are stock photos of natural stones. Variations in characteristics such as size, shape and color should be expected.

Size Options:
- Mini: .5" - 1" Chips
- X-Small: 1" - 1.5"
- Small: 1.5" - 2"
- Medium: 2" - 2.5"
- Large: 2.5" - 3"
- X-Large: 3" - 3.5"
- XXL: 3.5" - 4"

Due to their extreme rarity and high vibration, it is believed that Elestial crystals only come into your life when they are meant to; when you are ready for them. When they do come into your life, they will provide you with loving guidance from your spiritual realm, acting as a communicator between you and your higher self. The power of a Smoky Elestial Quartz Crystal comes from the duality of the grounding yet uplifting energies. It is believed that elestial quartz is the most advanced "crystal technology" that exists, as they are record keepers of ancient times. This elestial quartz crystal is a very unique shape--it has beautiful inclusions, rainbows, markings and keyholes that are said to unlock ancient information!

This is a rare beautiful combination that will provide grounding and protection. Great balancer of the root chakra.

Smoky Quartz: is a protection stone that cleanses and clears negative energy. Smoky Quartz is a grounding stone that transmutes negative energies and facilitates your ability to get things done in the practical world. It enhances organizational skills and is good to have around in the workplace or home office.

Smoky Quartz is nature's stone of endurance. If you need a extra boost, carry a smokey quartz gemstone with you. It promotes: Personal pride and joy in living, Creativity in business, Opens the path for perception and learning

This Smoky Elestial Quartz Crystal is absolutely magical—when we were with our crystal distributor, you could literally feel the high-vibrational energy before he revealed what was in the box to us. Elestial Quartz, sometimes referred to as skeletal quartz, has unusual shapes with many small terminations and grooves all over it—these elestials have been polished, but the grooves and terminations are still very visible. Elestial means "Crystal of the Angels," making these unique smoky quartz crystals extremely powerful spiritual tools.

Because of their high vibration, Elestial quartz is believed to only come into your life when it are meant to; when you are ready for the crystal. When they do come into your life, it will provide loving guidance from your spiritual realm. these elestial crystals are the most advanced crystal technology that exists, as they are the record keepers of ancient times; they are POWERFUL healing crystals. The power of the elestial quartz metaphysical properties lies in the duality of grounding you while also uplifting you, directing energy towards the higher realms.

Elestial Quartz is the communicator between you and your higher self. The higher self is what guides our values and can tell if something will help or prevent us from aligning with our spiritual path and life purpose. Connecting with an elestial crystal helps you channel what you are spiritually ready to face and provides vibrations that support the development of those messages. As you continue to grow, elestials can shift to bring in new energy, evolving with us.

Smoky Elestial Quartz has all the same properties of Smoky Quartz, but elestial crystals have more emphasis on personal transformation. This type of healing crystal grows more rapidly than other quartz, which allows you to experience more rapid self-growth as well.


Smoky Quartz was known as a Stone of Power. To the ancient Druids, it was sacred and signified the potent dark power of Earth gods and goddesses. In other cultures it guided souls to the afterlife, served in shamanistic rituals and tribal ceremonies, and was utilized in magic and scrying to connect with spirits of the lower worlds. Smoky Quartz's phenomenal power, then and now, lies in its ability to protect and ground one physically and spiritually to this world, and to absorb and transmute significant amounts of negative energy and release it into the Earth to be neutralized naturally. It provides a vital shield against psychic attack, emotional and environ stress, and is used extensively in healing and meditation. [101 Hall, 192][Hall, 240][Hall En, 186][Simmons, 366][Melody, 606-607][glimmerdream.com]

Smoky Quartz relieves tension and stress, anxiety, or panic attacks; also to ward off negative thinking, and to eliminate worry and doubt when faced with chaos or confusion. To absorb misfortune, sorrow or seemingly impossible obstacles, hold faceted or natural points of Smoky Quartz in each hand pointed down toward the ground, then consciously release these negative energies to Mother Earth for cleansing and repurposing. [Lembo, 288][Gienger, 80][Eason, 122]

Smoky Quartz links with the Earth stimulating concern for the environment and inspiring ecological solutions. Use its protective energies to block geopathic stress and absorb electromagnetic smog given off by power lines and electronics. It is invaluable in layouts for environ healing, and assists elimination and detoxification on all levels, ushering in positive energy in its place. [Hall, 240][Hall En, 186][Ahsian, 367][Lembo, 288]

An extraordinary amulet of protection, Smoky Quartz helps guard the home, vehicles and possessions against theft, damage and accidents caused by human error. Keep one in a purse, a bag in the glove box or near valuables, especially if left unattended for long periods of time. As a driving crystal, Smoky Quartz protects against road rage and other harm while driving on motorways, on long journeys or in heavy traffic by reducing stress and increasing concentration. It also shields against unexpected mechanical breakdowns. [Eason, 122]

Place Smoky Quartz in the home or work environment to filter out bad moods, unspoken resentments, or disparaging remarks that drain one's strength and enthusiasm. To shield against hostility or gossip in the workplace, or a bullying boss or manager, set dark Smoky Quartz points outwards on your desk in a semi-circle to create a calm, safe area in which to work. [Eason, 41, 122][Simmons, 366]

Wear or carry Smoky Quartz to enhance survival instincts, and for assistance in reaching personal and business goals, as well as manifesting dreams and ideas into reality. This crystal promotes rational, pragmatic thought processes and improves calculation and organization. It increases focus and may be used in group situations to alleviate communication difficulties and foster a spirit of cooperation. [Melody, 607][Simmons, 366][Hall, 240][Gienger, 80][www.crystalskulls.com]

Smoky Quartz allows one to attune to the light instead of being consumed by life. Rather than merely surfacing negative energies and emotional blockages, this crystal gently dissolves these energies as it encounters them, allowing positive frequencies to take their place. It relieves fear, stress, anger and unspoken resentment, lifts and aids fatigue, and teaches one how to let go of what is no longer necessary for growth. It is a good stone for those who tend to be suicidal in nature or ambivalent about being in incarnation, by helping them come to terms with their physical body, their life and the world around them. Smoky Quartz brings assistance in tolerating difficult times with equanimity and resolve, and inspires one to be more engaged in the world. It lends the power to create and change one's reality and to manifest one's dreams. [Raphael, 91][Melody, 606-607][Hall, 240][Simmons, Ahsian, 366-367]

Smoky Quartz is one of the most powerful stones to use in crystal healing layouts to activate and purify the Base or Root Chakra. It may also be used to balance and direct the energy of the upper chakras to the Base Chakra, making the whole system radiant with light and laying a foundation on which the spiritual force can be manifested in the physical body. [Raphael, 90]

The Base, or Root Chakra, is located at the base of the spine and controls the energy for kinesthetic feeling and movement. It is the foundation of physical and spiritual energy for the body. When the Base Chakra is in balance, the physical body gains strength and stamina, and spiritual energy is rekindled in the form of security and sense of one's own power. It often leads to independence and spontaneous leadership.

Smoky Quartz is also an excellent stone for grounding in crystal healing layouts. Clusters or single generators may be placed at the instep of each foot, at the knees, upon the groin points, and/or in each hand. If the termination of the crystal is directed toward the body, it draws in and circulates healing light. Facing the point away from the body directs negative energies out of the physical and subtle bodies. Grounding all bodies to the healing vibration discourages a healing crises which could occur while activating the energy centers. [Raphael, 92][Melody, 607][Hall, 241][101 Hall, 193]

Smoky Quartz may be used to protect the Earth Chakra below the feet and its grounding chord, or for gridding around an area of disturbed earth-energy. [Hall, 240][Hall En, 186] The Earth Chakra is located between and slightly below the feet. It holds the soul into carnation and creates a solid connection to the planet Earth, allowing excess and out-of-balance energies to flow from the body.

Precious and Semi-precious gemstones have been used since recorded history and probably before, for spiritual, emotional, and physical healing. Healers all over the world are using them. It is not to be used as a prescription, diagnosis or treatment. The information given is purely metaphysical in nature and is by no means medical. Crystal Healing is not an independent therapy, but one that is part of a holistic healing approach. By using this site and associated materials, you acknowledge and agree that you personally assume responsibility for your use or misuse of this information.

Made with love, light, and positive energy, cleansed before I ship out to you.
There was a problem calculating your shipping. Please try again.
146,314 reviews
5 out of 5 stars
Loading
I'm not in a place right now where I can take pics; but I nonetheless wanted to express my gratitude to the Owner of this shop. Believe it or not she gave me something no one else had yet. My first experience feeling genuine crystal energy! I am blown away..I bought from a few other crystal shops and struggled to make a connection with the stones I received. But after only a few moments of sitting quietly with her crystals I was able to feel their vibrations! Some felt like a tingle and/or tapping in my palm, others like butterfly kisses against my skin. This is the shop for me. Her crystals and the energy they possess are REAL..take it from a former skeptic. Thank you thank you thank you!!! 💜
Everything is absolutely beyond beautiful. Fabulous 5 Star Seller. Purchased many stones with this order and each one was perfectly packaged. Super Fast Delivery . Will definitely buy from again. Highly Recommended
the smokey quartz I received has such a great color. it's bigger than expected and has a nice weight to it. I love the areas where it looks like it was cut from the rock for that color variation and natural imperfections.
Wonderful quality and nice size piece of this beautiful raw smoky quartz..very happy with my purchase and love the feel and properties of this wonderful raw stone! Looks like the photo..thank you NewMoonBeginnings for offering this beautiful raw smoky quartz stone!🤎🤍🤎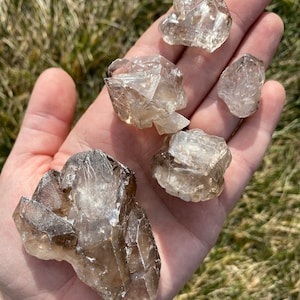 Browse collections for more inspiration