Square pouf,Set of 2 Moroccan pouf, leather Pouf, ottoman pouf handmade pouf footstool
Our Moroccan Leather POUFS are Veneer from Marrakech and handmade with genuine natural goat leather by our craftsmen, they are a great addition to any living space at home.
These Moroccan pouf pouf give your living room a very natural look and great originality through its patterns and color reflecting the originality.
They are available in several colors and can be used as footrests, seats around coffee tables, or a side table.
Your ottoman will be delivered empty, it has a zipper on the bottom that allows you to stuff the pouf.
These poufs can be stuffed with filling of choice. Many people use old clothes, but Polyfill Polyfill diary is the lightest and most comfortable.
These Moroccan leather poufs are entirely sewn by hand. They have no symmetry and homogeneous finish of an industrial product.
The smell of leather is normal because the leather used was not industrially treated with chemicals but twill disappear in a short time
Materials: Goat leather,
These poufs are sold unstuffed to save for shipping cost.

after purchase please send the phone number we should enter it with the address
There was a problem calculating your shipping. Please try again.
204 reviews
4.5 out of 5 stars
Loading
Absolutely gorgeous and well made. Took me back to the tannery we visited in Morocco and the poufs there which we didn't have space in our bags to bring back at the time. Very happy with this purchase and customer service.
Love these poufs. I didn't use a filter in the picture I took so you could see the exact color of them. There's a slight pink tinge to them. The took a a few weeks to get here but was understandable. The smell that other people mentioned is definitely there but not super awful. It's all due to the process they use in Morocco from what I understand. Very pleased with them! Thank you KitKatMorroco.
The squares are the quality and size as pictured by the seller. They seem sturdy and able to withstand a lot of use. The color has a slight pink tint. The natural goat leather smell is strong but seemed to mellow after putting them outside. The order/shipping experience was disappointing. I ordered on Jan 22nd and received an email stating the order had been shipped on January 27 (which would have been within the seller's estimated shipping of "within 3-5 days of order") and no shipping information was available. After not receiving by the estimated lastest delivery date, I requested shipping information from the seller to confirm it wasn't lost. The shipping information I received shows the package was not taken to FedEx for shippping until February 11th, 2.5 weeks after I ordered.
Shipping was a little late, but owner was so sweet about it and sent another order asap! So nice but I was bummed that it was just the covers and no insert. I thought I made sure but it was clear on that the inserts don't come with the leather poufs
Disclaimer: Sellers are responsible for following all applicable laws and regulations, including third party testing, labeling. Always read labels, warnings, directions, and other information provided with the product before using. Dressers, clothing storage units, and other similar top-heavy furniture can tip over and pose a threat of serious injury or death to children if not anchored. For more information on preventing tip-over incidents, please visit https://www.anchorit.gov/. If you have any questions or concerns about a product or its suitability for your home, please message the seller. See Etsy's Terms of Use for more information.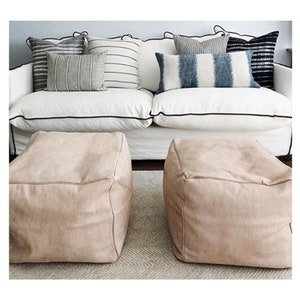 Browse collections for more inspiration