8879 Sales
|
On Etsy since 2007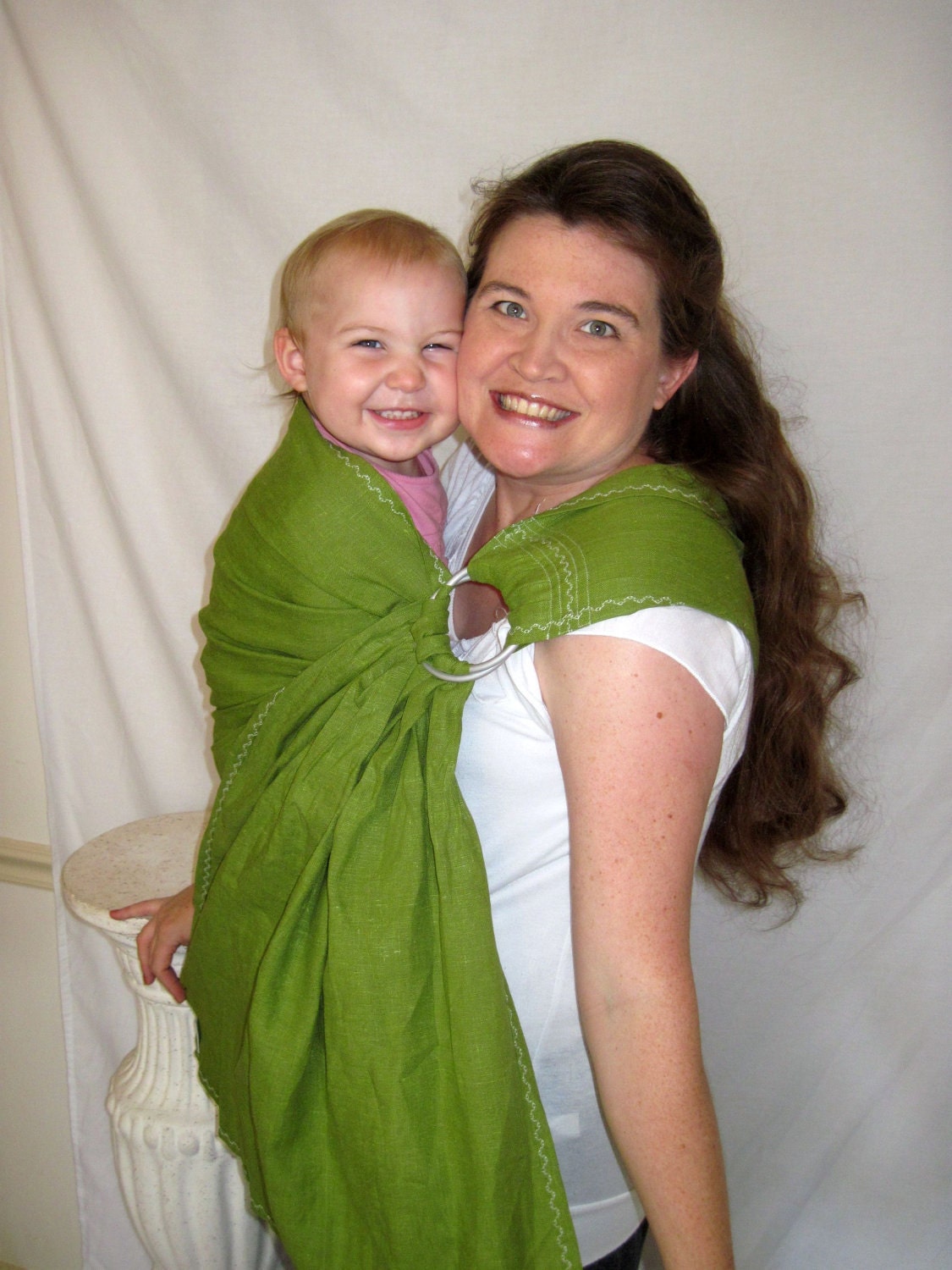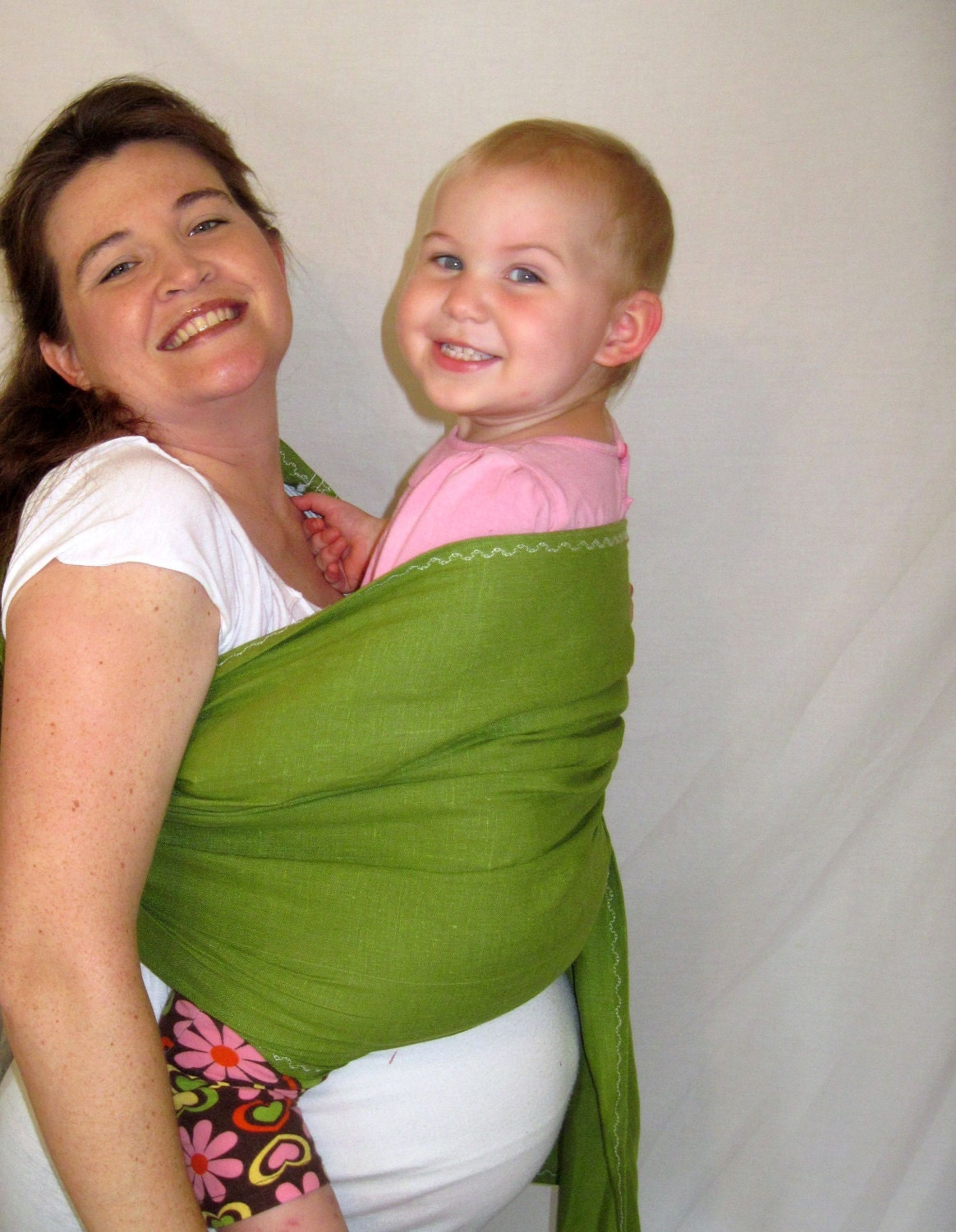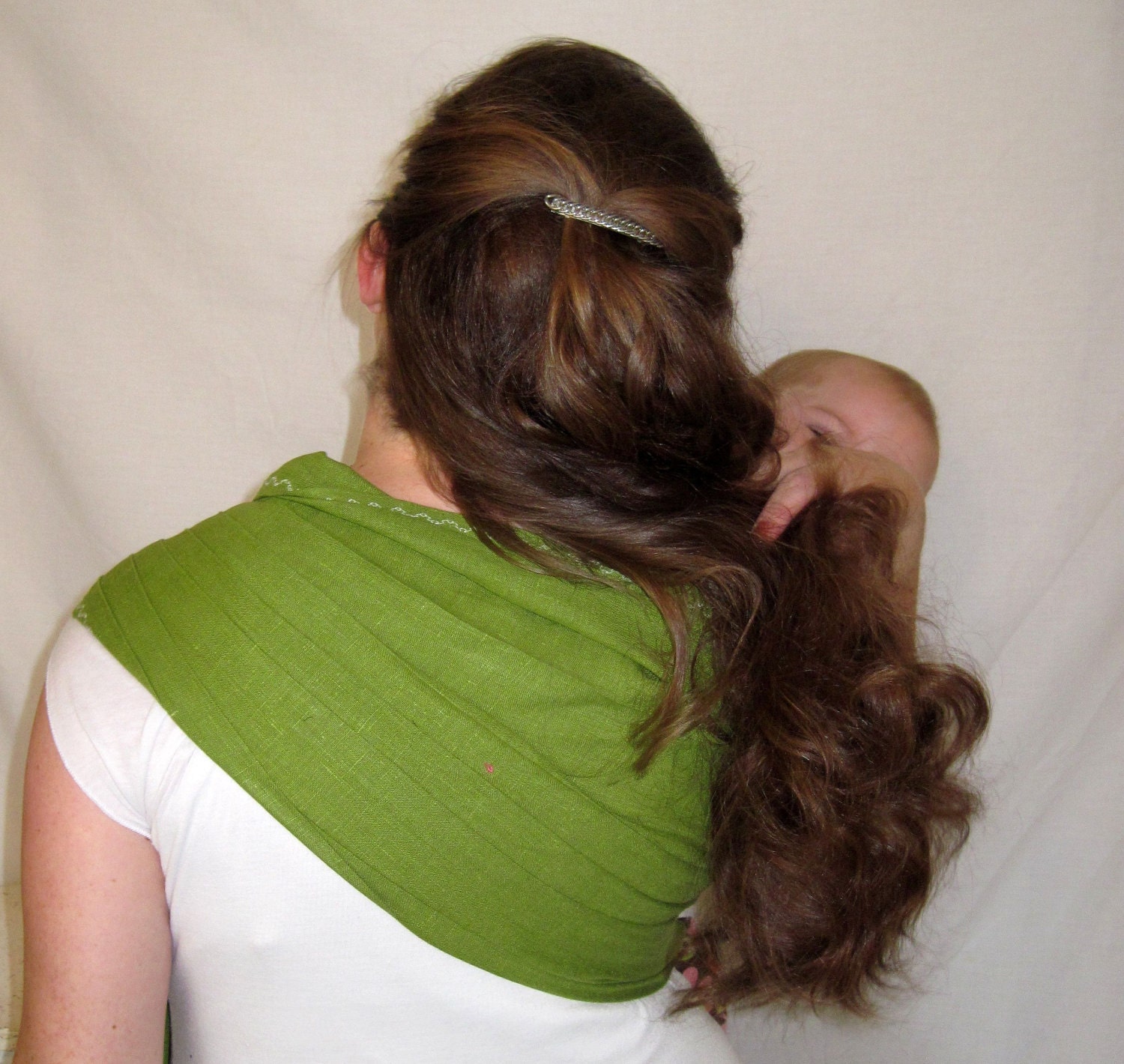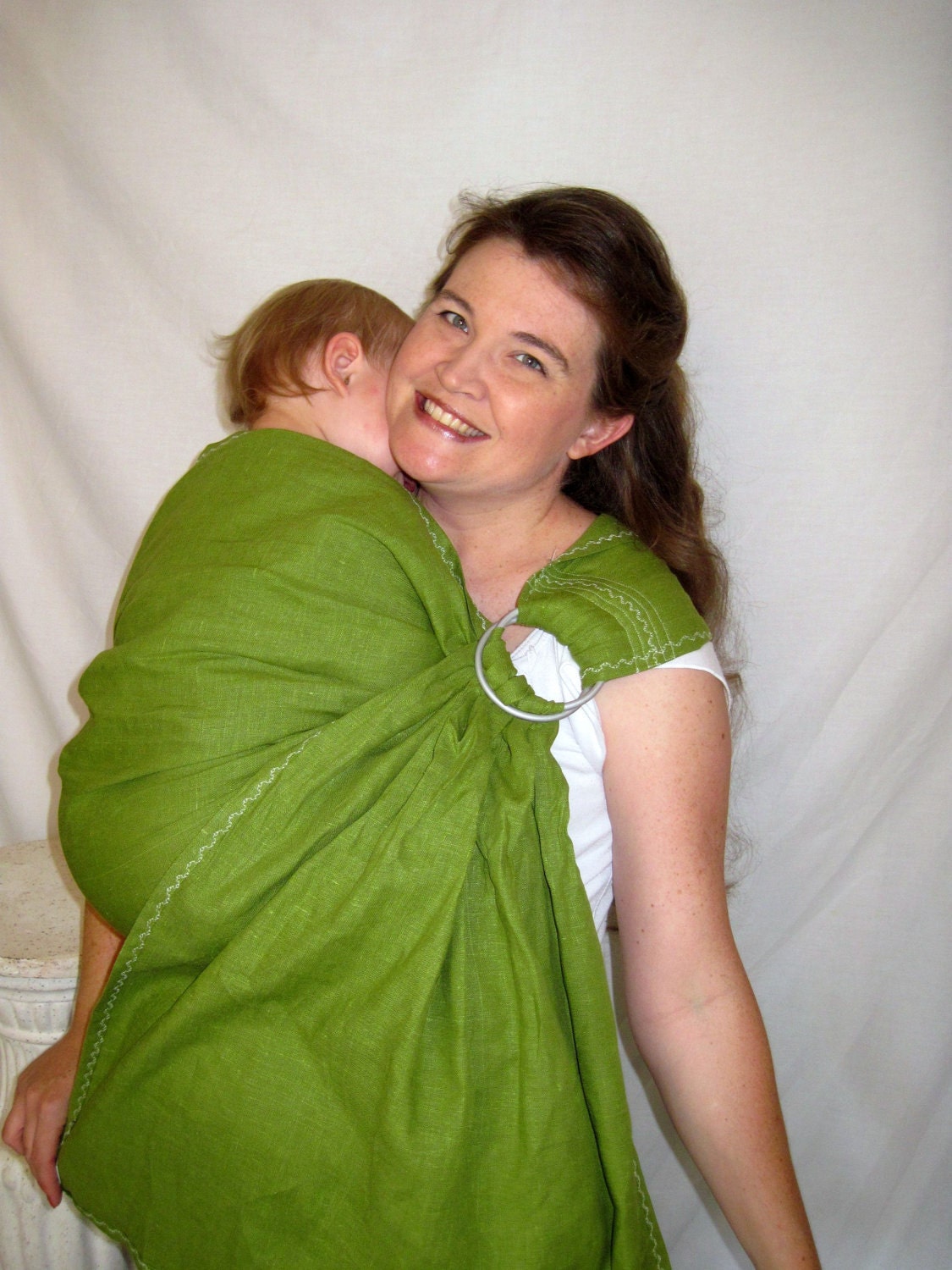 Made by a babywearing Mama - me! Don't hamper your style by having to match your outfits to your sling! Here is an option that combines detail with versatility.
This sling is wonderfully versatile leaf green shade, good for any season. The edges are hemmed using a decorative stitch in white. Width @27 inches. Rings are large nonwelded silver rings from SlingRings.com.
WHY LINEN?
**Natural
**Strong fiber
**Super Lightweight
**Breathable
**Easy care; hand wash or machine delicate cold; hang dry
WHY A RING SLING?
After having extensive practice babywearing with a newborn as well as toddler ages, I have come to the conclusion that the ring sling is the most versatile carrier.
**Switchable (between just about any caregiver)
**Adjustable (starting to be uncomfortable - just adjust it)
**Spreads weight GREAT
**Versatile (don't want it to be the main focus of your outfit? Just tie the tail around the rings and you have the look of a pouch with all the advantages of a ring sling).
WHY FROM LI'L PEEPER KEEPERS?
**We carefully choose our fabrics
**Our style is thought through and proven.
**No sewing is parceled out to others.
**I'm a babywearing Mama!
**We've been selling these for a while =).
**TUTORIAL DVD INCLUDED - so very important!!
**Shoulder design is pleated (spreads weight) while being trim (helps avoid restricting shoulder movement).
See all our options at
http://www.etsy.com/shop/lilpeeperkeepers
For MANY other linen colors available, browse the linen shop section here:
http://www.etsy.com/shop/lilpeeperkeepers?section_id=5754820
Don't forget to buy a LPK WrapSac to help keep your baby carrier(s) clean and organized (besides allowing you to tuck in a diaper and wipes)! See our expanding choices here:
http://www.etsy.com/shop/lilpeeperkeepers?section_id=7136126
And remember that you pay shipping for only one baby item, so check out the rest of our shop!
http://www.etsy.com/shop/lilpeeperkeepers
ABOUT LI'L PEEPER KEEPER CARRIERS: Great care has been taken to make sure that these carriers are sewn with quality and safety in mind. Pouches are sewn with a reinforced seam, known as a French seam, to shape the carrier. Ring sling fabrics are chosen with care as to style and strength, and each sling is carefully reinforced at the rings. The rings used are from SlingRings.com (nonwelded aluminum) or from Nestmom.com. Both companies have rigid test guidelines in place to ensure safety and quality.
Babywearing is both a joy and a responsibility. Although Babywearing is simple, it will take practice and precautions, just like anything else. Don't expect you or your baby to "sling like a pro" the very first time. Keep at it – it's worth the effort!
Some precautions to take while wearing your baby:
1. Always check the carrier first for signs of wear or any rips. Don't use if damaged.
2. Practice holds with a stuffed animal before trying them on your baby.
3. Use common sense while wearing – i.e. do not bend from waist. Don't use around the water, while cooking, showering, or other potentially hazardous activities.
4. Always make sure your baby has sufficient airflow.
5. Remove baby from sling before placing in bed.
6. While making adjustments, always make sure the baby's weight is supported.
7. If a child is fighting against going into the sling, wait until he is calm and try again.
8. If a child is fussing after being placed in the sling, talk to him, pat back, move around, just as you would normally do to soothe a child.
9. Follow safety guidelines: you use at your own risk, accepting the responsibility for the safety of your child.
Learn more about the shop and process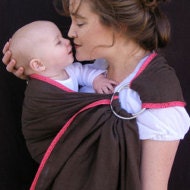 Rebecca
Ring Sling Linen, decorative stiching, Baby Carrier, 100% LINEN in Greenery Leaf Green, DVD included, toddler, summer, baby shower gift
---