This item sold on August 2, 2012.

This complex antiqued copper wire wrapped bracelet was inspired by harlequin glass, the history of the harlequinade, and the role of the Court Jester.
The harlequinade is a type of theatrical performance dating back to the 16th century. Originally involving a series of scenes interwoven with scenes from a serious play based on a myth or folklore, it was first played in mime with music and later with speech, and included lots of slapstick and silliness. By the 19th century, the story was reduced to a comic chase scene revolving around the lives of its five main characters: Harlequin, Columbine, Clown, Pantaloon and Pierrot. Of these characters, it was Clown who achieved immense popularity outside the Harlequinade and is recognizable today as the mischievous circus clown.
Clown was considered a buffoon or fool. The origin of the jester is thought to be entertainers in prehistoric tribal society who amused their audience with their Wise Fool antics. The jester is also called the fool, trickster, buffoon, jack-pudding, and wearer of the motley. Court jesters grew and flourished in the Middle Ages as well-paid attendants of Europe's Royal Courts. They came from a wide range of backgrounds — from peasant farms and monasteries to universities. Quite a few had physical deformities and learned to wring laughs from what otherwise would've been an unfortunate situation. They were prized for their outsider's humorous take on life and, in addition to their wit, most developed several additional performance skills — they played lutes and flutes, danced, juggled, told jokes, did acrobatics and pantomime, ropewalked, performed tongue twisters, yodeled, sang and did vocal tricks. They often wore elegant costumes inspired by the patchwork of their poorer brethren and had the personal confidence and friendship of the Kings and Queens for whom they worked.
I created this bracelet using a 40mm by 30mm Czechoslavakian midnight blue harlequin glass oval cabochon. The shifting colors in this piece of glass are reminiscent of opal. The intricate bracelet form filled with fans and spirals, in which this stone is the focal, I made using 18 gauge copper wire wrapped and woven with 28 gauge copper wire that I oxidized, waxed and buffed to create a warm finish. I created a simple hook to secure the bracelet at the back. At its widest point, the bracelet measures 1 7/8" (47mm).
The inside measurement of this bracelet 7" (17.78cm); the inside measurement can be increased to as much as 8" (20.32cm) by changing the bracelet closure upon request. Unfortunately, it CANNOT be made smaller. If you would like the sizing increased, please indicate the desired size in the Note to Seller during checkout.
For assistance in determining whether this size bracelet is right for you, please see my Additional Policies and FAQs at
http://www.etsy.com/shop_policy.php?user_id=6478601
I'll only make this treasure once, which makes it OOAK (one of a kind) and means you will receive the exact item shown in the photographs, ready to ship. I may be able to re-size a treasure, change a clasp style, or modify the type of ear wire at no additional cost, so if you desire a modification, please Etsy convo me BEFORE placing your order.
Your treasure will arrive in a custom handmade gift box using recycled materials, such as beautiful faerie calendar pages, that you can reuse on a vanity or fill with scented cotton balls and place into your lingerie drawer.
Many thanks to Achmad Irfan (aka BorneoPahlevi) from www.JewelryLessons.com for the knowledge and inspiration I have found in his invaluable tutorials.
ƸӜƷ
.•´¸.•*¨) ¸.•*¨)
(¸.•´ (¸.•´ .•´¸¸.•¨¯`• ƸӜƷ`.¸¸.
Check out all the other whimsical and fanciful wares for sale at The Dream Faire!
http://TheDreamFaire.etsy.com
Learn more about the shop and process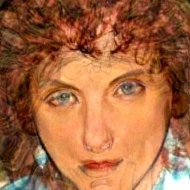 Kat
Wire Wrapped Harlequin Glass Bracelet: "The Court Jester"
---