It must be something in the water! Tinplate Studios is now able to offer an even more gargantuan Homo cephalos. Actually, it's five times larger than its robust cousin and much less likely to lodge itself in your esophagus...assuming of course you could force it down your craw...and what are you doing that for anyway?! Adopt one today, there are even more tentacles to love.

Unlike its smaller brethren, this Homo cephalos floats freely in his jar. Be warned this means his visage will follow you about the room, except when he's in a snit and turns the back of his rather gnarly head to you. We claim no responsibility for what he's up to during his Dark Lord Moods.

Jar Dimensions:

Height: 6.5 in
Width: 4 in

Shipping within the US includes insurance and tracking. Shipping outside the US is parcel post -should another method be desired, please contact the shop owner. If your country isn't listed, just send me a note and I'll add it.

This size anomaly is shipped dry and includes a small bottle of magic elixir (ink) and hydration instructions. Just add water and voila!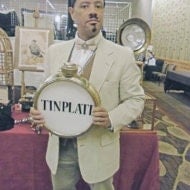 Anthony Hicks
Giant Anamoly (Homo cephalos)
Listed on Jul 9, 2015
6630 views