Get touched by sweet, tempting aroma of true Vanilla!
Will aromatize your aura with delectable yummy scent and sweet charms of Madagascar Vanilla beans. Warming, seductive, classy with so much playing power that comes from it's golden depth - just Vanillicious.
This enchanting perfume comes directly from Nature - no harsh and synthetic ingredients that may be so harmful for your health.
The base of this perfume oil was created by infusing an organic Vanilla beans into an organic Jojoba. We over-topped the base by adding a 100% pure Vanilla absolute and a piece of real Vanilla bean for more infusing power that increases with each day.
The molecular structure of pure Vanilla is similar in composition and structure to human pheromones and can intermingle with them easily, thus this fact makes it an official aphrodisiac (yeah!):) The Vanilla aroma beautifully compliments your personal unique scent.
Note about the aroma: the natural vanilla is not as strong as the man-made fragrance oil could be, it has slight musky undertone. Sometimes it may seem like it has slightly unusual scent as opposed to classic synthetic ubiquitous vanilla fragrance oil that probably is an etalon for vanilla aroma nowadays. Of course as with all ingredients that have natural origin the scent will not last as long as commercial synthetic fragrances, just because the volatile nature of natural oils. So, please, take this into consideration. Start with the sample if you have any hesitations. We offer perfume samples pack in 3 or 5 types that you can choose here
https://www.etsy.com/listing/177481608
Don't allow yourself to be cheated with cheap oils and synthetic vanilla identical fragrances! Choose 100% natural, organic and benefit yourself and the Planet!
It comes in 5 or 10 (choose your size) ml glass roll-on vial for easy application. The picture show 5 ml roll-on vial. This perfume is easily absorbed by a skin and will not leave an oily residue.
Your perfume will arrive in biodegradable wrapping and tied with eco-ribbon - ideal as a gift!
What's in it: Jojoba*, Alcohol*, extracts*, absolutes, Madagascar Vanilla bean.
* - certified organic ingredients.
Note: Vanilla absolute will naturally settle down on the bottom of the vial. We do not add any chemicals to help to dissolve it evenly, therefore shake well before each application. The vanilla absolute is temperature sensitive - it will dissolve only at warm condition. If you have troubles mixing it - try to hold the vial in your hands for a few minutes and then vigorously shake again.
Reviews from customers:
"This perfume is really lovely, it melds with your body chemistry to create the perfect vanilla aroma! And the real vanilla bean inside the bottle gives just kicks up the vanilla scent. Just love this. Thank you! Joanne."
"The vanilla oil smells like Heaven! Thank you so much; I can assure you I will order from you again. It was a great experience! :) Nicole."
"Perrrrrfect!!! Rich and creamy smell:) Fast shipping!!! Katie."
"Very pure vanilla. Not sweet like most vanilla perfumes. Love the product, the packaging, the values and people behind the shop :). Thanks for a great product. Renell."
"Smells like a freshly baked vanilla cupcake, heaven!! Bella."
"Very pure vanilla. Not sweet like most vanilla perfumes. Love the product, the packaging, the values and people behind the shop :). Thanks for a great product. Renell."
"Thank you I'm allergic to perfume, I can wear this oil it's has a lovely natural vanilla smell, plus thank you for the samples Mae."
"Wonderful!! I am so happy with this :) I'm chemically sensitive and this stuff is great because it's made perfectly natural! Awesome! Morgan."
'''This smells yum! I want to eat a cake now! Packaged well for shipping and thank you for the lovely little surprises! Tarina.'
"What a gorgeous and amazingly beautiful perfume oil! :) I love it! And I love the way you wrapped it like a precious gift for me,so kind! This Vanillicious perfume is so naturally warm,sweet,vanilla pod of the earth and lasting a long time on the skin! :) thank you so much for the beautiful perfume,and thank you kindly for the gorgeous Vanilla Solid Love Butter you also sent. Jenny."
"I' m so happy with my vanilla perfume oil I feel real...vanillicious!!! Thank you so much my friends and for your gift!!! I hope to try and others sweet products from you soon...!!! Effrosyni."
"Beautiful, rich and creamy... This is a vanilla dream! Worth twice the price I paid! By far, Herbolution is the best online shopping experience I have ever had. I have already recommended them to friends. Pamela."
"You know, I have ordered things from all kinds of various shops on Etsy, and I don't think I've come across any other shop that is quite as earnest as this. My goodness! The shipping was so fast I didn't have time to blink and the packaging is amazing! And the other reviews do not lie, this smells exactly like vanilla extract. Extremely subtle, mind you; this has zero "throw" like conventional perfumes. This is not the Bath & Bodyworks vanilla you remember from the '90's. However, if what you want is something very personal and relaxing, this will do it. Rebecca."
"If anyone is "old" enough to remember the Vanilla oil from The Body Shop that smelled like cupcakes and no longer exists, I've found a vendor who nailed the scent!! If you loved it as much as I did, I definitely recommend checking our Herbolution on Etsy!! I am in LOVE with the scent!! Amanda" (taken from Instagram).
"This is the best vanilla perfume oil I have tried. It is subtle, smells like real vanilla and is not overpowering or too sweet like many of the other vanilla perfumes on the market. Joana."
How to use:
____________
Just apply to your pulse points and be captured with Vanilla charms!
If you like vanilla, there are other wonderful products in our shop that you might like:
http://www.etsy.com/shop/herbolution/search?search_query=vanilla&search_submit=&search_type=user_shop_ttt_id_5591424&shopname=herbolution
_______________________________________________________
THANK YOU SO MUCH FOR SUPPORTING SUSTAINABLE AND NATURAL PRACTICES!!
_______________________________________________________
______________________________________________________
~~~~~~~~~~~~~~~~~~~~SHIPPING~~~~~~~~~~~~~~~~~
We ship within 1-7 business days. Some items are ready to ship while other may need to be made to order, so we kindly ask you to understand this and allow extra time, if that happens to be the case with your order. We are a husband and wife business so there are only 2 of us working at Herbolution and we always try to be as fast as we can in processing orders. If you want/need to know when your order can be shipped - contact us and we will give you the estimate. So, please, take this into consideration BEFORE placing an order.
We ALWAYS refund the shipping overcharge after the package is shipped. It happens very often if you grab more than 1 item. So, if you worry about enormously high shipping - there is a chance that there IS the overcharge (especially if you are not on west coast) which will be refunded after order is shipped. Note, that we charge a small packaging fee for packing materials as well (like peanuts, tissues, boxes).
If you need to know shipping cost before your place an order - just give us a list of products and your zip code and we will gladly quote you the price. Please ask all your questions before ordering so that you are happy with the service and we are happy to be able to serve you well.
Happy shopping!
~Sasha & Veronika.
_______
Facebook : www.facebook.com/Herbolution
Twitter: www.twitter.com/Herbolution
Etsy shop:
www.etsy.com/shop/herbolution
___________________________________________________________________
Remember:
buying 100% Natural - you support your health;
buying Organic - you support our soil;
buying Eco-friendly - you support our environment;
buying from Herbolution - you support all of the above at once.
Buy consciously. Live happy.
_______________________________________________________
(с) Copyright 2009-2016. All rights for pictures, graphics and description on
Herbolution.etsy.com
and www.herbolution.com are reserved.
Learn more about the shop and process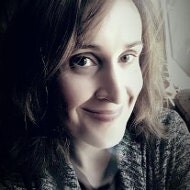 Veronika
Organic Vanilla Perfume Oil - Botanical Vegan Perfume with Natural aroma - Vanillicious
Listed on Dec 5, 2016
11441 views