Experience silky smooth skin after this delightful yummy organic facial polish. Made from the finest and most natural ingredients, this scrub helps to clean your face in gentle way, without drying out the skin. Feel your face baby soft and glowing again! The scrub smells delicious enough to eat but curb your appetite and let the skin delight the taste!
Oatmeal, white clay and sugar absorb and remove dirt and impurities, gently exfoliate dead skin cells and make skin soft and rejuvenated.
Nourishing organic local raw Honey plus Vanilla infused Jojoba and Sunflower oils help to moisturize and soften face at deepest layers.
Cocoa and Vanilla leave skin smelling fresh and luxury.
Recommended for all skin types, especially dull and thirsty.
You can also use this scrub for your lips and hands :)
Comes in a clear glass jar (not brown as pictured). Net weight 1.8 oz. We don't use any plastic containers for our products to provide the purest and cleanest products possible, free of chemicals that most of the plastic containers may leach into content.
NOTE:We highly recommend to use it withing 1-2 months! Please, keep it out of water and moisture if possible. Do not let the water come in to the container - important! Please, use only clean and dry hands to reach the scrub.
We also have a similar scrub with Chocolate Cardamom scent:
http://www.etsy.com/listing/61185331/organic-facial-scrub-natural-chocolate
How to use:
Please, use dry spatula (included) or dry clean hands (IMPORTANT) to scoop the scrub. Slightly wet your face with water and apply scrub in circular motions. Rinse with warm water first and colder afterwards. Try to stop yourself repeatedly touching and enjoying your renewed baby soft face :)
What's in it: Cane sugar*, Cocoa powder*, Oat powder*, White clay, vegetable Glycerin*, Jojoba oil*, Sunflower oil*, local Raw Honey, Vanilla CO2 extract, Vanilla absolute, Cocoa absolute.
*-certified organic
Review from customer:
"Omg i love this Shop! It smells yummy, looks yummy and left my skin so soft and clean. I plan to buy the other flavors. (Hey Herbolution you should make a lemon scrub, i would buy the crap out of that). Any way I no longer buy name brand crap from Walmart and Herbolution has become my daily thing!!! Thanks for the super fast shipping. ooo and i have very acne prone ethic skin, just a reference for other girls looking with my kind of skin looking for something healthy and amazing to use for your skin. i want to say more but im out. Love your SCRUB!! Samantha."
As always, no synthetics, chemicals, fragrances (so widely used), parabens and other yucky stuff that are so common in conventional cosmetics.
Do not use this scrub if you have nut or bee products allergies (Almond oil and Honey are present).
Also, we have dry form of other Chocolate polish and mask 2 in 1
http://www.etsy.com/listing/58464819/chocolate-facial-organic-polish-and-mask
If you are a chocolate lover, you may enjoy our other Chocolate naturals:
Chocolate Vanilla body butter
http://www.etsy.com/listing/61963467/organic-body-butter-chocolate-vanilla
Chocolate Vanilla body spray
http://www.etsy.com/listing/61165178/chocolate-vanilla-body-spray-refreshener
Chocolate Vanilla Lip Glaze (Chocolatta)
http://www.etsy.com/listing/58779349/chocolatta-vanilla-lip-glaze-balm
Chocolate bath bomb
http://www.etsy.com/listing/60545322/chocolate-temptation-bath-bomb-fizzy
...Orange dipped in Chocolate body polish
http://www.etsy.com/listing/72375206/dipped-orange-in-chocolate-body-polish
Choco-Mint Twist body polish
http://www.etsy.com/listing/75445457/sweet-mint-twist-body-polish-with
ChocoLatte body polish
http://www.etsy.com/listing/75438278/chocolatte-body-polish-chocolate-coffee
Raspberry Chocolate lip balm
http://www.etsy.com/listing/61690006/raspberry-chocolate-lip-balm-organic
Chocolate Vanilla solid perfume (Classic Tango)
http://www.etsy.com/listing/60800141/classic-tango-chocolate-vanilla-solid
Chocolate Rose solid perfume (Sweet Enslavement)
http://www.etsy.com/listing/59568304/chocolate-rose-solid-perfume-sweet
..and others! Just type "chocolate" in our shop and seduce yourself with yummy natural choices for body and face!
_______________________________________________________
Remember:
buying 100% Natural - you support your health;
buying Organic - you support our soil;
buying Eco-friendly - you support our environment;
buying from Herbolution - you support all of the above at once.
Buy consciously. Live happy.
_______________________________________________________
_______________________________________________________
(c)Copyright 2009-2015. All rights for pictures, graphics and description on
Herbolution.etsy.com
and www.Herbolution.com are reserved.
Learn more about the shop and process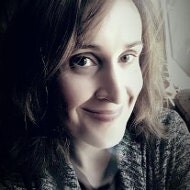 Veronika
Chocolate Vanilla Organic Facial Scrub. Natural delicious polish for face and exfoliation. 1.8 oz
Listed on Jun 19, 2016
6290 views