This bar was formulated for use as a shampoo, but it can also be used as a body bar unless you have exceptionally dry skin. These bars were formulated to be gentle enough for persons with various scalp complaints. The bars have a powerful earthy scent from the Neem oil, somewhat like peanut butter. Neem is a strong Ayurvedic herbal tree from India, you can see my trees pictured in this listing. The oil from neem seeds is what I use in this shampoo. This bar has a total of over 20% neem oil as well as essential oils of Tea Tree & Patchouli. The dark color of this soap comes from the neem oil. This solid shampoo is at least 4.25 - 4.5 oz.
Features:
~ SLS free
~ Chemical Fragrance Free
~ Vegan
~ No dyes
~ Palm Oil Free/ Rainforest & Orangutan friendly
~ GMO Free
~ No animal testing
~ Ships without plastic
How to wash hair with a shampoo bar:
Washing with a shampoo bar is pretty simple. First you wet your hair thoroughly, the rub the shampoo bar in a few a patches in your hair. Then work up the lather with your hands. Make sure the lather is worked in through all of your hair and down to your scalp in order give your hair a complete cleaning. Then rinse your hair with fresh water making sure to get out all the shampoo. Rinsing your hair with bath tub water that already has soap mixed in with it will not give you a clean rinse. I wash with my shampoo bars every 2 to 3 days, or more often if I have been getting dirty in the garden or have been working out strenuously.
Transitioning to Shampoo Bars:
For some people it takes longer than others to adjust to shampoo bars. This depends on a lot of factors including if there is build up from other products in your hair. Also if the shampoo you have been using strongly strips your natural oils, then your scalp may seem to over produce sebum when you switch to a milder shampoo. Read this blog post if you need help transitioning.
http://aquarianbath.blogspot.com/2012/04/how-to-give-your-hair-fresh-start-or.html
Incompatible products:
Do not use shampoo bars with salt hair sprays.
Hard Water:
Our best shampoo bar options for very hard water are Key Lime Eucalyptus, Aloe with Lavender Rosemary Mint, Lavender Vanilla, Neem, Lemon Vanilla, Tea Tree Eucalyptus
Feedback for the Neem bar from buyers:
Mom loves her new shampoo bar! Thank you!!!
LOOOOVE IT!!
What a fantastic shampoo bar! I used this while travelling throughout South America and will certainly be buying more in the future!
thank you so much, cory! my hair is in love with this soap! :)
My boyfriend INSISTED that I get another bar, ASAP--we both love it!!
LOVE! My hair is sooooo soft. One of my favorite sellers on etsy :)
I was so surprised at how much lather this bar creates!!! The smell is strong but does not remain in the hair after washing and am sold on it for sure. I was so tired of using store bought shampoo/conditioner that leaves my hair feeling waxy and frizzy. I have very long and thick hair and fellow customers rest assured this bar cleaned it with no problem at all. The bar creates a thick, rich lather right away. Thank you so much!
Wonderful!
Wonderful soap! It takes a little getting used to, but once you get used to it it's amazing!
Just tried my shampoo bar. Let me tell you my hair feels great!! Go UWIB!!
great smelling bar
Smells good, works great, quick shipping. Thanks!
Thanks for the quick shipping and great products. This shampoo is really nice. It's a little too conditioning for my fine hair, but it should be perfect for my kids' hair that is thick and more dry. Thanks so much! This is a very nice product!
Very nice. At first I was concerned because the bar in the box is a wee bit, hmm I'll say "stinky" - I think it's the nutty Neem oil smell. BUT, after washing my hair I love the sqeeky clean I get and after I dried my hair the smell is very natural and nice.
Review by a dog owner (do not use on dogs head, because formula is not tear-free: "Best neem shampoo bar on the planet. I used this on my pug dog who suffers from skin irritations and infections. Shampooed him 2x weekly for 3 weeks leaving foam on him for 10 minutes. His skin ailments have completely gone,Completely Gone. Skin is supple and fur never looked better. This shampoo bar is what we italians call AL DI LA meaning "beyond the beyond" Truly exceptional. There are none better." If you use this for your dog, avoid the head, because this is not a "tear-free" formula.
More Shampoo Bars:
http://www.etsy.com/shop/AquarianBath?section_id=5785419
Main Shop:
http://aquarianbath.etsy.com
shampoo soap
shampoo and conditioner
Learn more about their shop and process
Cory Trusty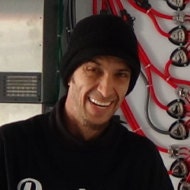 Scott
Frequently asked questions about AquarianBath
Neem Shampoo Bar - Natural Shampoo Bar - Solid Shampoo - Vegan shampoo soap - shampoo and conditioner
---
Overview
Handmade item
Materials:

tea tree essential oil, patchouli essential oil, saponified castor oil, saponified olive oil pomace, saponified Organic coconut oil, saponified Organic Cocoa Butter, saponified Organic jojoba, saponified Neem oil, saponified Organic extra virgin olive oil

Ships worldwide from

United States

Feedback: 5407 reviews
Favorited by: 951 people
Listed on Jan 27, 2017
12830 views