BACK IN STOCK! Wise Woman's Tarot Deck With Book, Vintage Tarot Deck, Goddess Tarot Cards, Tarot Deck With Guidebook, Witches Tarot
There was a problem calculating your shipping. Please try again.
2,630 reviews
5 out of 5 stars
Loading
Hello and blessings❣️ I am excited to have ordered this Tarot! Colorful artwork and the tarot are based on a color theme which is good to recognize the Element al so many Goddesses to read with this tarot! The guidebook is actually on point and a nice addition to a tarot reader's collection. Definitely good take in your daily travels. Just to let you know I do not ripple shuffle my cards so I am not worried about the thin card stock of this tarot. Truly happy about this tarot! Thank you for the lovely card of the week! I have it on my tarot holder! Great shipping my order arrived safe and dry! Thank tremendously for that waterproofing package! ❣️🦋
I LOVE these cards. When I was looking at tarot decks and found this one I knew I'd love it because the artwork is so beautiful and was what I was looking for. The drawings are so colorful and I feel such good energy from this deck I feel that this is a great intimate deck for all women and still has a light energy though they go into depth with all the meanings and symbols in the book. Really happy with my purchase and am sleeping with the tarot under my pillow. :) can't wait to get to know them more. The only thing that disappointed me was when I looked again at the etsy shop they had gone on sale for 30$ less than what I paid for! Still, they're worth the price.
I love The Wise Woman's Tarot! I was drawn to this deck the moment I saw it and I love the concept behind it. I absolutely love the art work and I was eager to read the booklet for all the knowledge Flash Silvermoon has shared to make this deck. Yes card stock is very thin but I still love and respect this deck for all the beautiful art work and years of wisdom put into it. I do love all the coloration and the size of the deck is great (nice and large), it really showcases the art. It is such a women empowered deck and has so much knowledge of all the great women archetypes. I am very happy to have this deck in my collection to help me on my journey.
Phenomenal Goddess Deck! I collect all types of Goddess decks and this is one of the MUST HAVE! It is the BEST and the accompanying guide book is SO informative! The deck came well packaged and very protected for mailing. A+ to the Seller! Grab a copy before they are gone for good!
Disclaimer: Divination and spell-related items are for entertainment purposes only, and must meet Etsy's Seller Policy. Etsy assumes no responsibility for the accuracy, labeling, or content of sellers' listings and products. If you have any questions, message the seller. Listings or claims may not offer medical advice, and may not be intended to diagnose, treat, cure, or prevent any disease. Tarot, psychic, or other divination readings must include a tangible good, such as photos of the tarot spread, audio/video of a reading, or text of the reading. Orders that do not provide expected results cannot be mediated through Etsy's case system, should concerns arise.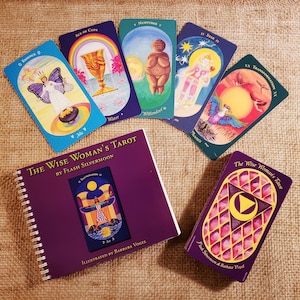 Browse collections for more inspiration